So after a rather dismal weekend of eating in Sydney restaurants with poor vegan options (The Winery & Bondi Pizza), I figured that one of the best neighborhoods to head for lunch on Sunday would be Surry Hills, with its eclectic patrons and quaint little cafes. Walking on Crown street, I came across Mad Spuds Cafe, and initially noticed it because of the big sign in the window that says that they offer vegetarian, vegan, and gluten-free options. SOLD!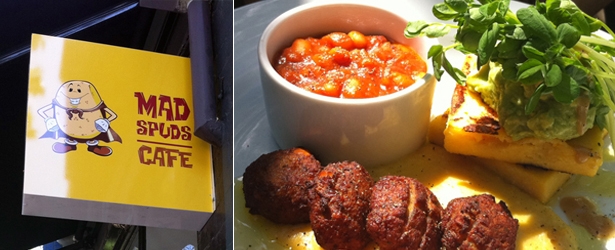 There are 3 vegan items on their regular menu, as well 2 on their special summer menu. That's a total of 5 clearly-labeled vegan choices! (Am I the only vegan out there who finds it difficult to decide when there is actual choice presented to me?) I asked the waitress for her recommendation and she quickly responded "the lemon corn bread". I agreed, and ordered it:
GRILLED LEMON CORN BREAD – vegan
Corn & vanilla puree, avocado, chermoula beans & spiced falafel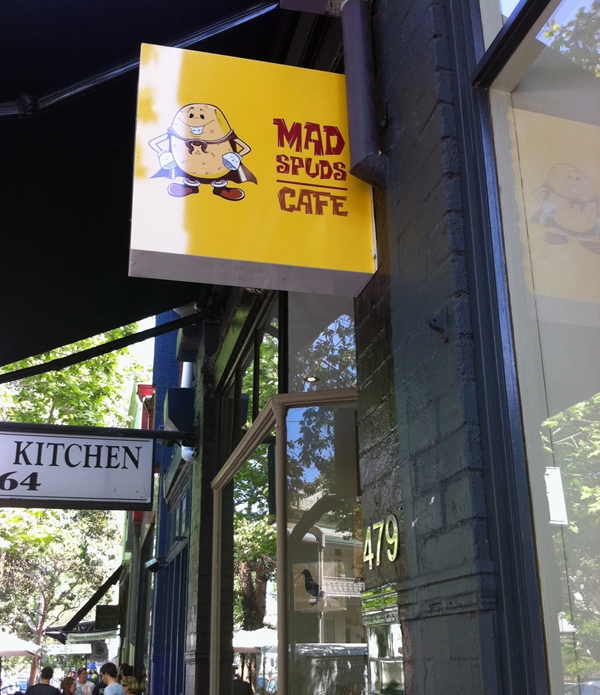 When it arrived, I was speechless. The presentation was beautiful! But the taste… wow. That corn & vanilla puree is divine! So sweet and smooth, it compliments the cornbread and falafel so well! Everything was so luxurious and delectable. It rivaled food that I've eaten at very exclusive restaurants, and yet the value for the price ($14) was excellent. How many times have I paid that for boring pasta with plain tomato sauce?! Yet this plate consisted of: 1) lemon corn bread 2) guacamole 3) vanilla corn puree (ahhhh!) 4) falafel 5) chermoula beans (baked beans) 6) 2 grilled cherry tomatoes and 7) greens. So much work and thought went into this dish, and it certainly didn't go unappreciated.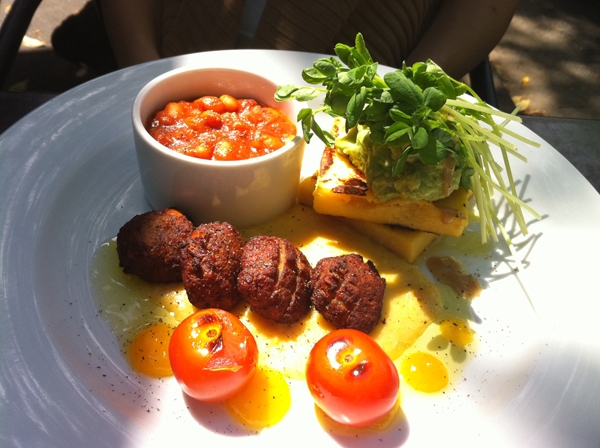 I'm telling all my friends about Mad Spuds Cafe (vegans and non-vegans alike), and I will be back soon to eat there again. The only thing I can't promise is that I will be able to stray from this dish and try one of the other vegan options!
Updates
September 12, 2011 – I ate here again yesterday for the 4th or 5th time and it was awesome, as usual. There were a couple other vegan options on the menu, but I've been unable to venture beyond this dish since it's just too darn good. Every time I order this, the presentation is a little bit different, but this last time was the best – with lots of guacamole to go around. Order this – you won't regret it!