Last night, I attended a Champagne Masterclass, as part of the Crave Sydney International Food Festival. The event was sponsored by the Comité Champagne, hosted by Peter Bourne, and located at Justin North's beautiful restaurant, Etch. Along with roughly 25 other people, I embarked on a two-and-a half hour-journey of some of the world's top champagnes – from non-vintages and blanc de blancs, to vintages and prestige cuvées.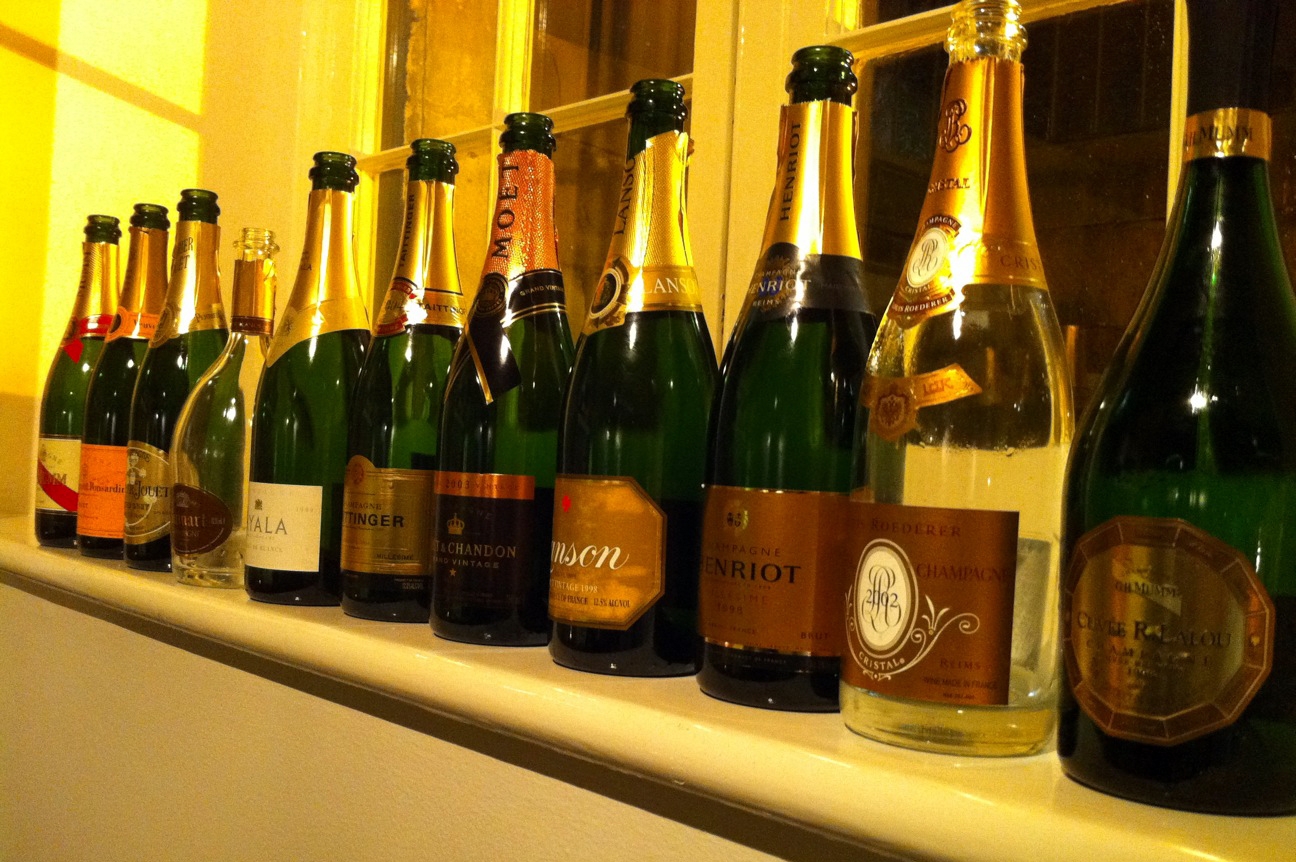 We were greeted with a flute of lovely non-vintage Mumm Cordon Rouge Brut. The setting, in a beautiful private room, was gorgeous, with crisp white linens and tea light candles offering a calming glow. We each had a copy of the printed menus, a tasting mat on which to take notes, and a beautiful booklet all about champagne, which we could take with us at the end of the evening. From reviewing the menu, I was happy to learn that the next 10 champagnes would be served in pairs, so that we could savor them side-by-side with one of the five tasting plates. I really enjoy wine tastings that allow you to compare the different wines side-by-side. This is especially valuable with food pairing, because although you may have preferred one wine over the other, it may no longer be your favorite once matched with a particular food.
Peter Bourne kicked-off the event with introductions and an explanation of the evening, followed by Justin North's description of the special tasting menu that he had prepared. Everyone was excited to taste his beautiful creations, and I was especially fortunate to have a special vegan tasting menu prepared just for me! My friend Karla had requested it when booking and I was so excited, as I often have to forgo eating anything at the various wine events that I attend. The food prepared for me was simple, fresh, and delicious. I thanked the staff during the event but want to thank them here again for their attention to detail to my dietary requirements. They even said that they'd be happy to prepare a special full-vegan meal should I chose to visit the restaurant in the future – something that I will definitely take them up on!
I won't go through all of the champagnes here, as I'm not sure that I feel fully qualified to (or know how to properly) describe each one at length. But I will say that I was very happy to see Ruinart's non-vintage Blanc de Blancs served, as it's been my favorite ever since being introduced to it last year (by Karla). It's fruity flavors are delicate and well-balanced, and I find that it is very food-friendly.
I also really enjoyed the Perrier-Jouet Grand Brut in the non-vintage category, and the 2004 Tattinger Brut Millesime recent vintage. I have to be completely honest and say that I wasn't enamoured by either of the champagnes served under the  "1998 Vintages" category, but I did enjoy both Prestige Cuvees – the 2002 Louis Roederer Cristal, and the 1998 G.H. Mumm Cuvee Rene Lalou. The Cristal had a crisp finish, whereas the Mumm was creamier. While both were excellent, I think that the Cristal better complimented my meal (Broad Bean Risotto).
Thank you again to the Crave Sydney International Food Festival, Comité Champagne, and Peter Bourne for organizing such a beautiful and memorable evening, and a special thanks to Justin North and the team at Etch for letting a little vegan play along in the bubbles!