Continuing with my tropical theme this week, here's a yummy tropical tapioca pudding recipe. I especially like serving this after Indian or Thai food. The cool, creamy texture is refreshing after a spicy meal, and the tropical fruits compliments those themes as well.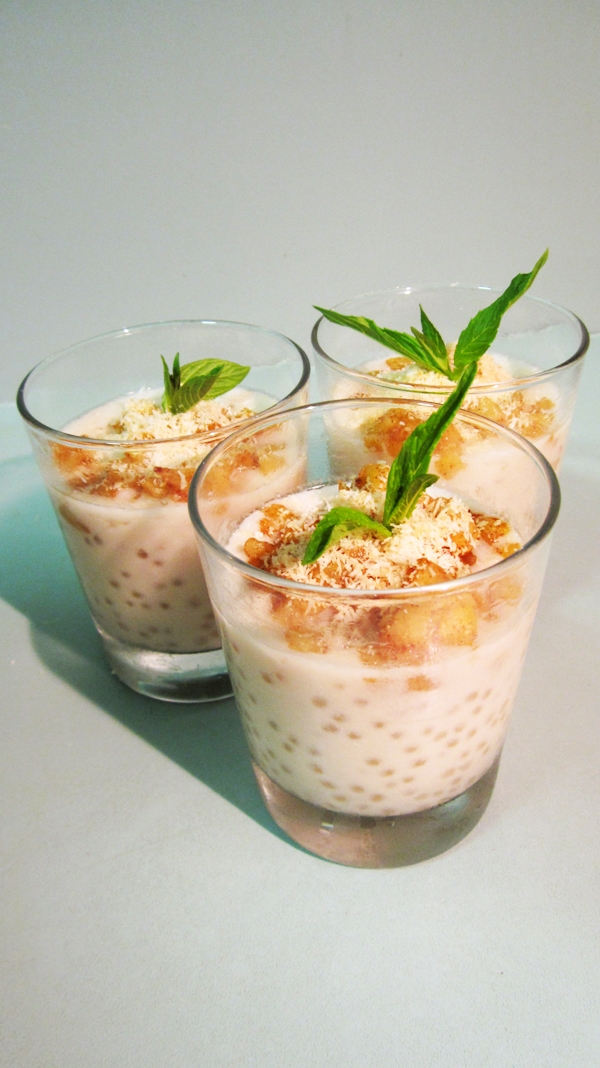 I love tapioca pudding because it's so creamy and comforting. It's also a cinch to make: if you have an hour to let it set in the fridge, you've got dessert!
I've adapted this recipe from a few that I've come across over the years. You can make it with or without the pineapple topping, and you could top it with any tropical fresh fruit, such as banana, kiwi, or mango. Leechee fruit would also be really nice.
Drunk Pineapple Coconut Tapioca Pudding
Author:
Angela @ Vegangela.com
Recipe type:
Dessert, Pudding
Ingredients
Pudding
2 cups water
3 tbsp small tapioca pearls (NOT quick-cooking instant tapioca)
¾ cup coconut milk
3 tbsp raw sugar
1 tsp vanilla
pinch of salt
Pineapple and Coconut Topping
2 tbsp desiccated coconut
½ cup fresh or canned pineapple chunks
1 tsp vanilla
½ tsp Cinnamon
1 tbsp raw sugar
2 tbsp dark rum (optional)
Instructions
Bring water to boil in a saucepan, and add the tapioca pearls.
Turn the heat down to medium-low and simmer the tapioca for about 15 minutes, stirring now and then. The tapioca should be soft with only tiny white dots in the center of each pearl.
In a small bowl, whisk the coconut milk, sugar, vanilla and salt. Whisk the coconut mixture into the tapioca. Once it has returned to a simmer, allow it to continue cooking for 5 more minutes and stir it.
Carefully pour or spoon mixture into 4 small bowls or short glass tumblers.
Chill in the fridge until set, at least 1 hour.
For the topping, toast the coconut in a frying pan or in the oven. Sautée the pineapple with the vanilla and Cinnamon until the pineapple softens, about 10 minutes. Add the sugar and rum and simmer for another 10 minutes.
Divide the pineapple mixture onto each pudding, and sprinkle with toasted coconut.