Vegan MoFo #18 – I saw these purple potatoes at the grocery store this week and couldn't resist bringing some home with me. Look at that awesome color! I'm also going "low-carb" next week, and then 100% raw the following week, so I figured I'd go ahead and indulge in some big ol' potatoes this week while there's still time!
I found a recipe for "New Potatoes with Mustard Dressing" in an advertisement for Udo's Oil 3-6-9 blend a few years back. I've been making the recipe every summer since then – actually, a slightly modified version of it that is even healthier. It's quick & easy, and a great way to get essential omega oils into your diet.
Unfortunately, the lovely color of the potatoes faded quite a bit from boiling them. Does anyone know how to better preserve the color next time? Would the color remain if I used them in a recipe that calls for baking, instead of boiling?
Anyway, here's one of my favorite potato side-dish recipes… Enjoy!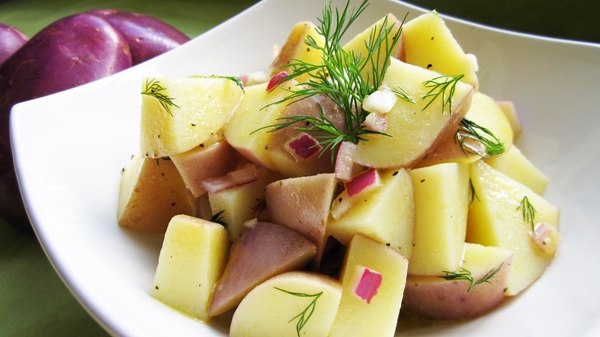 Light & Healthy Potato Salad
Author:
Angela @ Vegangela.com
Ingredients
2¼ lb new potatoes (skin left on), scrubbed and quartered or diced
¼ cup Udo's Oil 3-6-9 Blend (or extra-virgin olive oil)
2 tbsp red onion, diced
2 tbsp fresh dill (or parsley), chopped
2 tbsp apple cider vinegar
2 tbsp water
2 tsp Dijon mustard
2 tsp maple syrup
salt & pepper to taste
Instructions
Boil potatoes in salted water until tender, approximately 10-15 minutes. Drain well.
Mix all remaining ingredients in a bowl, and add hot potatoes to dressing. Toss until well coated.
Season to taste. Set aside for a few minutes to let potatoes absorb dressing. Serve warm or at room temperature. (It's also great chilled.)
Notes
Adapted from Udo's Oil recipe advertisement