Vegan MoFo #20 – I spent the day on the beach so I don't have an elaborate recipe today. However, this is one of my favorite go-to recipes, and it wouldn't be right not to include it in the Vegan Month of Food initiative.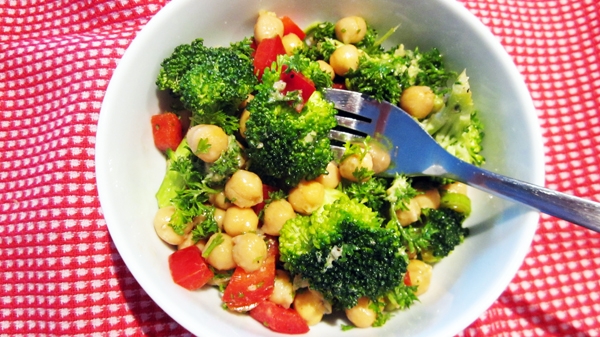 My mom made this salad often when I was growing up, and now it's become a staple for me as I make it every other week or so. It's so easy to make and it tastes delicious. The colors are so vibrant, and the red and green together would make it a great dish to serve at a Christmas potluck.
Update
September 29, 2011 – I made this today and decided to photograph it, since the original photo for this post wasn't the best, and the parsley was missing. This is still one of my all-time favorite bean salad recipes. And with a 3-ingredient dressing (oil, dijon, garlic), you can't really get much easier!
Vegan Broccoli, Red Bell Pepper & Chickpea Salad
Crunchy and colorful, this salad is easy to make and tastes great! Vegan and Gluten-Free.
Ingredients
19oz can chickpeas
2 green onions, chopped (optional)
1 red pepper (capsicum), chopped
2 cups broccoli (or 1 cup broccoli, 1 cup cauliflower)
½ cup fresh parsley, chopped (optional)
¼ cup olive or vegetable oil
1 garlic clove, minced
2 tsp Dijon mustard
Salt + Pepper, to taste
Instructions
In a large bowl, whisk together the oil, minced garlic, mustard, salt+pepper.
Add the remaining ingredients and stir to combine.
Let marinade in the fridge for a few hours. Keeps well several days in the refrigerator.