Vegan MoFo #21 – The Skinny Dip Cafe in Bondi is my favorite local breakfast place. It's walking distance from home, has many tables outside, and offers great food & coffee. What more could you want on a Sunday morning? I love that they offer tofu scramble as an egg-alternative for vegans (or any other cool person). How many times have I had to settle on toast with peanut butter instead? Don't get me wrong, I love me some PB&J (Brian, @crabbyvegan, knows what I'm talkin about!), but it's great to have such a healthy option on the menu. The tofu is scrambled with Kalimata olives, spinach, and sundried tomatoes, served alongside a huge bunch of steamed-spinach, a couple slices of fresh Turkish pide bread and a little bowl of hummus. I ask for "no feta, hold the pide" so it's vegan and purrrrrfect! They also make fresh-to-order juices that are awesome. My favorites are the pineapple-apple-mint one, as well as the apple-carrot-ginger. And of course, their soy lattes are amazing, as is pretty much all coffee here in Australia (FML when I move back to North America and have to deal with the burnt syrup that passes as coffee over there. Bleg!)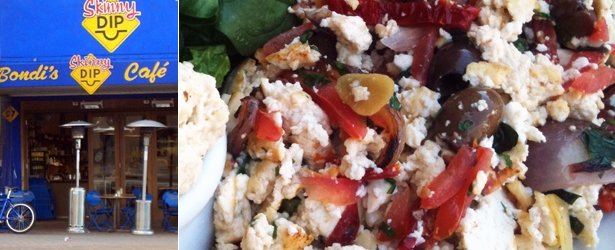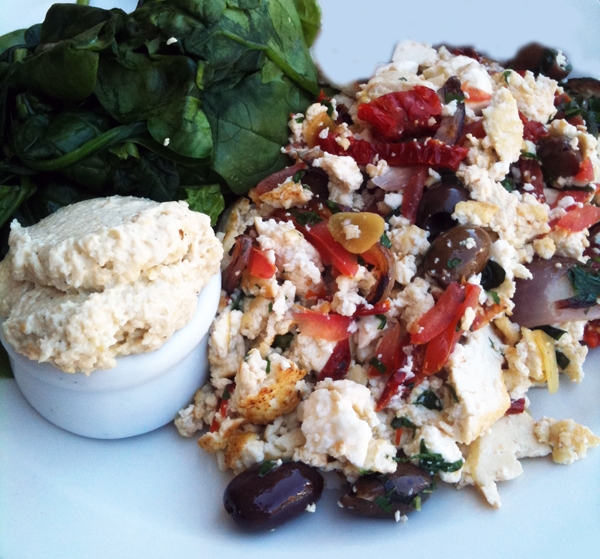 Anyway, this is my recommendation on where to eat for breakfast/brunch in Bondi Beach. Leave a comment if you've eaten there too, and let me know what you thought!
PS – Here's my recipe for Tofu Scramble… when I feel like cooking!