So November was all about vegan food, and although I aim to primarily write about food going forward, I don't want to limit my blog to the kitchen. I'd like to write about great beauty products and fashion that also happens to be vegan. Today's focus is on vegan makeup brushes. The vegan aspect is obvious (do you want a goat's butt hairs on your face? Didn't think so!) – but quality is also really important. Why? Well, watching some of the awesome makeup artists on YouTube has taught me that in order to put your best face forward, you gotta:
Use the proper technique – a gentle hand and great blending skills to achieve the perfect smoky eye
Prep your skin and take care of it – because makeup shouldn't make-up (!) for bad skincare habits
Use the right tools – throw-out those Q-tip-looking eyeshadow applicators that come with cheap makeup and use real brushes!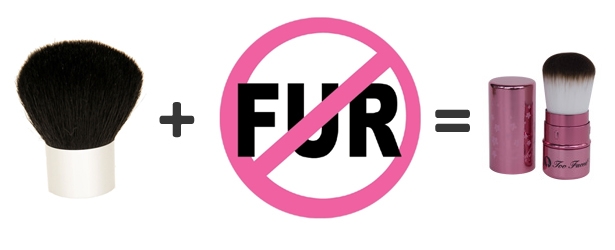 My favorite beauty tool is my retractable Kabuki Brush by Two Faced Cosmetics. It's perfect because it's made from the company's own synthetic "Teddy Bear Hair" bristles (hah!) so it's completely vegan and doesn't hold bacteria like animal-hair brushes do (eww!). I love that it's retractable, so it travels well. Also, unlike so many other brushes out there, the hairs never fall out. Ever! I've owned other brushes that either immediately, or over time, lost their bristles. I've had this baby for 2 years now and I have had yet to have a bristle come out – even after washing it! I use it for my mineral face powder, and it grabs and blends the powder so well. It's also very soft on my face, and I can even wet the bristles slightly before swirling them onto the powder for fuller coverage. At just under $40, it may seem expensive but trust me, this is an investment because you'll have it for years. I got one for my mom, and she absolutely loves it as well!

I have the Two Faced "Flatbuki Brush", and although the bristles aren't as dense as the full-size Kabuki (and therefore not as great for mineral powder), it's a great option if you're just looking for a small travel blusher

I also own an older version of the Two Faced "Powder Pouf Brush", which I use for my blush and bronzer.

As for eyeshadow brushes, I have a couple of the Eco-Tools vegan eyeshadow brushes, but don't find that they grab color very well. They also seem a bit too wide for really defining color. I was going to add a couple of the Two Faced eyeshadow brushes to my wish-list, but while researching info for this post, I came across the Vegan Beauty Review website (so awesome!), which gives rave reviews to both the DermaQuest's DermaBrush collection and the brushes from Everyday Minerals. I'm excited by all this choice, and can't wait to buy some fabulous new vegan eyeshadow brushes!
Updates
August 20th, 2011 – I am now a proud owner of a few Everyday Mineral eyeshadow brushes and I love them! The Everyday Eye Shadow Brush is a great eyeshadow brush (and only $7!) and I use the Everyday Eye Smudge Brush (also $7) to place a highlighting color on the inner edge of my eyelid to create a wide-eyed effect. These brushes are proof that you don't need to use animal hair brushes (or spend a lot of money) to get professional-grade makeup brushes!
Q: Do you have recommendations on other good cruelty-free makeup brushes, or other favorite vegan beauty tools?