2011 has been pretty crazy for me. From hosting a good friend from back home over the holidays, to moving into a new pad downtown, to traveling back to Canada for a work conference and my mother's surprise 60th birthday, and finally meeting-up with my fiancé for 5 days of sight-seeing and wine tasting in Western Australia… well, it's all been great but it's left little time for cooking, let along blogging! Having said that, I'm back on solid ground again, and my new kitchen is pretty-much all set-up, so I'm looking forward to cooking again and tackling the massive list of recipes that I've bookmarked and earmarked over the last little while!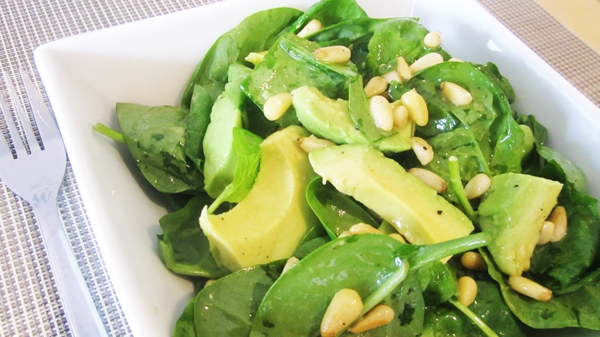 I ate a gorgeous salad at Must while visiting Margaret River, Western Australia. While they didn't have a whole-lot of otherwise vegan options on the menu, this was exactly what I was looking for after a couple days of sight-seeing and fast-food eating (as much as you can eat fast-food being a vegan!) Anyway, I realized yesterday that I had all the ingredients on hand to try and mimic the salad. I realized after the fact that they use a red wine vinaigrette instead of lemon juice, and while it was definitely awesome that way, I also really loved the tangy & fresh taste provided by the fresh lemon. Give it a try if you love all the ingredients below as much as I do!
Avocado & Spinach Salad with Pine Nuts
A simple salad featuring rich pine nuts and creamy avocado. Serve as a side or starter. Vegan and Gluten-Free.
Author:
Angela @ Vegangela.com
Recipe type:
Salad, Starter, Side
Ingredients
1 bag baby spinach, washed and dried
1 avocado, sliced
¼ cup pine nuts, toasted
3 tbsp olive oil
1 tbsp fresh lemon juice
salt & pepper
Instructions
If pine nuts aren't toasted, heat them gently in a frying pan but watch them carefully as they can burn quickly.
Whisk together olive oil, lemon juice, salt and pepper.
Toss everything into a bowl and enjoy.