I came across Joel Luks' Vegan Good Eats blog a while back and bookmarked just about every recipe on there. The food that he makes is creative and beautiful, and his quirky sense of humor shows in every comment and detail.
I finally got around to making one of his recipes the other day. It was a warm day outside and I knew that we wouldn't be going out for dinner until late. It had also been "one of those days" so I figured that something with a little "kick" would be the perfect pre-dinner treat. I located Joel's recipe for Sake Spiked Gazpacho, and decided to half the recipe and use vodka instead of sake, since that's what I had on hand.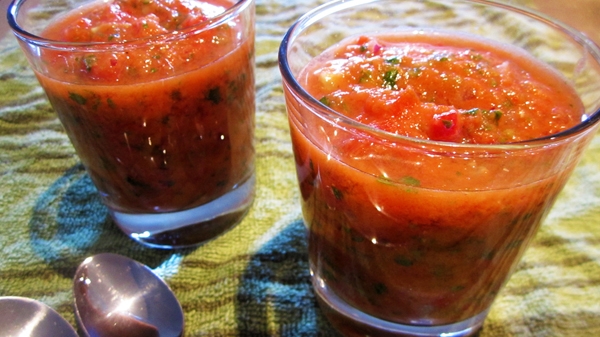 The result was a beautiful soup bursting with fresh summer flavors. The onion was a little too overpowering for my taste, but it was my fault as the onion I had on hand was gigantic. I must remember to keep proportion in mind when dealing with monster onions! Otherwise, the soup was awesome and definitely one that I'll make again.
If making this for hors d'oeuvres, you can serve it in little shot glasses, like I did for my Mango Gazpacho, or take Joel's cue and serve it up in little cucumber cups. I would have done the same but I only had 1/2 a cucumber on hand, and I needed it for the recipe. However, it's a really cute idea that I hope to try at some point!