I really love the healthy truffles that I discovered a couple weeks ago but when I went to make them yesterday, I realized that I didn't have enough walnuts, pecans, or almonds to make them. I did however have a lot of desiccated coconut and really felt like something "coconut-y". Hmm – I wonder what little balls of coconut goodness I could make? Macaroons, of course!
A Google search of "vegan macaroons" pulled up Linda's Chocolate Drizzled Coconut Macaroons. I decided to add some macadamia nuts to the mix – just to make them that much more indulgent and tropical-tasting. I used whole wheat flour so they weren't gluten-free, but they will be if you use rice flour or even coconut flour.
These guys are a little bit on the dry side, which I guess is the case with most macaroons. But they're also really yummy and chewy, and perfect with a cold glass of soy/almond/rice milk. Mmm!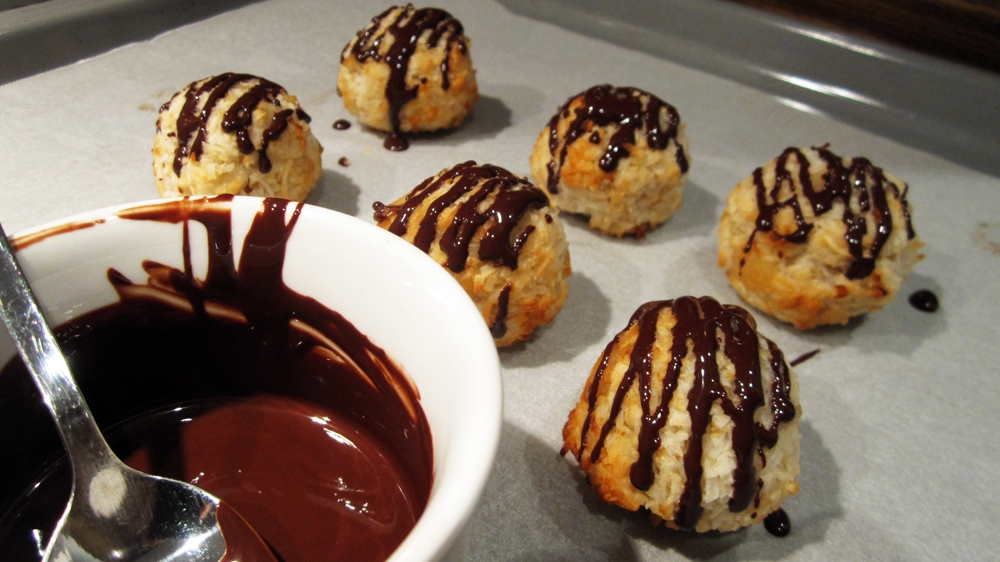 Macadamia Macaroons
Little balls of coconut-macadamia-chocolate heaven! Vegan with gluten-free option.
Author:
Angela @ Vegangela.com
Recipe type:
Dessert, Snack
Ingredients
⅓ cup wholewheat (wholemeal) flour (brown rice flour or coconut flour would also work)
2 ½ cups unsweetened desiccated (flaked) coconut
½ cup macadamia nuts, chopped
½ cup coconut milk
⅓ cup agave nectar
1 small pinch salt
1 teaspoon vanilla extract
100 g (3.5 oz) dark chocolate, melted (optional)
Instructions
Preheat oven to 180°C (350°F) and line a baking tray (pan/sheet) with a silicone mat or parchment paper.
In a large bowl, mix all the macaroon ingredients together – flour, coconut, macadamias, coconut milk, agave, salt and vanilla extract until evenly combined. The mixture will be moist and very slightly sticky.
Using one 5 cm (2 inch) diameter ice-cream scoop, scoop out portions of the dough onto the prepared tray (pan/sheet). Ensure that you pack the scoop tightly, and dip the scoop in cold water between scoops to avoid unnecessary sticking.
Bake in middle of preheated oven for 15-18 minutes or until just lightly browned. Try not to over bake.
Remove from oven and let cool on the baking tray (pan/sheet).
Once cool, drizzle or dip in chocolate and let set. Enjoy!