I cut this soup recipe out of the Ottawa Citizen newspaper many years ago – and it's been one of my favorites ever since. The coconut milk makes it so rich and creamy and the cilantro (fresh coriander) and lime give it such a fresh, summer-taste, any time of the year.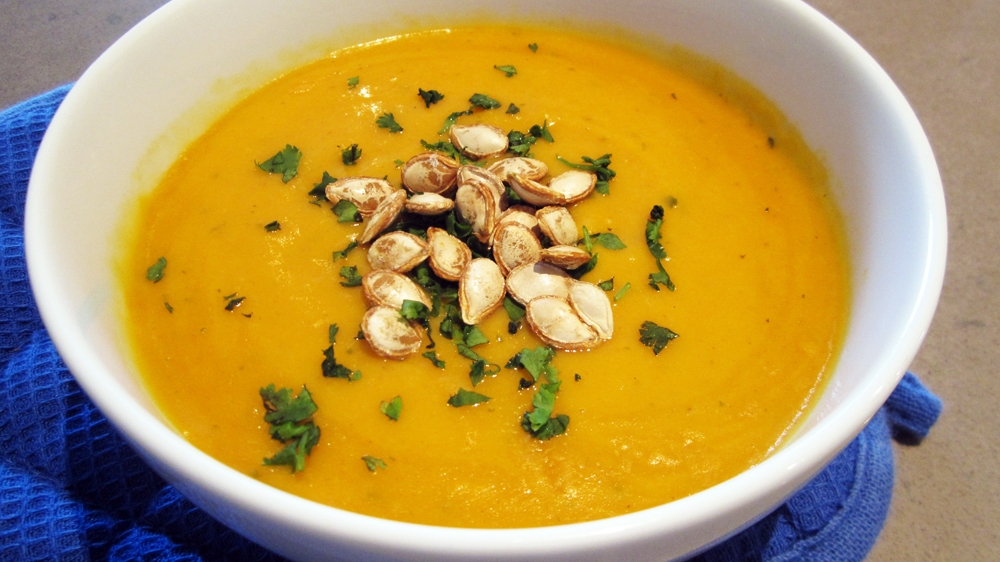 I veganized the original recipe by using vegetable broth instead of chicken, and garnishing with additional coconut milk (or Tofutti sour cream) instead of dairy-based sour cream. I also significantly  increased the spices, cilantro, and lime juice because I didn't find them to be strong enough.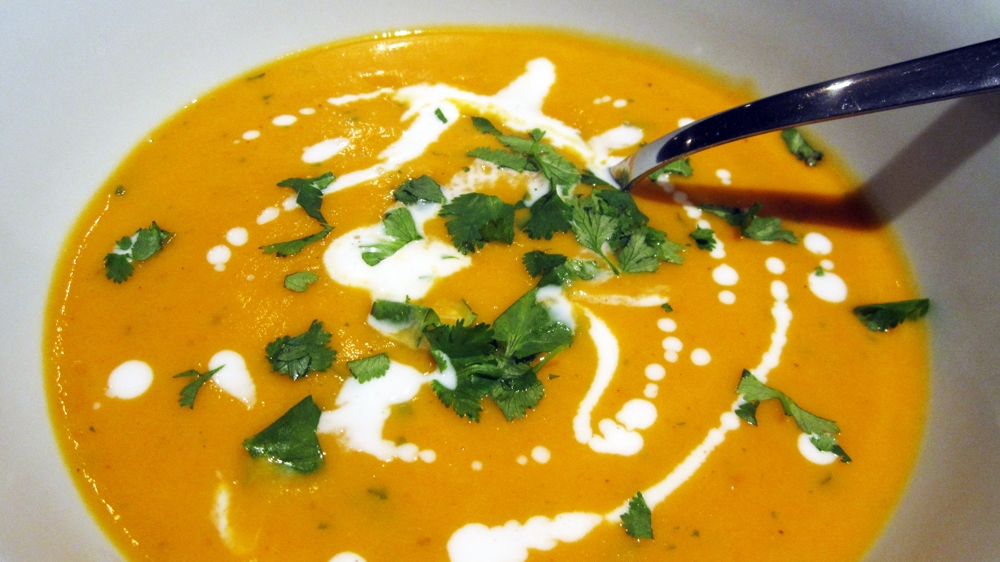 Notes:
I normally don't peel butternut squash before roasting it – I find that it's easier to remove the peel after it's roasted and cooled-off for about 10 minutes
This soup freezes very well, so if I'm only making this for two, I serve half now, and then freeze the other half for later
Also, when you scrape out the seeds of the butternut squash, don't toss them out! Like pumpkin seeds, they're great lightly roasted in the oven – and if you like a little crunch in your soup, they make a nice garnish as well! I've included directions for roasting the seeds below.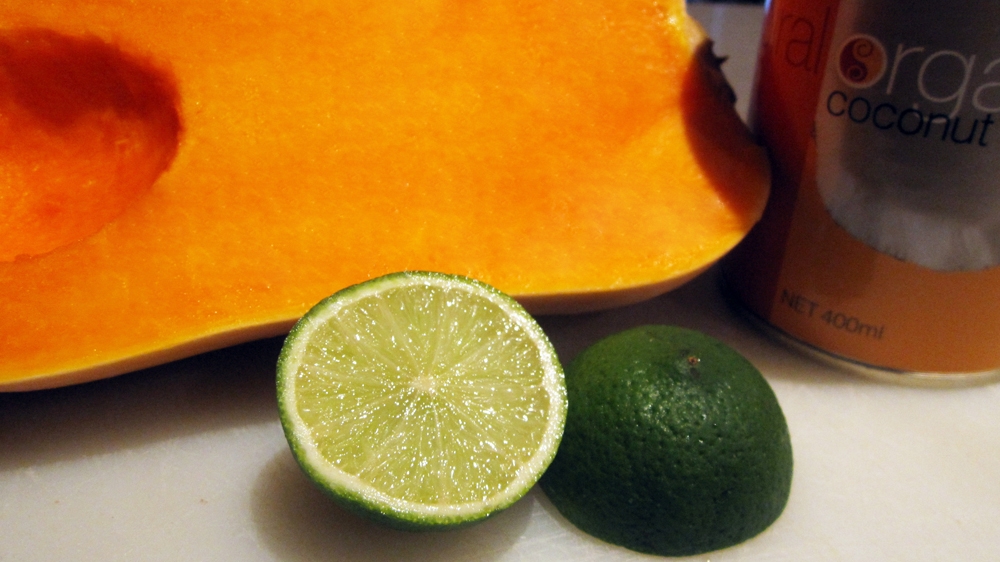 Roasted Butternut Squash, Lime & Coconut Soup
This brightly colored vegan soup, with fragrant coconut fresh coriander (cilantro) and lime will chase those blues away! Vegan / Gluten-Free / Freezer-Friendly
Ingredients
8 C /2 L (850g) butternut squash, diced (one average-sized butternut squash should be fine – I rarely measure this out)
2 tbsp olive oil, divided
1 tsp ground cumin
1 tsp ground coriander
1 large onion, chopped
20 oz (600 ml) vegetable stock
¼ C cilantro, chopped and divided
2 tsp finely chopped jalapeño (optional)
10 oz (295 ml) coconut milk
1 lime, juiced
salt & pepper, to taste
Garnish: vegan sour cream, additional coconut milk, roasted squash seeds (see instructions below)
Instructions
Preheat oven to 400F (200C). Toss squash with 1 tbsp olive oil. Spread squash onto cookie sheet and roast in the oven for 20 minutes until slightly browned. Remove from oven and set aside.
Meanwhile, in a large saucepan over medium-heat, add 1 tbsp olive oil, cumin and coriander and stir frequently for about 3 minutes.
Add onion and cook 5 minutes, until clear, then add broth.
Remove peel from squash if not already done, then add to pot along with half the cilantro and the jalapeño, if using.
Simmer gently for 20 minutes or until squash is soft. Stir in 1 cup of the coconut milk, as well as the lime juice.
Using an immersion blender, carefully puree until smooth. Season with salt & pepper. Garnish with coconut milk or vegan sour cream, and remaining cilantro.
Roasting pumpkin or squash seeds
Preheat oven to 325F (160C).
Before the pulp has dried on the seeds, rinse them under cool water and discard the pulp.
If desired, toss the seeds with a drizzle of oil and sprinkle of salt.
Spread the seeds out in a single layer on a baking sheet and roast in oven for 20 minutes, tossing them around at the 10-minute mark.
Notes
Adapted from a recipe in the Ottawa Citizen newspaper. Makes 7 cups (1.75 L)