I've never eaten beet greens before, so when I brought a bunch of beets home the other day, I had to run a Google search to see if the leaves were even edible (Okay, you can stop laughing now).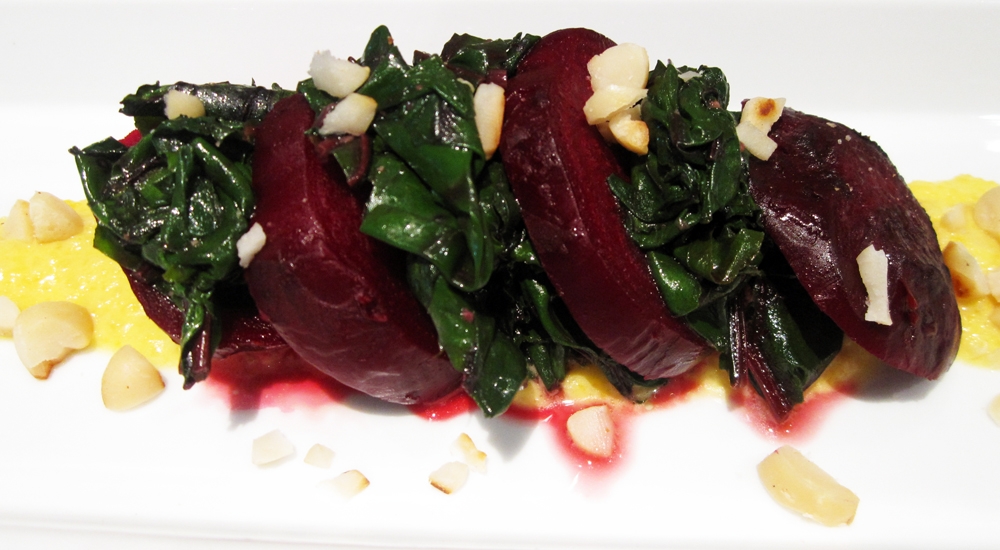 Sure enough, they are edible – and their vibrant shade of green with fushia veins inspired me to create a special recipe that would showcase them right alongside the beets themselves.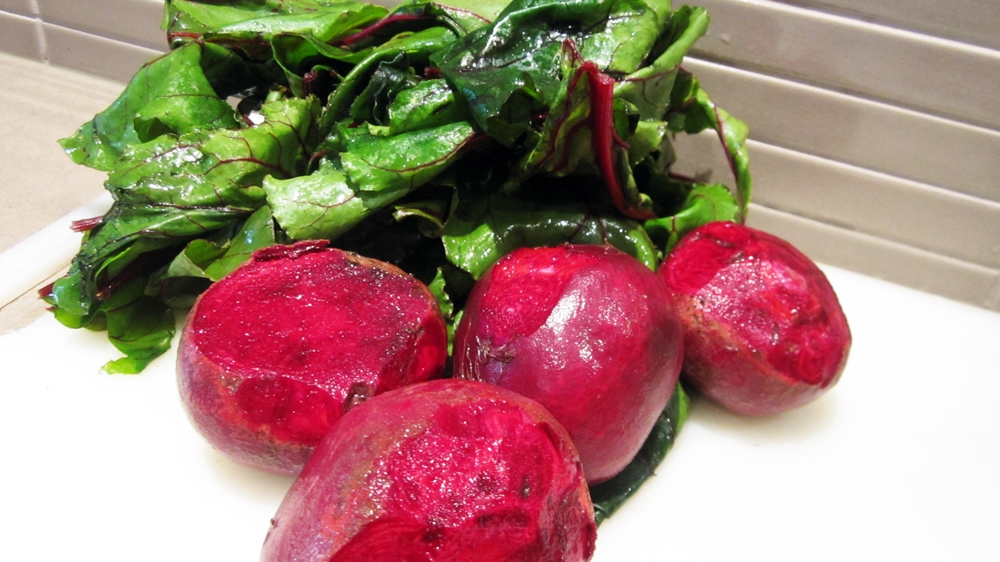 While this dish looks kind of fancy, it's actually really easy to put together and it only uses 5 ingredients (7 if you count salt and pepper).
I thought that yellow capsicum (bell pepper) coulis would be a nice compliment, both for its color and because its sweetness would tone-down any bitterness from the greens. I topped everything with toasted macadamia nuts to add a bit of crunch.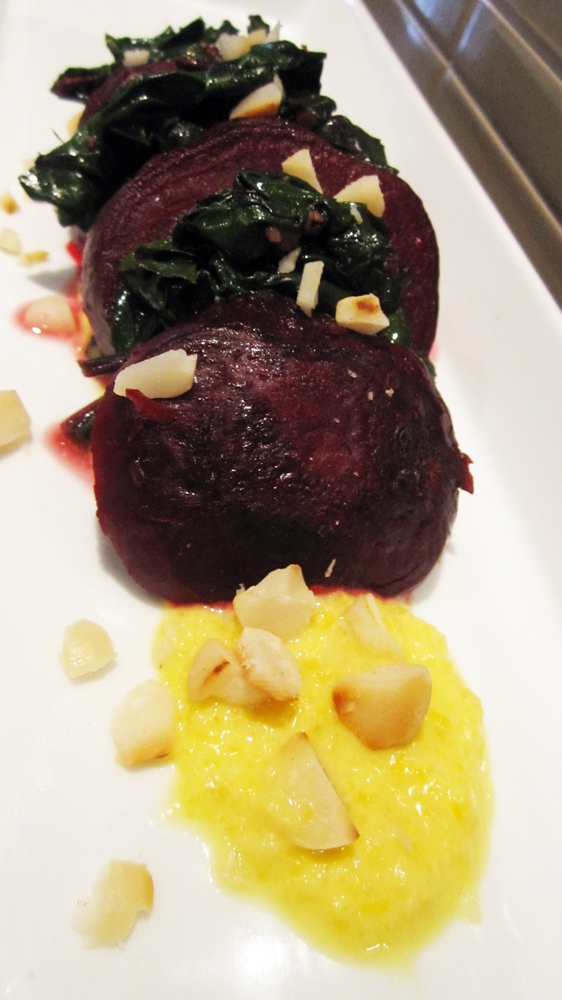 Notes
While I chose macadamias, walnuts or almonds would be good too
This would be a great appetizer/starter to a nice meal, or a great side dish to a protein and grain. It would also be fun as part of a tapas menu
While the coulis is a nice touch, the beets and greens are awesome in themselves so feel free to skip that step if you're low on time (or fanciness)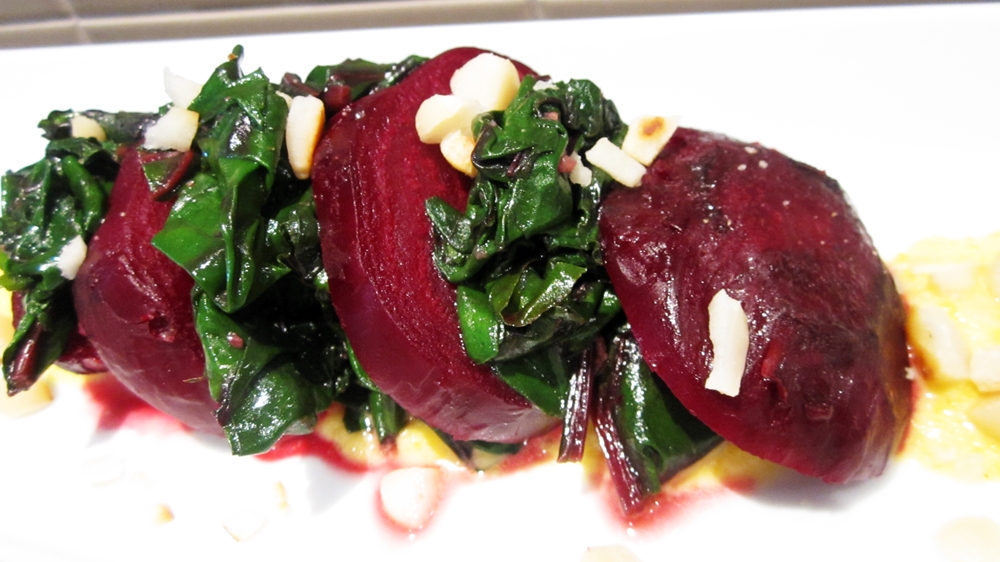 Vegan Beetroot & Greens with Yellow Capsicum Coulis
Use the entire beetroot in this healthy main or appetizer. Vegan and Gluten-Free.
Author:
Angela @ Vegangela.com
Recipe type:
Main, Appetizer
Ingredients
4 beetroots, with leaves
olive oil
2 yellow capsicums (bell peppers)
1 garlic clove, minced
salt & pepper
¼ cup macadamia nuts, quartered
Instructions
Preheat oven to 400F (200C).
Cut the greens from the beets. Carefully wash the leaves and set aside. Scrub and clean any dirt from the beets.
Place the beets on a large sheet of aluminium foil, drizzle with 2 tsp olive oil, and fold the foil over to make a little foil packet. Place in oven and roast until tender, about 30 minutes for medium-sized beets.
Meanwhile, cut the capsicums in two, and remove the stems. Scrape-out all seeds and all the stringy white flesh. Place face-down onto a baking sheet (next to the beets) and roast until the skin is charred/burned, about 15 minutes. Remove from oven and let cool. Once cooled, peel off the skin and any black pieces. Blend with 4 tbsp of olive oil in a food processor. Set aside.
When the beets are ready, remove them from the oven, open the foil pouch and let them cool slightly.
In a dry frying pan, roast the macadamia nuts over medium-low heat, being careful not to burn them.
Bunch the beet greens together and slice them into inch-wide strips. Heat 2 tbsp olive oil in a frying pan over medium heat. Add garlic and saute for 30 seconds, then add the greens and saute until just wilted, a couple minutes.
Using a vegetable peeler or small paring knife, remove the skin from the beets. It should slip off rather easily. Slice each beet into 4 pieces.
Place a stream of capsicum coulis on each plate, and arrange beets and greens in an alternating order, starting and finishing with a beetroot piece. Top with macadamia nuts and drizzle with additional olive oil, if desired.