I found these mini pears at the farmer's market the other day and instantly fell in love with them. Apparently, they're called Paradise or Faccia Bella pears. Although I didn't have a particular use for them them, they were so cute that I had to bring a few home with me. Before I decided what to do with them, I set them up for a little photo session. Aren't they adorable all lined up?
Much smaller than regular pears and about the size of a walnut, these mini pears can be eaten when they're still a bit firm. Taste-wise, they remind me a lot of asian apple pears – with the similar crispness of an apple and mellow pear flavor.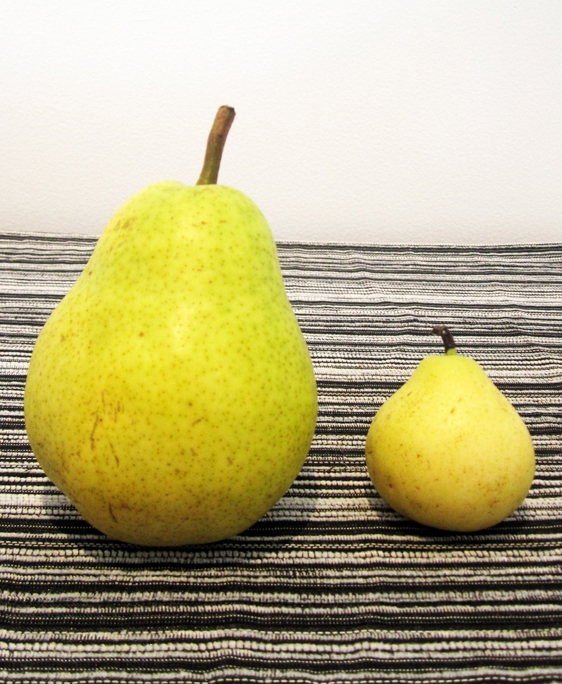 When thinking about how to use them, I remembered how much I love the combination of pears and chocolate. I often serve sliced pears (either raw or quickly sauteed) with a generous drizzle of dark chocolate. Like chocolate-dipped strawberries – it's one of those ridiculously easy "recipes" that looks and tastes so luxurious with very little effort. I initially thought about cutting-up these pears as usual, but then I decided to take the idea a step further…
First Step – I cut-back about a third of the flat-end of some bamboo kebab skewers:
Second Step – I gently pierced each pear with a skewer:
Third Step – I heated some dark chocolate in the microwave for 30 seconds, and then stirred it until it fully dissolved:
Fourth Step – Using a spoon, I either fully covered or lightly drizzled the melted chocolate over the mini pears:


Fifth Step – I set them up to dry:
Sixth Step – We waited patiently for a couple hours:


Finally – We enjoyed these cute little guys:


The outcome? Delicious! They're like little candy apples – minus all the stickiness and sugar. The core is so small/thin that you can pretty much eat the whole thing if you want to (minus the stem). They would be really cute as a dinner center piece or as part of a buffet-style meal.