About 5 years ago, I veganized my mom's chili recipe by replacing the ground beef with Yves veggie ground round. I made it like that for years, doubling the recipe, and freezing it so that there was always a warm comforting meal available at the drop of a hat.
Then I moved to Sydney, Australia, and Yves products are not available here. After some really bad experiences with vegan sausages from a local company (mushy, tasteless goo), I was too scared to risk a good batch of chili on their vegan mince meat. And honestly, even if I could find Yves products here, they're still a processed food, which I'm really trying to avoid these days. So I knew that I had to come up with a better solution.
I tried using firm tofu at one point, and while it tasted OK, the white crumbled tofu didn't compliment the other colors very well and it had a spongy consistency. Then one day, I happened to have dark red and black quinoa on hand, so I decided to try that. It ended-up being the perfect choice because the dark color of the quinoa really complemented the overall color of the chili. Made this way, the chili is thick and hearty – and I think that it surpasses any meat or "vegan-meat" version out there!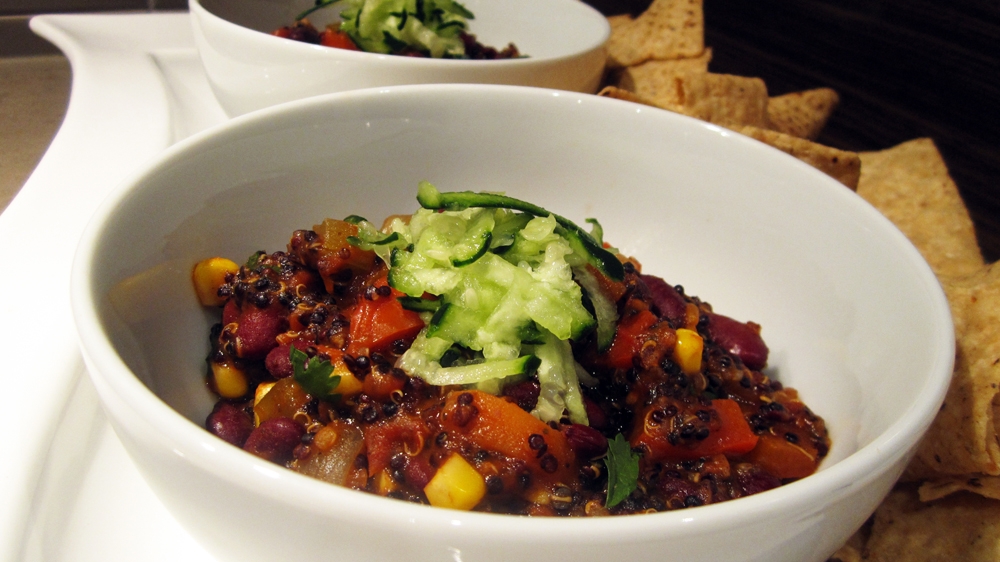 Notes
I used fresh corn this time because that's what I had on hand, but I usually use canned (and drained) corn, which works fine. Frozen corn kernels would work too.
Feel-free to use other beans, or a combination of beans for this. I've used a kidney bean/chickpea combination in the past, and black beans would also be really great.
I don't like super-spicy foods, so feel-free to adjust the chili powder and/or add jalapeno, chipotle, etc.
I normally serve this with diced avocado and/or vegan sour cream, but shredded cucumber is also a really light and refreshing option. Either way, a big side of tortilla chips is an absolute must for me!
This chili freezes and reheats well, so I often double the recipe so that I have it on-hand for those cool autumn/winter nights, or to enjoy out on the patio or deck in the summer.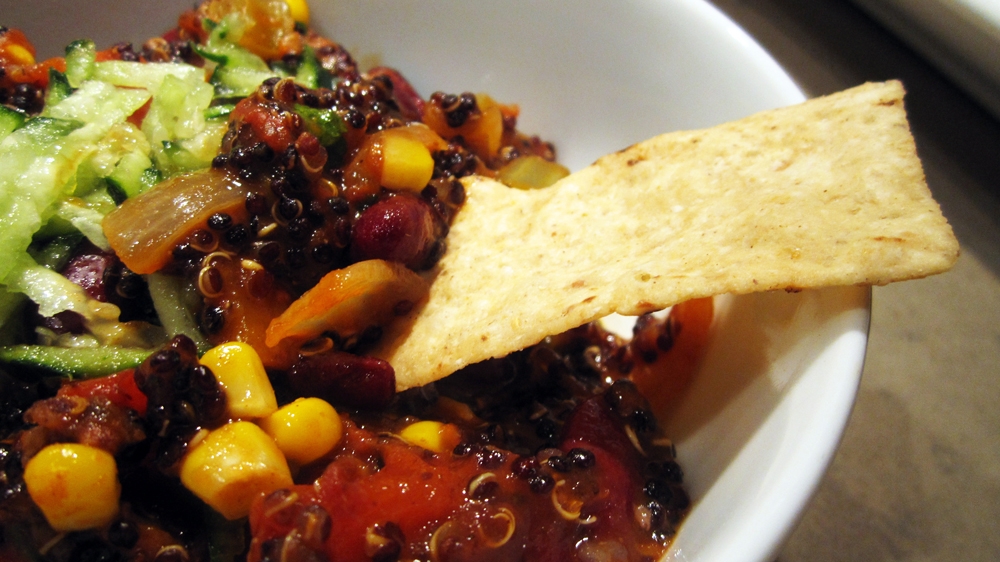 Healthy Vegan Quinoa Chili
This healthy vegan quinoa chili is hearty and delicious. Go ahead and double the batch, it freezes beautifully! Vegan / Gluten-Free
Author:
Angela Thompson @ Vegangela.com
Recipe type:
Main, Entree
Cuisine:
Mexican, Tex-Mex
Ingredients
2 cups vegetable stock
1 cup quinoa, rinsed well (I use red & black quinoa, but regular white quinoa is fine)
1 tbsp olive oil
1 large onion, diced
2 cloves garlic, minced
2 stalks celery, diced
1 carrot, peeled, diced
1 red bell pepper (capsicum), seeded, diced
2 cans (400g) diced tomatoes with juices
2 cans (420g) kidney beans, NOT drained
1 tsp chili powder
½ tsp dried oregano
½ tsp ground cumin
salt & freshly ground pepper
1 cup corn kernels (drained if using canned)
Serve With (Optional)
cucumber
avocado
cilantro (fresh coriander)
tortilla chips
vegan sour cream
vegan cheese
Instructions
Bring vegetable stock to boil in a medium saucepan. Add quinoa, stir, cover, and simmer on lowest setting until ready, about 15 minutes. You'll know it's ready when little curls stick-out from the grains. Set aside.
In a large saucepan or stockpot, heat the olive oil over medium-high heat. Add the onions and garlic, and saute until tender, about 3 minutes. Add celery and carrot, and saute until tender, about 3 minutes.
Add bell pepper, tomatoes, kidney beans, chili powder, oregano and cumin, salt and pepper. Bring to boil, reduce heat and simmer, uncovered, for about 30 minutes, stirring occasionally. Stir-in quinoa and corn.
Serve topped with diced avocado, tofu sour cream, cilantro (fresh coriander), and/or shredded cucumber, and with a side of corn chips or cornbread/corn muffins.
To freeze chili, let chili cool completely and freeze in freezer-safe containers. To cook from frozen state, pop chili into an oven-safe casserole dish and COVER with a lid or aluminum foil before baking for 50 minutes at 375F/190C.