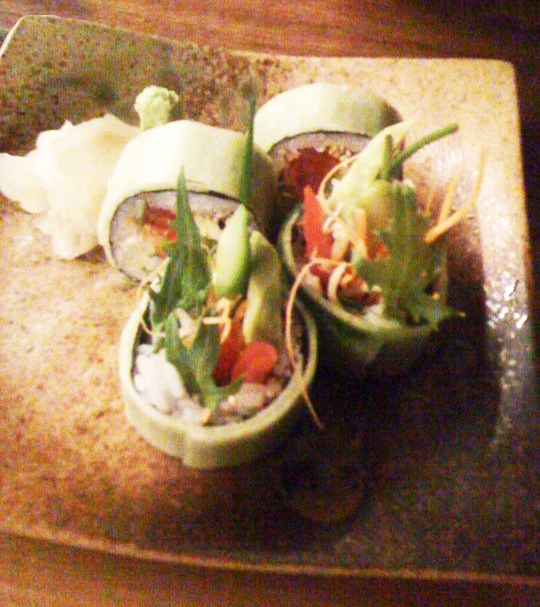 Since moving to Sydney, I've eaten at quite a few of the sushi restaurants here. Those that have great fish for my non-vegan friends often have a really poor vegan menu. Most of these places don't even have avocado maki (rolls) on the menu, and I sometimes have to beg just to get those!
Tokonoma in Surry Hills is different. They have a big menu of fishy stuff, but also have quite a few vegetarian and vegan options. Their Sarada Maki Veggie Roll is awesome. It's filled with all the good stuff, like avocado, asparagus, tomato, carrots, rocket lettuce – and all wrapped in cucumber. They're nice big fat rolls that just barely fit in your mouth in one gulp. Mmm!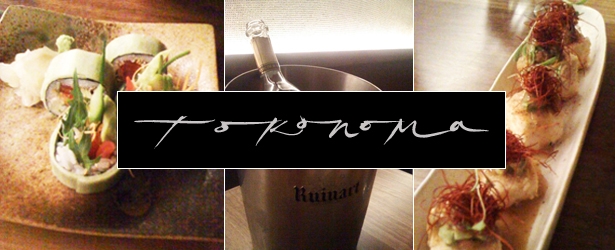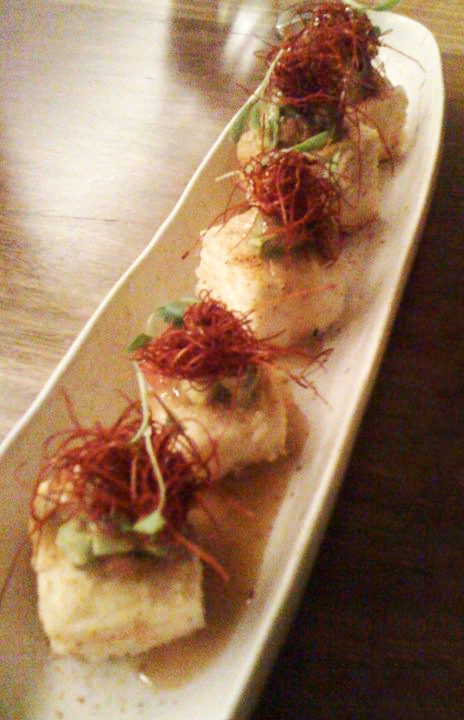 The stand-out vegan item for me though is their Pirikara Dofu to Avocado – spicy fried tofu with avocado salsa and barley miso. 5 pieces of this fluffy deep-fried tofu arrive on a long plate, adorned with the avocado salsa and chili threads. It's stunning to look at and just as divine to eat. The hot and spicy tofu is tempered by the cool avocado, and the chili threads add a light paprika taste to it all. Simple, yet complex, it's probably my all-time favorite elegant vegan dish. And all the omnivores love it too.
I really want to "crack" this recipe, so stay tuned..!
PS. There are 3 Toko restaurants in Sydney. There's a sushi train on Oxford street that is OK, but the other two are side-by-side on Crown street, in Surry Hills. Toko is a bar & restaurant, which has a beautiful decor and large communal tables. They won't take reservations so you basically have to get there when they open at 6pm and go on a waiting list. I prefer Tokonoma (next door) because they take reservations and share the same menu. Tokonoma feels like a big lounge, with gorgeous wood booths and a live DJ spinning chill house music. I actually prefer it to the craziness going on next door at Toko. You can sit back, relax with friends, and enjoy their take on modern Japanese food. Oh, and if you're in a celebratory mood, you can wash it all down with Ruinart champagne (my favorite)!
Updates
February 2, 2014 – I ate at Tokonoma again recently and my favorite dishes were as good as ever. However I was disappointed by one of their newer vegan options, the Tomato to Quinoa no Tofu Cream (heirloom tomatoes, tofu cream, popped quinoa). It was bland and the tomatoes were mealy. I recommend skipping that plate and getting an extra order of the Spicy Tofu instead 🙂