Otto Ristorante was on my list of places to eat, and I finally got to try it a few months ago after attending a New Zealand wine tasting event here in Sydney with friends. This is a beautiful restaurant located on the wharf in Woolloomooloo. What's so awesome about this place is that they have an entirely separate vegan menu just for us vegans. I love how such an elegant restaurant has acknowledged the vegan community, or those who are looking for a healthier option.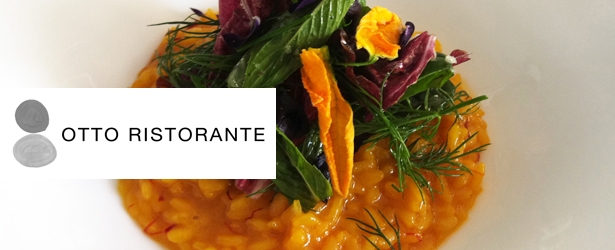 All of the food was beautifully presented but I have to say that my plates were particularly vibrant. I chose the ZUPPA DI SEDANO RAPA (Celeriac soup with diced vegetables, truffle oil ad baby rocket) to start, but consumed all of it before thinking to pause and take a photo. My main, the RISOTTO ALLO ZAFFERANO (Organic canaroli rice with saffron and salad of radicchio, parsley, dill, and zucchini flowers) was visually stunning and the various flavors resulted in a complex yet light-tasting risotto.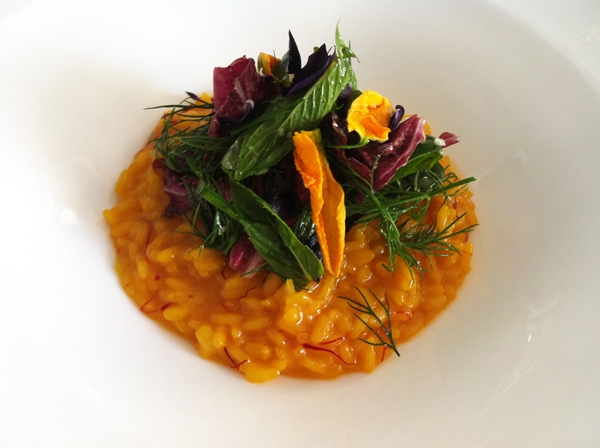 They even have a vegan dessert available that doesn't consist of just fresh fruit. Imagine that! The menu has changed since I ate there, but it still looks fabulous. Otto Ristorante has a price index of "$$$$", so it's probably not an everyday place to eat. However, it's a great place to celebrate a special occasion, savor an elegant meal in a beautiful setting, and not feel completely left-out of the fun if you're the only vegan at the table.