My awesome little mama has been cooking up a storm for me during my stay in Ottawa and I thought it only fair that I return the favor by making her lunch earlier this week. My mom can make pretty much anything, but she had never made taco salads before. And I know that she loves the taco salad at a certain Mexican fast food joint south of the border. So I figured that homemade taco salads would be a nice little lunch that we could enjoy together.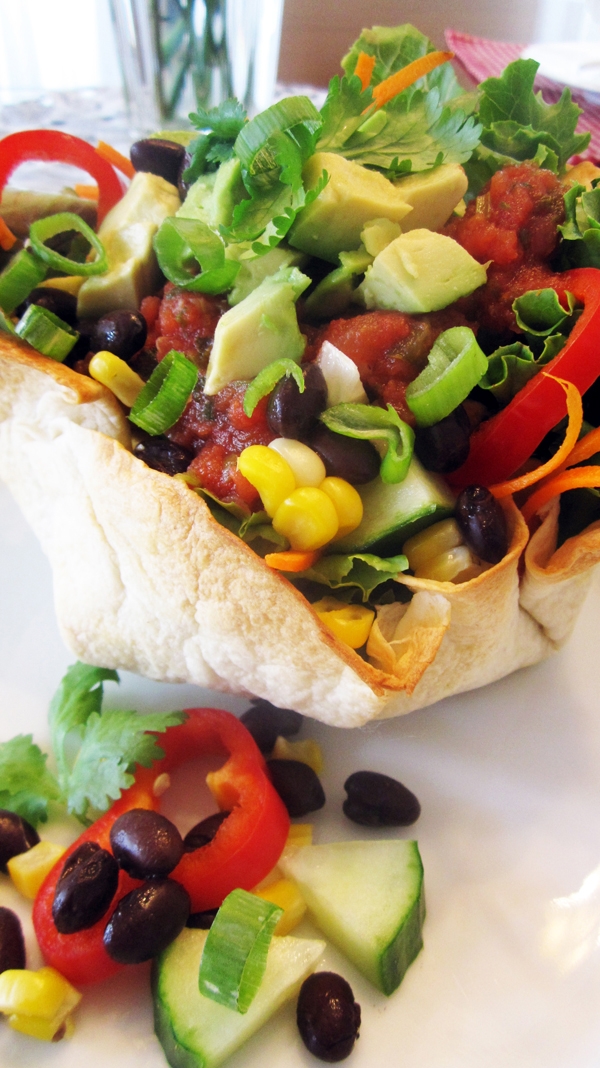 I first came across the idea of making my own tortilla bowls over at Emily's blog, Ordinary Arts. It seemed kind of too good to be true until I Googled and YouTubed my way through dozens of ways to make homemade tortilla bowls. After trying it for myself, I realized that it's really easy and such a great way to serve and eat salads. I've since perfected a method that works best for me, and I hope you'll try making your own tortilla bowls at home too.
My mom can't eat spicy or super-acidic foods, so she opted for a creamy cilantro dressing instead of salsa, and yellow bell peppers instead of red ones. Be aware of your guests' dietary requirements and adjust topping options accordingly – they'll love you for it!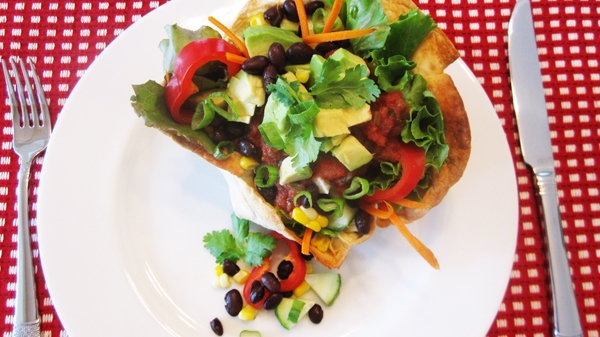 My taco salad, filled with lettuce, black beans, bell peppers, corn, carrots, avocado, cucumber, salsa, cilantro, and green onions.
Filling Ideas
Beans (black or kidney are my favorite)

Serve them cold
Serve them warmed-up
Serve them in a refried style, mashed and sautéed with oil and onions/garlic/cilantro

Salad greens – Lettuce/spinach/kale, shredded
Bell pepper (capsicum), sliced
Carrots, shredded/julienned
Cucumber, shredded/diced/sliced
Corn kernels
Mushrooms, sliced and sauteed (portobello are awesome here)
Tofu strips, sauteed (to mimic chicken)
Rice or Quinoa (with Mexican seasoning)
Salsa (store-bought or quickly made with tomatoes, onions, garlic, lime, cilantro, chili)
Creamy cilantro dressing (in a blender, whiz soft silken tofu with a bit of water, olive oil, garlic, and cilantro)
Guacamole or avocado
Vegan shredded cheese
Vegan sour cream
Fresh cilantro (coriander)
Green onions
… whatever you have on hand and love in your salads!
OR, fill it with Avocado Mango Black Bean Salad
I love Garden Fresh Gourmet salsa. If you're in Canada, you can get a huge container of it at Costco for about $5!
| | |
| --- | --- |
| | |
| | |
| --- | --- |
| | |
Vegan Taco Salad with Homemade Tortilla Bowls
Make your own taco shell bowls, and fill them with healthy and tasty vegan ingredients!
Author:
Angela @ Vegangela
Cuisine:
Mexican, Southwestern
Ingredients
Flour tortillas (make sure they're vegan)
vegetable oil (canola, peanut, etc)
Medium oven-safe bowl
Kitchen string
Instructions
Preheat oven to 400C.
Find a medium-sized bowl on which you can lay the tortilla - ideally, a bit bigger than the tortilla so that it doesn't go beyond the edge of the bowl.
Flip the bowl over. Brush the tortilla with oil on both sides, and place it over the bowl.
Fold-down the tortilla so that it "hugs" the bowl. Tie a piece of string half-way down, to help keep it in place (easiest if you have help, but I've done it alone too).
Place the bowl on a baking sheet, and bake for about 5-7 minutes, or until it is slightly brown and can hold its shape.
Using oven mitts, remove the bowl from the oven, and carefully remove the tortilla shell from around the bowl. Place upright on baking sheet (with string intact) and bake for an additional 6-8 minutes, until browned inside, but not burnt on the edges.
Remove from oven, remove string, and let cool before filling with desired fillings.
Other Uses
Host a taco salad party! Pre-make all your tortilla bowls the day before, and then set-up a station with all the fixings, so your guests can make their own salads. Kids would love this!
Don't stop at salads. Next time you make guacamole for a party, serve it in a tortilla bowl. Or serve your fajita condiments, such as guacamole and salsa, in tortilla bowls.