As promised in my last post, here's one of the recipes that I made while visiting with my parents. I've been making this for a couple years now, and everyone always likes it. I know that it doesn't seem like much, but with a squeeze of fresh lemon, it's a light & lovely meal that really highlights all that great summer produce.
Notes
I first saw this recipe in BBC Australia's Good Food magazine a couple years ago. The original recipe used 2 cans and served four people, but the version below is from the UK website, and it only serves two. Feel free to double or triple the recipe, as needed.
I always keep a couple cans of white beans (haricots, cannellini or white kidney) in the pantry in the summer, because this recipe is a quick way to jazz-up plain-old grilled veggies.
While the original recipe doesn't call for mushrooms, a couple Portobello mushrooms would be great in this too.
Served as a side, the bean mash is a great low-carb alternative to mashed potatoes, and even couscous.
I also served this with some chopped fresh chives from my mom's garden. A little fresh parsley would be great as well.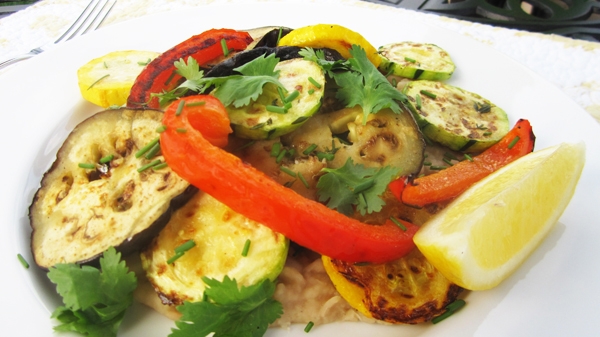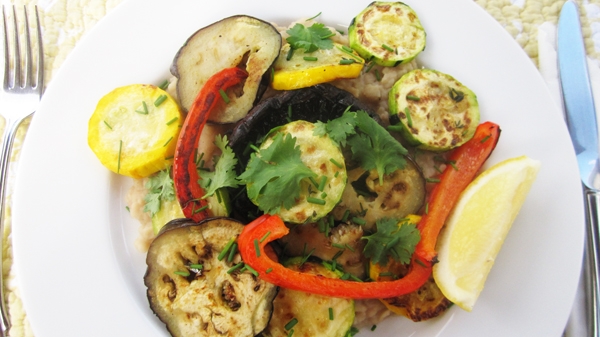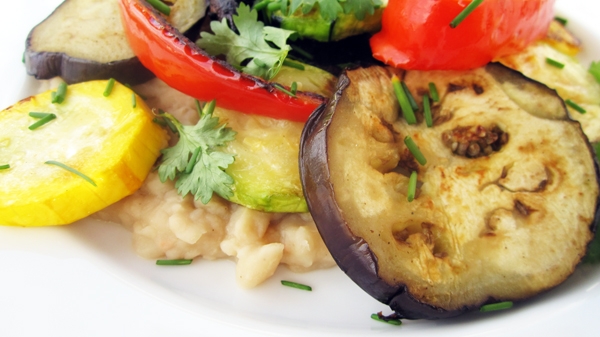 Grilled Mediterranean Vegetables on White Bean Mash
Tired of roast veggies with couscous or pasta? Try mashed beans for a cheap, healthy alternative. Vegan & Gluten-Free
Ingredients
1 red pepper (capsicum), deseeded and quartered
1 aubergine (eggplant), sliced lengthways
2 courgettes (zucchinis), sliced lengthways
2 tbsp olive oil
For the Mash
410g can haricot beans , rinsed (I use Cannellini or White Kidney Beans)
1 garlic clove , crushed
100ml vegetable stock
1 tbsp chopped coriander (cilantro)
lemon wedges, to serve
Instructions
Heat the grill. Arrange the vegetables over a grill pan and brush lightly with oil. Grill until lightly browned, turn them over, brush again with oil, then grill until tender.
Meanwhile, put the beans in a small pan with the garlic and stock. Bring to the boil, then simmer, uncovered, for 10 mins. Mash roughly with a potato masher, adding a little water or more stock if the mash seems too dry. Divide the veg and mash between 2 plates, drizzle over any leftover oil and sprinkle with black pepper and coriander. Add a lemon wedge to each plate and serve.
Notes
From BBC Australia's Good Food magazine
| | |
| --- | --- |
| | |