I'm not really good about blogging about my restaurant dinning experiences. I really only get around to it when it's either a really good or really bad experience. I tend to find that most restaurant food is rather basic and/or isn't good value for money. Too many chefs rely upon cheese, and once you ask them to "hold the dairy", you end-up with a boring salad, bland risotto, or pasta with plain tomato sauce. However, now and then, I come across a little gem that really stands out and puts a huge smile on my face. This happened last weekend when I stepped into Hangry Café in Rozelle (north west Sydney), for a quick bite.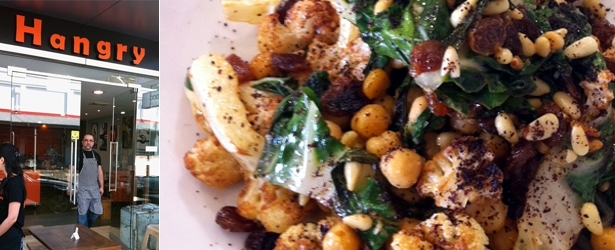 First – the name. When asked, the waitress explained that hangry is how you feel when you get so hungry that you begin to get a little angry. I love it! My fiance can surely attest that I've been hangry on more than one occasion. I think it's a woman and a vegan thing. I really panic when I don't know what or when my next meal is going to be!
Regardless of the cool name, I assumed that I'd be stuck ordering the usual cafe fare – some plain toast and jam+peanut butter, or a fruit plate. I got pretty excited when I saw things like falafel and hummus on the menu. Middle-Eastern food is one of my favorite types of food because there are so many delicious vegan options. My eyes really lit up when I saw a Fried Cauliflower, Chickpea and Silverbeet (Swiss Chard)  salad, topped with sultanas (raisins) and pine nuts. I figured that it would taste like the Fried Cauliflower, Chickpea and Swiss Chard salad, which I had tried at Botega last year and later tried to replicate at home.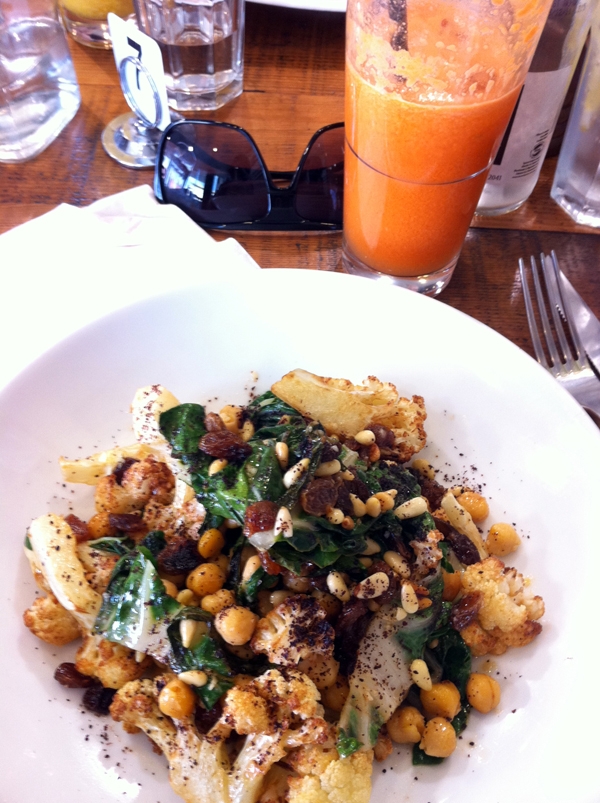 Well, I'm happy to say that this was leaps and bounds better than that version. The cauliflower was perfectly fried, and the chickpeas weren't too hard or mushy. I'm not usually a big fan of raisins, but their sweetness really complimented the bitterness of the silverbeet. And you can put pinenuts on pretty much anything and I'll be happy. I love how this salad, which was so healthy and delicious, was already vegan and didn't need to be modified. I washed it all down with a fresh carrot-apple-ginger juice. What a perfect meal!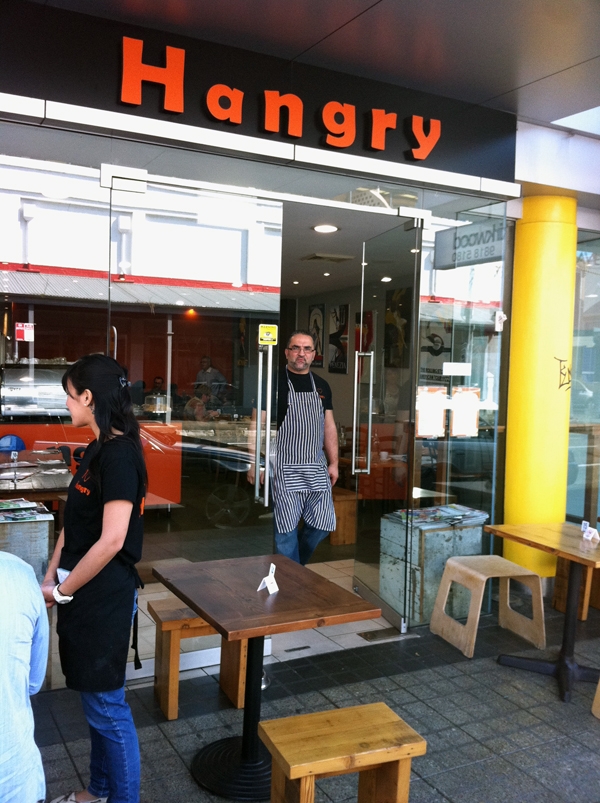 As I was outside snapping a picture of the cafe, Sam, the owner and chef came out to greet me and ask me how the meal was. I gushed about the food and said that I'd be blogging about my experience. Sam inquired about my website's name and asked if I knew anyone who was looking for a job in the kitchen. I have to be honest, the thought crossed my mind to quit my job right then and apply! Later that day, I found that @HangryCafe had begun following me on Twitter. Sam's passion for his food and café really shows. It's worth the trip to Rozelle to check out Hangry Cafe. If you're there, try the cauliflower salad… and tell Sam that Vegangela sent you 🙂