Last night, I had the pleasure of eating at Flying Fish, a fine dining restaurant with breathtaking views of Sydney Harbour at Jones Bay Wharf, Pyrmont. My fiance and I were invited by our friend Anne-Marie who had planned an extravagant all-expenses-paid surprise birthday dinner for her boyfriend Gareth's 30th. It was an honor to celebrate his milestone birthday along with their great friends and family. The fun evening was fueled by delicious food and non-stop champagne and wine – amazing Australian Chardonnay and Central Otago Pinot Noir. As the name of the restaurant implies, it is seafood-oriented, but Anne-Marie had asked the restaurant to prepare a special vegan meal for me. The food was great and I wanted to blog about it because I think it's important to showcase those restaurants that go out of their way to accommodate vegans with delicious and creative food.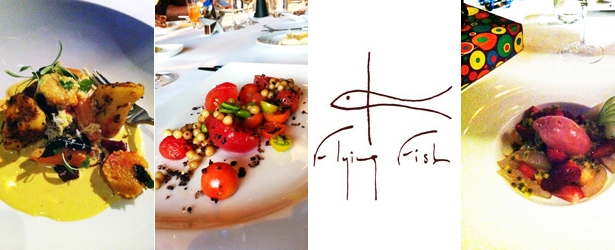 My starter was a beautiful plate of heirloom tomatoes, broad beans and what I believe were large couscous balls. It was light and fresh, and a good indication of what was to come.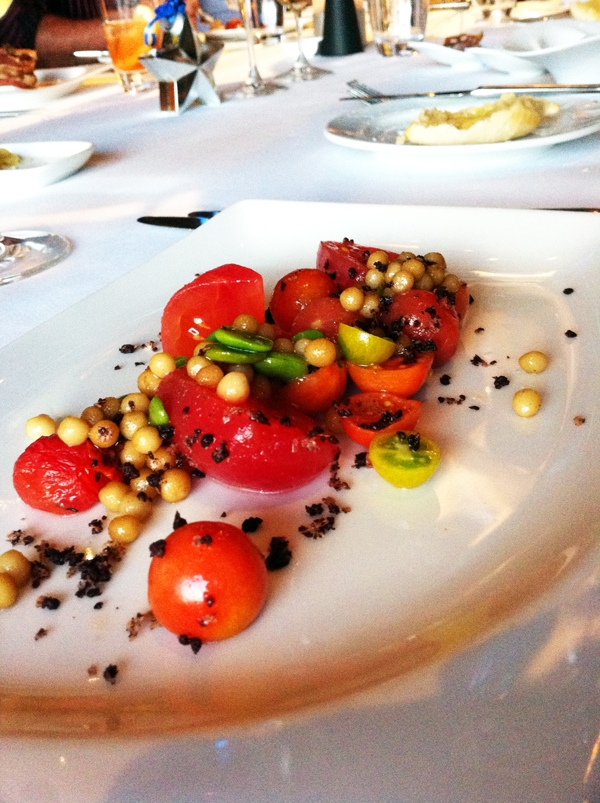 My main was absolutely stunning. It was a vegetable curry that arrived in separate dishes – dry-roasted vegetables with shredded coconut, coconut curry sauce, fine basmati rice, and a fresh chutney. Unfortunately, I got caught-up in the food and forgot to photograph all the dishes, but I did capture the vegetables, with and without the fragrant curry sauce. I loved the way that this was served because it really elevates an everyday curry into something spectacular. It seems so much fresher this way – not like a stew that has been simmering in the same pot for hours. I'm stealing this idea!
While the other guests feasted on the birthday cake (which was shaped like a snowboarding boot to honor the birthday boy's love of the sport), I was served a gorgeous bowl of sorbet with fresh fruit and passion-fruit puree. It was light and fresh – the perfect end to a gorgeous meal.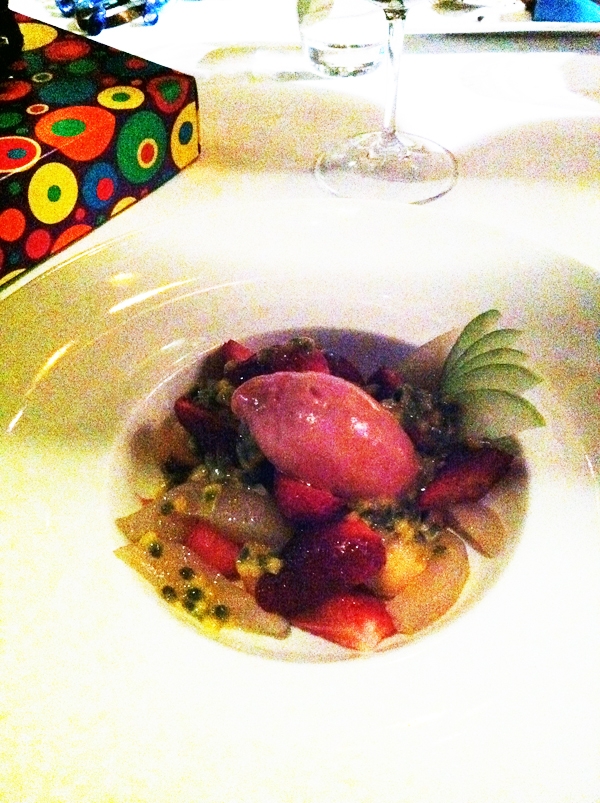 It's great to see a seafood-themed restaurant accommodate vegans so well. If you call ahead, I'm confident that you'll be served a lovely vegan meal at Flying Fish.
Thank you Anne-Marie, for the awesome evening! Welcome to your 30s, Gareth 🙂