My dad was in the Canadian Armed Forces, so when I was growing up, we moved… a lot! We lived throughout Canada and the United States (where I attended high school). All in all, I attended 9 schools and got to experience and see first-hand a good portion of those great countries. However, many of those mostly suburban experiences paled in comparison to the time that I spent in New York City.
I got to visit the Big Apple for the first time back in high school and I completely fell in love with it. Then in the summer of '99, I got to spend a whole summer there. Most of my time was spent in Greenwich Village and I think that the sights, sounds and tastes of that neighborhood will live in me forever. From the bagels and falafels on St-Marks, to the gelato and pot stickers on 14th street, I pretty much ate my way around that town!
There's probably a reason why I love NYC so much. You see, I lost many culinary virginities in NYC: first time eating sushi/Japanese, first time eating falafel, first time eating at a vegetarian restaurant (Angelica Kitchen on 12th)… the list goes on. Trying to be vegan in North Carolina, Virginia and Ottawa at the beginning of the millennium was a far cry from what New York City had to offer! The health food stores alone were enormous (this was before Whole Foods, people)! In fact, I still faithfully use my old canvas tote bag from LifeThyme on 6th ave (they sold the best vegan muffins and it's also where I first discovered nooch).
So as you can see, NYC will always hold a special place in my heart (and belly). One of my favorite restaurants was Dojo. While the ambiance and service was never 5-star, the food was fresh and cheap, and there were many great vegan options on the  menu. Dojo's is probably most famous for its carrot ginger dressing, and a quick Google search will tell you that people are always seeking-out the ingredients to that special sauce. The dressing is so good that people always ask for an extra order of it. I personally loved it so much that I would buy 2 or 3 tubs of it whenever I visited NYC and cradle it on my lap during the flight back to Ottawa (this was before all the TSA liquid rules). I really loved that dressing!
Over the years, I've tried many carrot ginger dressing recipes, and I like to think that I've perfected the recipe below to closely resemble the real thing. Actually, I remember the original version being quite oily, so other than that, I think it's pretty spot-on!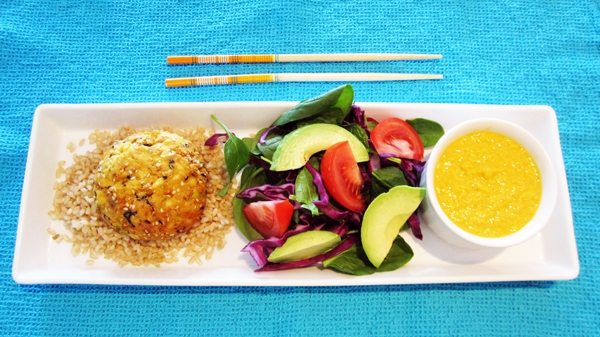 Back in the day, I only ever ordered the Tofu Salad (cold tofu served over greens, tomatoes, cucumber and avocado), but I've heard good things about their Hijiki Tofu Burger as well. So to round-out this Dojo-inspired meal, I also made this hijiki tofu burger from PeTA.com. The burger is soft and crumbly, and it pairs really nicely with a salad and of course, more dressing! I served the burger on a bed of brown rice but quinoa would be really nice too. You can also serve it directly on a salad, or in a pita.
Carrot Ginger Dressing
If you love the carrot ginger dressing from Dojo's restaurant in NYC, then you'll love this dressing. It's great served on a green salad and/or with a Hijiki tofu burger and brown rice. Vegan / Gluten-Free
Author:
Angela @ Vegangela.com
Recipe type:
Salad, Dressing, Sauce
Ingredients
1 medium carrot, peeled and roughly chopped
¼ cup vegetable oil
2 tbsp diced onion
2 tbsp fresh ginger
2 tbsp rice wine vinegar
2 tbsp tamari / soy sauce (use gluten-free if needed)
1 tbsp mirin
1 tbsp white miso paste
1 tbsp sesame oil
1 clove garlic, minced
¼ tsp salt
Instructions
Blend everything in a food processor until smooth. Keeps in the fridge a few days but you may have to remix it as the oil may separate.
Notes on the Burgers
I couldn't find any hijiki, but I did find some shredded nori (see photo above). I didn't pre-soak it and it seemed to work very well. The seaweed taste is pretty minimal, but if you don't like the stuff, feel free to leave it out completely.
The burgers freeze well, so you can make them ahead and serve them with fresh dressing, as needed.
Q: Have you ever eaten at Dojo's?