Last night, my man and I decided to check out the Night Noodle Markets, which are just one of the events taking place as part of the Sydney International Food Festival. While many of the events aren't very vegan-friendly (don't worry, they've heard plenty from me!), I always manage to find a few things at the noodle markets to nibble on.
The concept is so cool – for 10 days, one of Sydney's fabulous downtown parks (Hyde park) is transformed into a Asian hawker-style market, complete with Asian food stalls and Chinese lanterns hanging here and there. The Night Noodle Markets is a major highlight of the Food Festival with more than 125,000 guests dropping by to take in the atmosphere. The palm trees are lit-up by multicolored lights and it's just so surreal sitting in a park in the middle of the city, surrounded by skyscrapers and… palm trees. Maybe it's a Canadian thing, but I'll never quite get used to seeing palm trees in the city (or anywhere, for that matter)!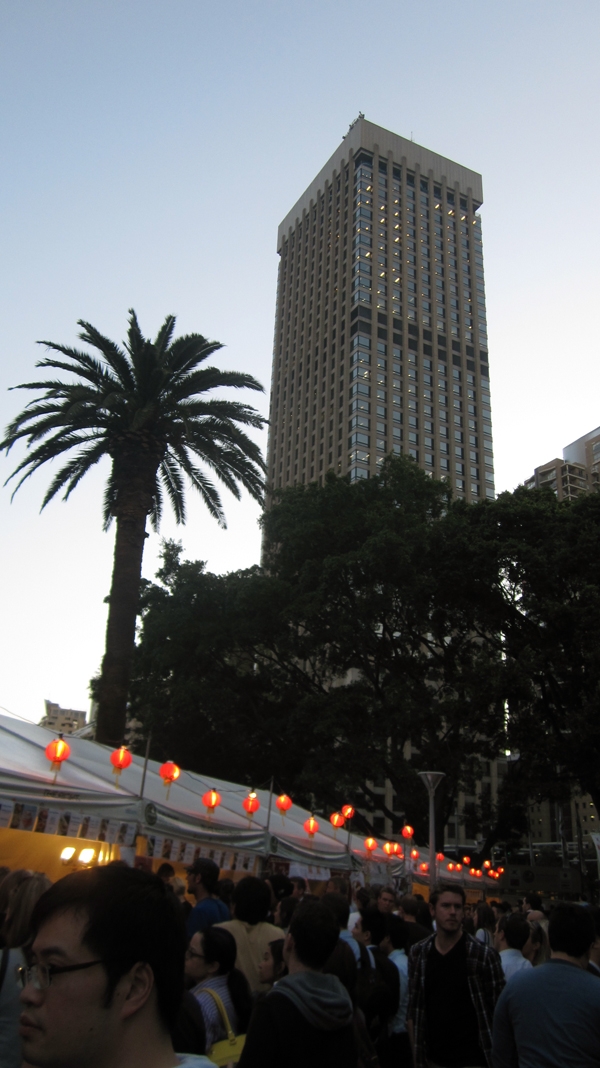 While there are some tables and chairs, a large majority of people just cop a squat and sit in the grass. There's live music (last night was DJ spinning great House music) and it's just an overall cool vibe. Most people are in their business clothes, having come straight from work, but there are also a lot of older people and young families too. With Sydney's laid-back attitude, everyone's invited!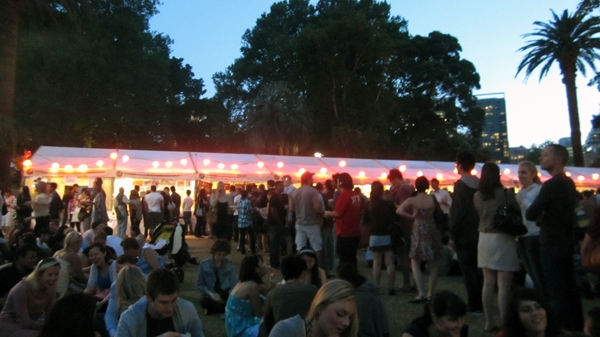 Because there are only a dozen or so food stalls, the food line-ups can be quite long. Because you can't inquire about ingredients until you're at the front, I didn't want to chance it with Thai food (fish sauce, etc), so I opted for Chinese food. I got really lucky at the New Shanghai stall, because 3 of their 5 items for sale were vegan. Score!
After about a 20-minute wait, we had our food and grabbed a spot to sit in the grass…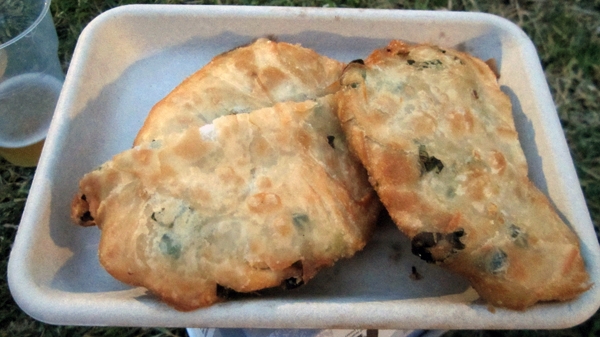 First up, the Shallot Pancakes, or scallion pancakes as we call them back home. These were deep-fried doughy goodness, and while I thought they could use a few more scallions, they were still really nice. I left the line-up too quickly to grab any soy sauce, but they were great regardless.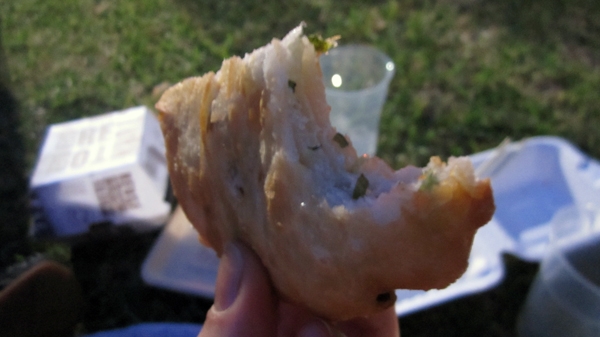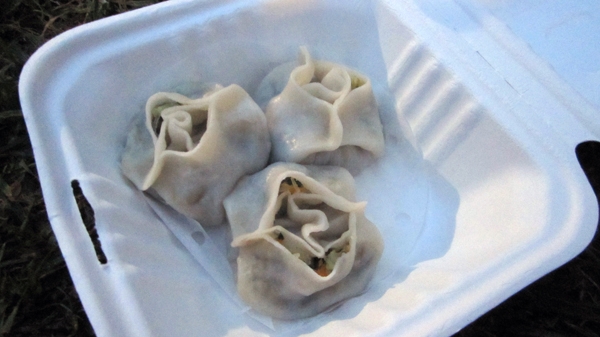 Next up: the Steamed Vegetarian Dumplings. I actually didn't have high hopes for these because it's been a long time since I've had good Chinese dumplings. I tend to prefer Japanese Gyoza because they tend to have more flavor. These were great though, with a really strong spinach and maybe leek flavor? Regardless, they were very tasty, even without any soy sauce.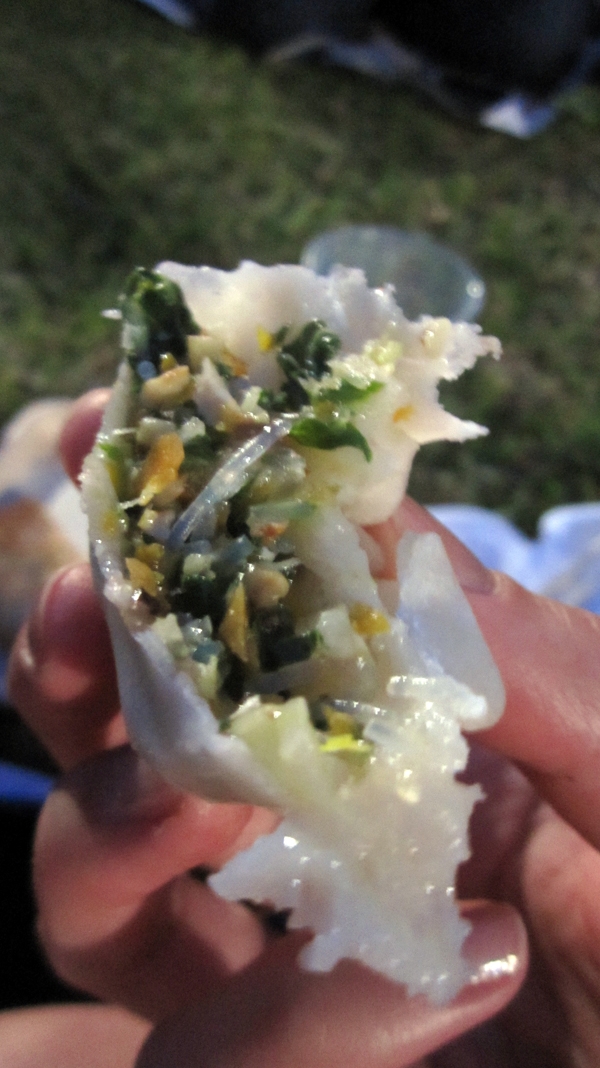 Finally, I've never been a big fan of Chinese-style buns. The only time I'd ever had them was part of a Dim Sum meal where I found everything to be way too doughy and kind of tasteless. But these were "Steam pumpkin balls fill with red bean paste" (sic) and they were vegan. Sometimes you have to bite the bullet in the name of vegan food blogging…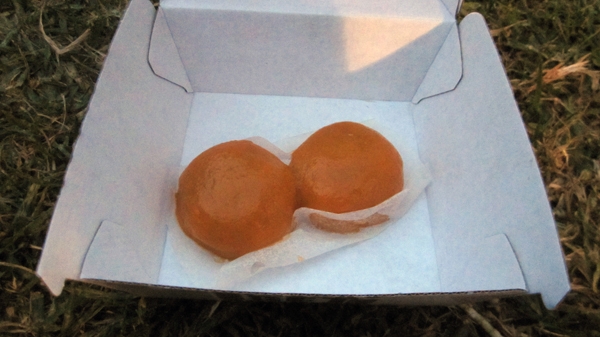 Man, was I happy to have tried these! Yes, they were sticky and chewy but they were also truly delicious. I loved the red bean filling. How cool is it to get your protein from your dessert?! That scores some definite vegan brownie pumpkin bun points in my book!
I liked how all of the food containers seemed to be made of post-consumer materials, and there were recycling bins to collect all the rubbish (see, I say "rubbish" now instead of "trash"… they're getting to me!)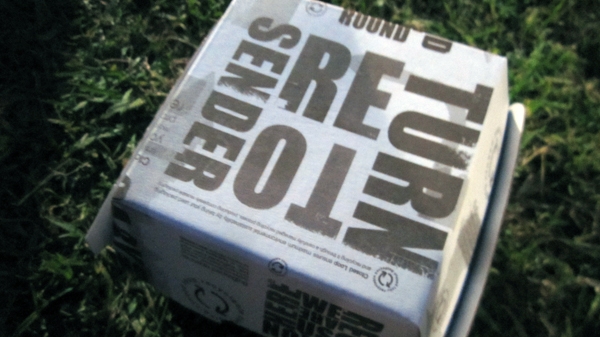 Here are a few more shots I took while walking around…