What can I say – I'm a sucker for pasta. I honestly don't think that I could have been vegan all these years without it. So in honor of Vegan MoFo, I thought it I'd compile a list of my favorites. From the carb-overload variety, to super-healthy options, here are my all-time favorite pasta recipes (in no particular order):
1. Spaghetti & Mushroom "Neat" Balls

These babies take a little while to prepare, but they're way better than any store-bought version. You can even freeze half the batch for later, so they can be enjoyed on a busy weeknight.
2. Best Ever Vegan Mac & Cheese

What would a vegan blog be without a vegan mac and cheese recipe? This one's the best one I've tried so far, but if you think you've got a better one, let me know!
3. Tofu & Spinach Cannelloni

When I first posted this last year, I erroneously labeled it manicotti, when it's really cannelloni. Regardless, this comfort food is relatively low in carbs because you're eating way more protein (tofu) than actual pasta.
4. Low-Carb Cannelloni

If you're really looking for something low-carb, then this is for you. Eggplant is used instead of pasta shells, but it's not that much more work and it tastes great.
5. Pesto Pasta

Sorry for the boring photo – but this stuff rarely hangs around long enough for a photo shoot. There's really no better use for fresh basil than to make your own homemade pesto. And if freezed as single portions in an ice cube tray (learn how), you can enjoy it all winter long. It's great mixed into mayo, on bruschetta… pasta is just the beginning for this versatile sauce!
6. Vegan Yum Yum's Tomato Cream Sauce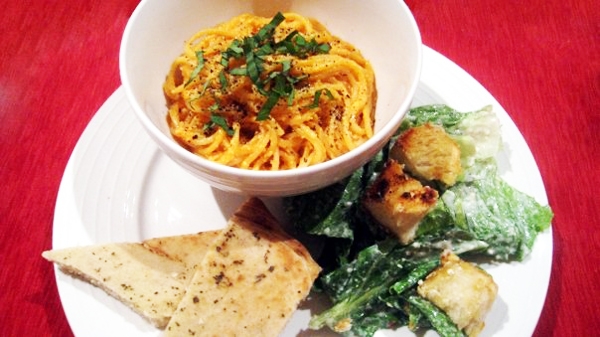 Whether you make the Tofutti-based one, or the cashew based one (or a combination of both, as I've done a few times), this is a real winner. So rich and creamy, it rivals anything you'd pay $16 for in a restaurant!
7. Raw Vegan Alfredo Sauce with Zucchini Noodles

This recipe uses fresh zucchini as pasta – oh, and the sauce works well heated-up as well…
8. Fresh Tomato, Basil and Lemon Zucchini Pasta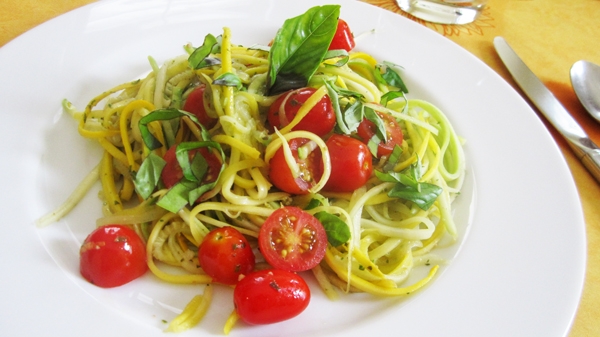 Again, this uses zucchini for the pasta. The flavors are so fresh and vibrant, I think I've made this 5-6 times since discovering it in August. It's that good!
Q: What are your favorite pasta recipes?