When my fiance and I moved to Sydney almost three years ago, we tried many of the city's sushi restaurants. From sushi trains to high-end establishments, we searched high-and-low for a spot that was equally good for him (the omnivore) and I (the vegan). For a while, we were pretty obsessed with Tokonoma in Surry Hills. But after a couple bad experiences (poor service, too-loud music, mediocre food), we decided to try Busshari in Potts Point. Since eating there for the first time earlier this year, we haven't looked back.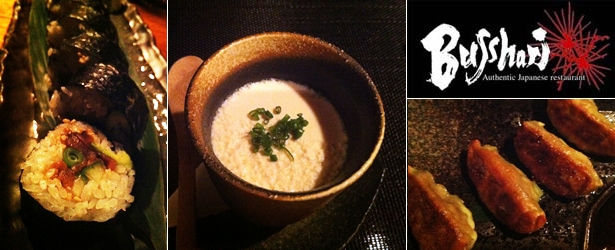 The contemporary decor features sleek surfaces and dim lighting. There are two low tables in the front window area but otherwise, patrons eat at high tables or at the sushi bar. Busshari is one of those rare restaurants that boasts a great wine list while also offering BYO. The wine glasses are big and delicate – not those cheap short wine glasses that you see at many of the other BYOs in town. The service at Busshari is some of the best I've had in the city. From being warmly greeted by Ben (the manager), to the attentive service throughout the meal, it feels more like the North American service that we're used to. The overall value for money here is exceptional. The food is beautifully presented and tastes a lot more expensive than it is.
I had noticed Fresh Tofu listed on the daily specials menu, but thought it was just inari – those deep-fried tofu skins filled with rice. But last month, I finally decided to ask about it and was told that it is actually silken tofu that is made in-house by the sushi chef. It is normally served with fish stock, but the waitress said that if I liked tofu, I should try it straight-up. It was served in a cute little earthenware cup with a little wooden spoon. It had an amazing creamy consistency and was awesome with a few green onion slices and a dash of soy sauce. I felt like I was eating a savory Japanese yogurt. I've ordered it a few times since!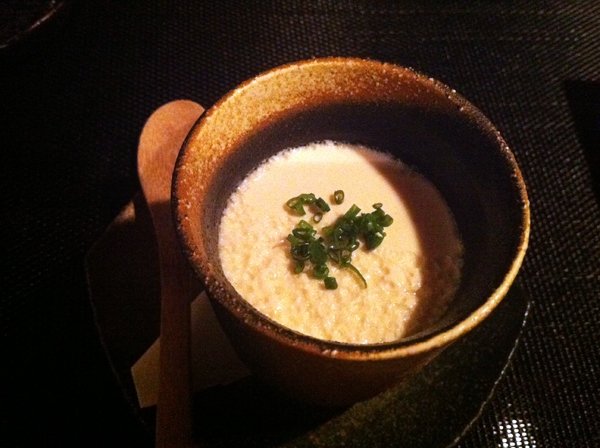 I've eaten at many Japanese restaurants in town and very few of them seem to offer Gyoza (pan-fried dumplings), but if they do, they tend to be pork and not vegetable. Busshari is different in that they offer both. Just be sure to confirm that you want the vegetable ones and you'll be greeted with four delicately flavored vegan dumplings. I think they're they best gyoza that I've ever had.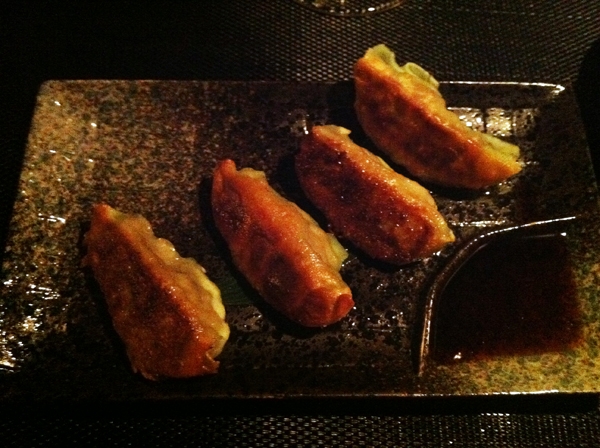 Unfortunately, the Busshari Veggie Roll isn't actually vegetarian because the tofu in it is marinated in bonito (fish) stock. Even without the tofu, the creamy avocado, cucumber, mushroom, Japanese pickles and toasted sesame seeds make for a nice big roll. They should really offer it as a true vegetatian roll though…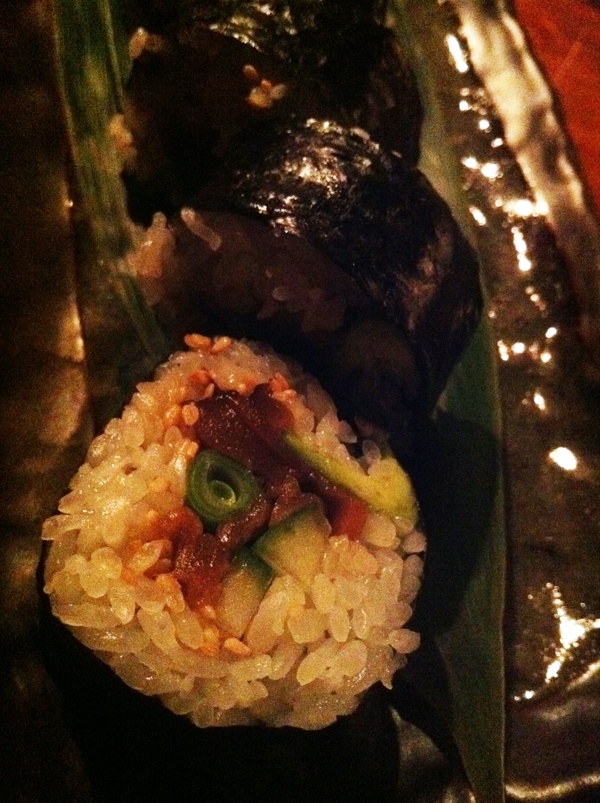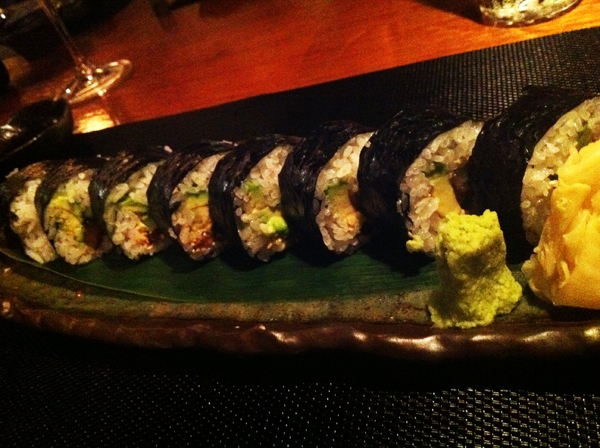 I can only speak personally about these vegan options, but all the omnivores that I've eaten with here love it too. We recently ran into one of the city's top food editors and she said that Busshari was the best Japanese in town in terms of value and ambiance. I couldn't agree more. I love the fact that I can rock up to Busshari in jeans or a cocktail dress and feel equally at place. Busshari offers the total package. You'll look around and feel as though you're in a high-end restaurant, and while you'll be served and fed as though you are, your bill will be much lower than expected. Even in the best of establishments, it's so rare to see everything come together as well as it does here.