The weather has been absolutely gorgeous here in Sydney and summer is just around the corner. However, even though it was warm on Tuesday, I was in the mood for a hot soup. Does that ever happen to you?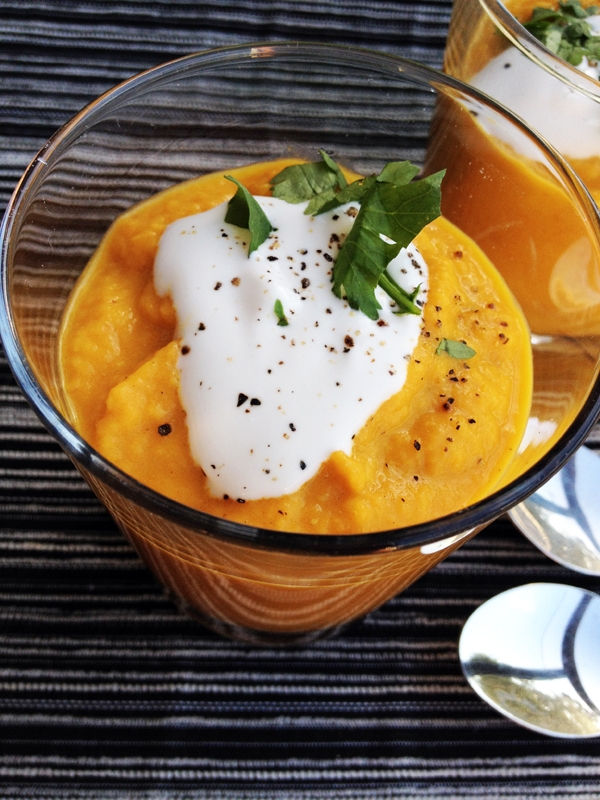 Perhaps it was because I was feeling a little bit run-down, but I just knew that some bright homemade soup would make me feel better. I had butternut squash and coconut milk on hand, so I could have easily made my Roasted Butternut Squash, Lime & Coconut Soup. But I have other plans for the squash (as you'll soon see), so I thought a carrot soup would be a nice option. Again, I could have made my Carrot Soup, but now all those thoughts of creamy coconut-milk made me want something different. I came across Joy's Carrot Apple Ginger Soup and figured it would be great with a bit of coconut milk substituted for half the vegetable broth.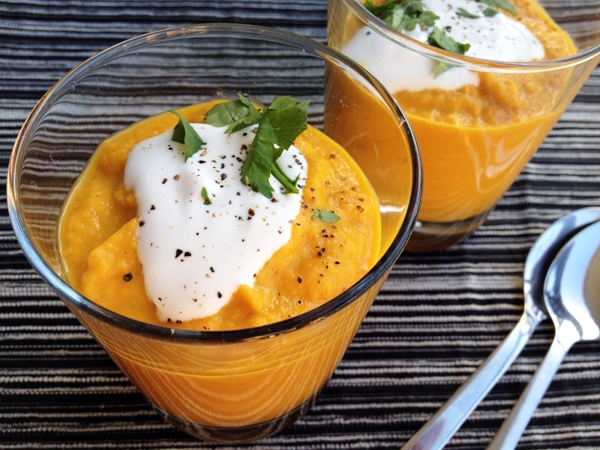 Well, you know what? I was right! The soup has such a gorgeous color, and the flavor combination is just awesome. If you've ever enjoyed a fresh carrot-apple-ginger juice, then you know what I'm talking about. The coconut milk adds another level of flavor, not to mention so much creaminess. I can easily see myself making this again in the future and adding it to my list of all-time favorites…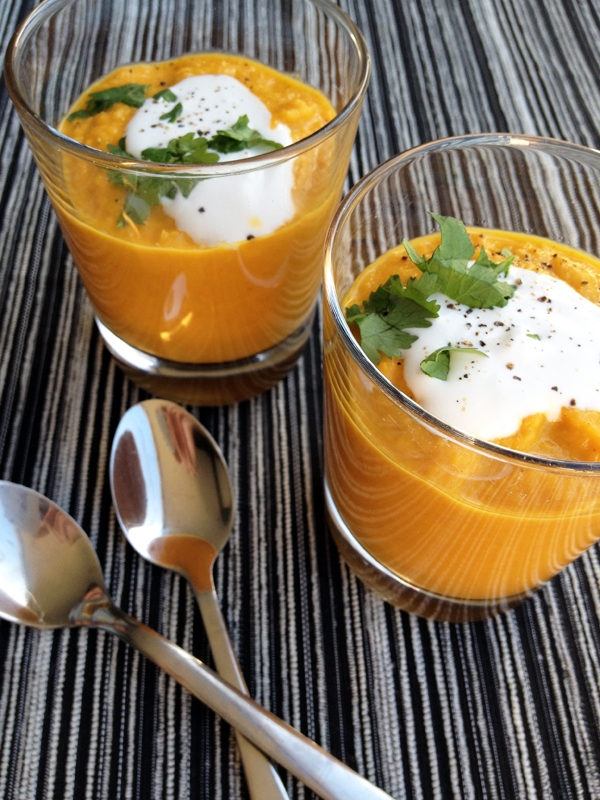 In fact, what makes a recipe a  "keeper" in this house isn't just its taste, but also a simple ingredient list. Apples and carrots are fridge staples, and I always try to keep a couple cans of coconut milk in the cupboard. I also freeze my fresh ginger, so that means that I can easily pull this soup together anytime, without any "special" ingredients. Gotta love those types of recipes!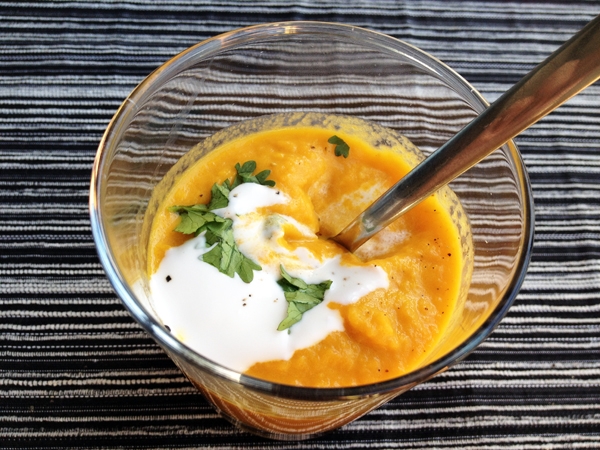 Carrot Apple Ginger Soup with Coconut Milk
Author:
Angela @ Vegangela.com
Ingredients
3 tablespoons olive oil
1 small yellow onion, sliced
1 clove garlic, minced
2 tablespoons fresh ginger, peeled and grated
1 small apple, peeled and sliced
5 cups sliced, peeled carrots (about 1½ pounds)
2 cups vegetable broth
1 can coconut milk
pinch of nutmeg
salt and pepper to taste
Instructions
Heat olive oil in a large pot over medium heat. Add onions and cook until softened and translucent, about 5 minutes. Add ginger and garlic and cook for one minute, until fragrant. Add sliced apples and diced carrots and cook for 3 minutes more.
Increase heat to medium-high and add vegetable broth. Bring to a boil. Reduce heat to low and simmer, uncovered, until carrots and apples are softened, about 30 minutes. Remove pan from the heat and let rest for 10 minutes, then stir-in the coconut milk.
Use an immersion (stick) blender to fully blend the soup, or, if using a regular blender, blend the soup in batches. (Be sure not to fill the blender more than halfway full or hot soup will explode everywhere. Also, when blending hot liquids in a blender, leave the blender lid slightly ajar to let some of the steam escape.)
Once all of the soup is blended, return to the pot (if you used a regular blender). You may decide that you want you soup a bit thinner in consistency. Add more vegetable broth if you'd like. Taste, and add a dash of fresh ground nutmeg, as well as salt and pepper to taste. The soup won't need much pepper, as ginger is pretty spicy.
Serve with a drizzle of quality olive oil, a sprinkling of fresh cracked pepper, coconut milk, vegan sour cream, cashew cream, fresh coriander (cilantro), carrot greens, etc…
Soup will last, in an airtight container in the refrigerator for up to 4 days. Soup also freezes well. Thaw in the fridge before reheating.
Notes
Adapted from Joy the Baker's Carrot Apple Ginger Soup http://www.joythebaker.com/blog/2011/04/carrot-apple-ginger-soup