Judging by the recent comments that I've been receiving, pretty much everyone in the northern hemisphere is looking to beat the summer heat with some easy and fresh-tasting salads. So I thought I'd share some of my all-time favorites with you, including the ones that I've been making the past couple weeks, now that I have a kitchen again!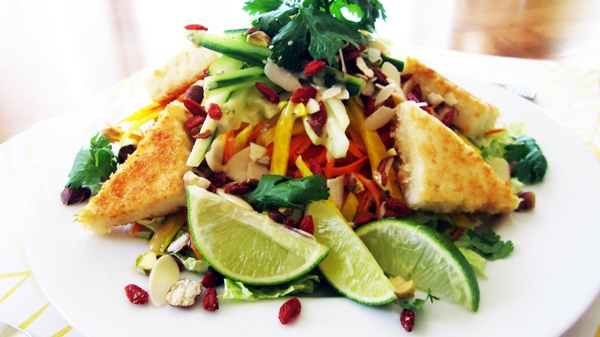 I live 2 blocks from one of the Fresh Restaurant locations here in Toronto. But despite practically living there for the first few weeks of moving here, this dressing was one of the first things that I made after finally getting my kitchen set up. I use the dressing on green salads and on quinoa or noodles. It's easy to make and tastes so… fresh!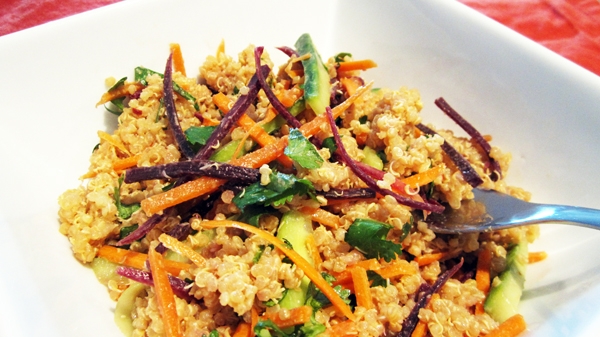 This is the first quinoa-based meal that I made in my new kitchen. It's just such a beautiful salad, both taste-wise and in color. Depending on what I have on hand, I use cabbage and/or bell pepper in place of the purple carrots. Mint is a great substitution for those who don't like cilantro, and the leftovers are great for lunch the next day.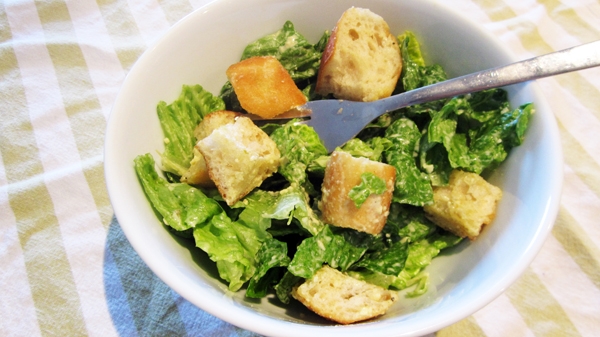 What would summer be without a big bowl of Caesar salad? Here's my original recipe – I've been told that it rivals all those cheese and mayo laden ones!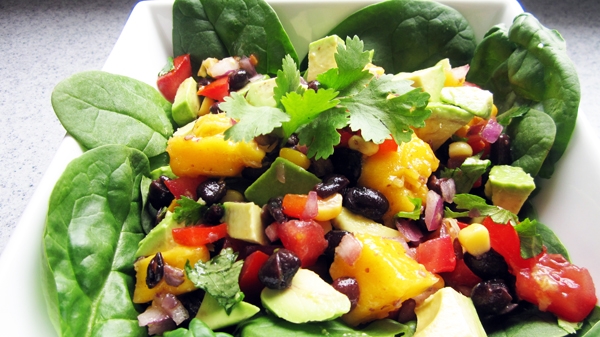 The challenge with this one is getting a couple avocados and a mango to be ripe on the same day. But if you're lucky enough for that, then this salad makes itself. It's so colorful and tasty – definitely one of my all-time favorites.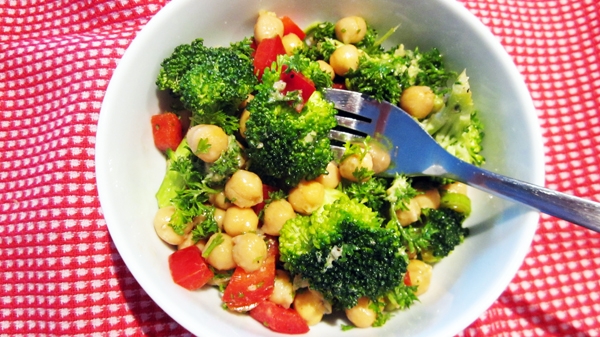 I have to say that other than hummus, this is easily the recipe that I make the most often. It's easy, it's fresh, and it's deceptively delicious. Bonus: if you use canned chickpeas, this is a no-cook meal.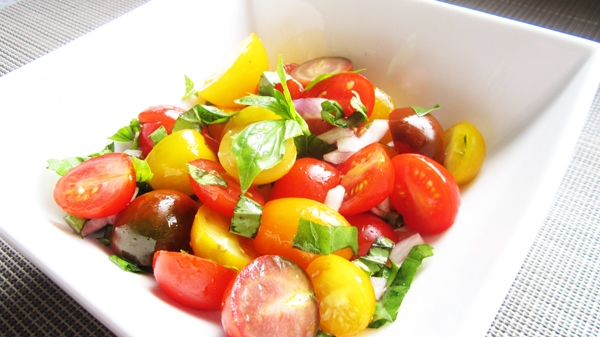 It doesn't get easier – or fresher – than this. Crisp, ripe tomatoes, tossed in olive oil and fresh basil. Use diced tomatoes if you can't find good grape or cherry varieties. The yellow ones are my favorite!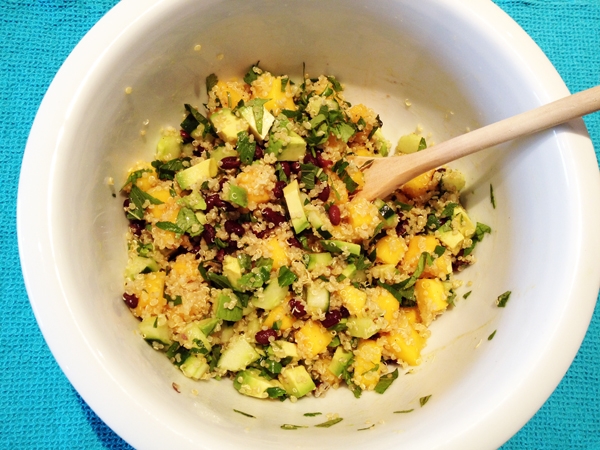 While I originally came up with this recipe for a post-Thanksgiving detox, the ingredients and flavors totally scream "summer". It's zesty and fruity, and full of protein from the black beans and quinoa.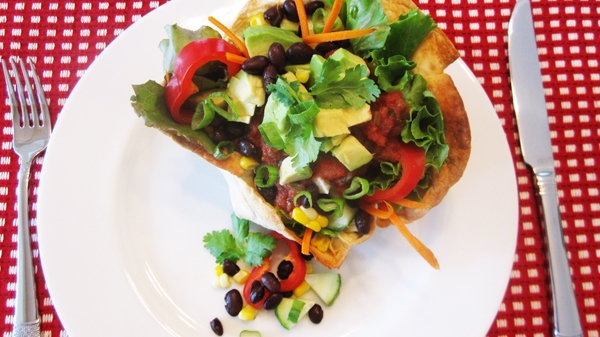 While the bowls themselves require a bit of time in the oven, you can keep the fillings fresh and easy. I can imagine making a bunch of bowls beforehand, and then letting people fill their own out in the backyard. They would also be great filled with the Avocado Mango Black Bean Salad, above.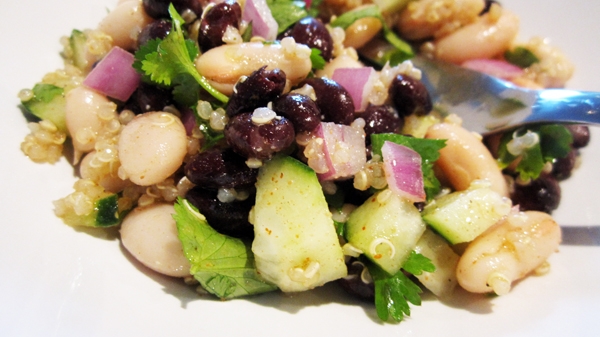 I'm really surprised that I haven't made this one since being back, because I made it pretty much every week back in Sydney. It's jam-packed with protein from all the beans and quinoa, and is so refreshing after chilling for a bit in the fridge. I will be making this next week for sure!
If you use canned chickpeas, this no-cook salad is a breeze to put together. Some readers have added chunks of avocado to it, and I think that's a brilliant idea!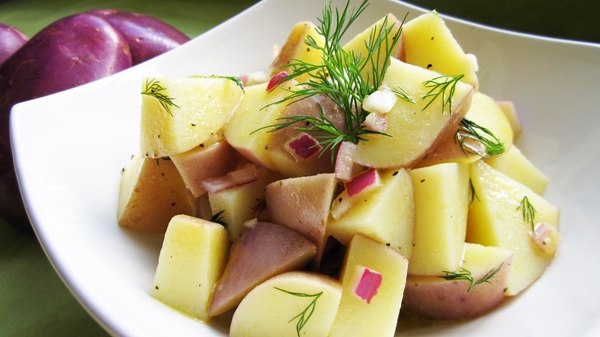 Nothing says summer like potato salad. This lighter version is great served warm or cold.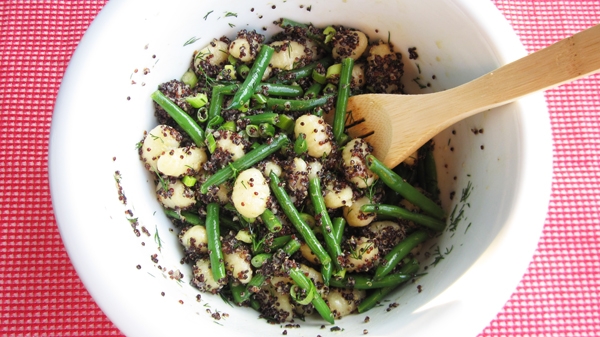 I came up with this original recipe last year and I think it's a neat take on potato salad. While it does require some stove time, the results are well-worth it. Gnocchi is a carb-lover's dream, but the healthy addition of quinoa and green beans offset all of that.
So that's my list. Let me know if you've try any of these and what you think…
Q: What's your favorite summer salad? Share them below, I'd love to try them!