This salad is one my new favorites. It's light and zesty – exactly what I crave during the summer…
Before I get into the recipe, I really need to take care of a few housekeeping items that are long overdue! I guess you could call it my spring cleaning… in July! Better late than never, right? Here goes:
Back in April, I was honored to win a spot in The Vegan Woman's 2013 Vegan Food Blog Guide. I totally don't feel worthy to be included among all those amazing vegan food bloggers, but I'm so proud to be included in the list once again this year and have finally updated the badge on the right-side of my site. If you aren't already doing so, please take a moment to visit The Vegan Woman's website, and "like" The Vegan Woman on Facebook. It's a wealth of awesome and inspirational vegan info!
Rika from Vegan Miam also honored me in April with a Liebster Award. I won a Liebster Award a couple years ago, and rather than list an updated list of my 5 favorite blogs, I'm going to do a special post later this month about the many vegan  resources that I read on a daily/weekly/monthly basis. In the meantime, I do want to say a big THANKS to Rika for the nomination. Check out Vegan Miam when you have a moment – it's a great site. I wish I was as good as Rika in terms of documenting my vegan meals when I'm travelling!
OK – back to the salad! My mom clipped this recipe for me and we made it together the last time I was in town. She's always clipping great recipes for us to try – she's the best! We can't quite remember, but we believe it's from Style at Home magazine, and it was easy to make vegan.
Modifications to Original Recipe
The original recipe has you toasting the quinoa first – I don't see that as a necessary step for this recipe, so I've left that out in the instructions below
We swapped the chicken broth with vegetable broth
We reduced the red onion from a whole onion to 3/4 cup
We increased the pine nuts from 3 tbsp to 4 tbsp (1/4 cup)
We doubled the fresh oregano and basil from 1 tbsp of each to 2 tbsp of each
We used whole Kalamata olives instead of pitted, because that's what we had on hand
We left-out the feta cheese (you could use tofu feta though)
My mom recently renovated her kitchen. Don't you just love the counter top and those recycled glass back splash? I felt like we were cooking in a gorgeous French bistro!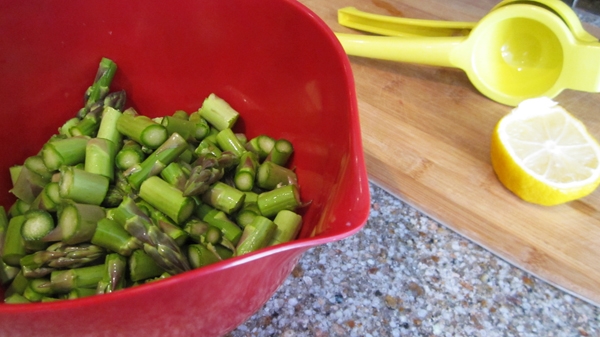 Notes
This salad is best served immediately, while it's still warm. However, it was still really good out of the fridge the following day…
Quinoa Salad with Asparagus, Sundried Tomatoes, Olives & Pine Nuts
This zesty salad comes together nicely with mostly pantry ingredients. It's vegan and gluten-free.
Author:
Angela @ Vegangela.com
Ingredients
1½ cups uncooked quinoa
3 cups vegetable broth
1 large bunch asparagus, stalks cut off and cut into ½" pieces
½ cup chopped sundried tomatoes packed in oil (about 8 sundried tomatoes), plus 2 tbsp oil (reserved to use in dressing)
½ cup pitted Kalamata olives
¾ cup red onion, finely chopped
¼ cup toasted pine nuts
Dressing
1 clove garlic, minced
2 tbsp reserved oil from sundried tomatoes
¼ cup freshly squeezed lemon juice
2 tbsp fresh oregano, chopped
2 tbsp fresh basil, chopped
Sea salt and freshly ground black pepper
Instructions
Place the quinoa in a fine mesh strainer and rinse thoroughly with cool water for at least 2 minutes; drain.
In a medium saucepan, bring the broth and quinoa to a boil over medium-high heat. Reduce the heat to the lowest setting, cover and cook for 15 minutes.
Remove the saucepan from the heat and let the mixture stand, covered, for 5 minutes. Fluff the quinoa with a fork and set aside.
Steam the asparagus for 2 minutes, or until tender-crisp. Transfer the asparagus to a colander and rinse under ice-cold water to stop the cooking process. Drain thoroughly and set aside.
In a large bowl, whisk together the dressing ingredients in a large bowl. When cool, add the quinoa, asparagus, sundried tomatoes, olives and onions, and toss gently to combine. Top with toasted pine nuts and serve.
Notes
Adapted from recipe in Style at Home Magazine