I love pierogies. Those little dough dumplings filled with a mashed potato filling are a carb-lover's dream. Back in my university days, I ate a lot of potato & onion pierogies. I would top them with Tofutti sour cream, and when I ran out of that, I'd even eat them with pasta sauce. Needless to say, they're one of my all-time favorite comfort foods!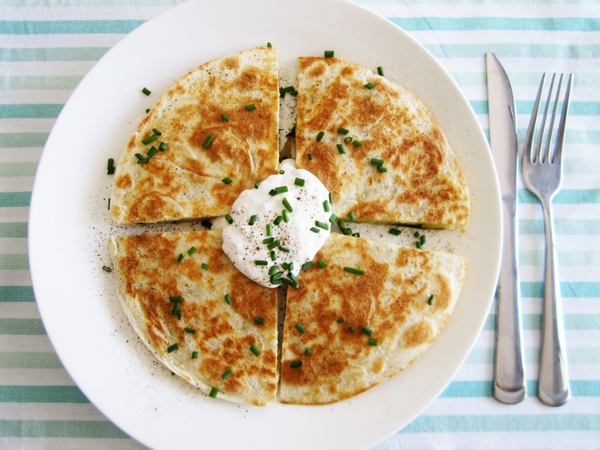 This recipe is a twist on traditional pierogies in that it uses flour tortillas instead of the dumpling-style dough. The result is sort of a big pierogi pie (Mmm… pierogi pie) that is fun to eat, and I imagine a lot less work than making traditional pierogies from scratch!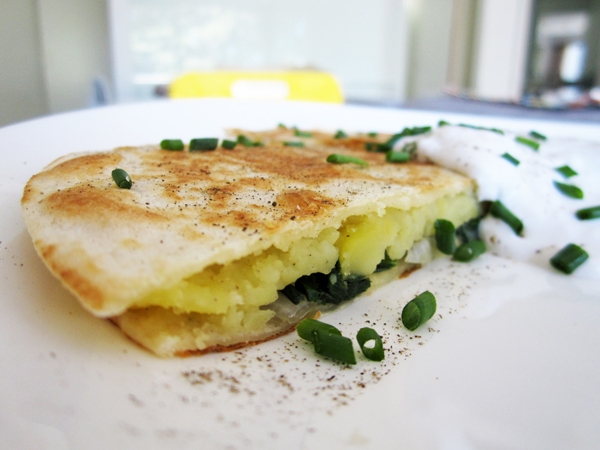 The idea for this recipe actually comes from Liz and Tami over at Vegan Horizons. I had bookmarked their post back in 2011 but only got around working on a recipe for it last week. I'm glad to have finally done it, as it's a great way of satisfying any pierogi cravings that come along in the future!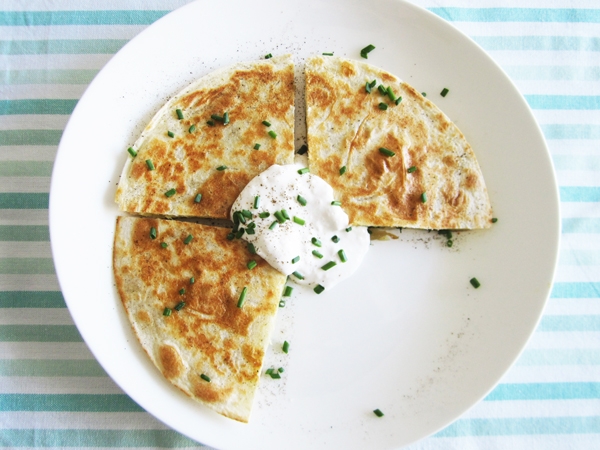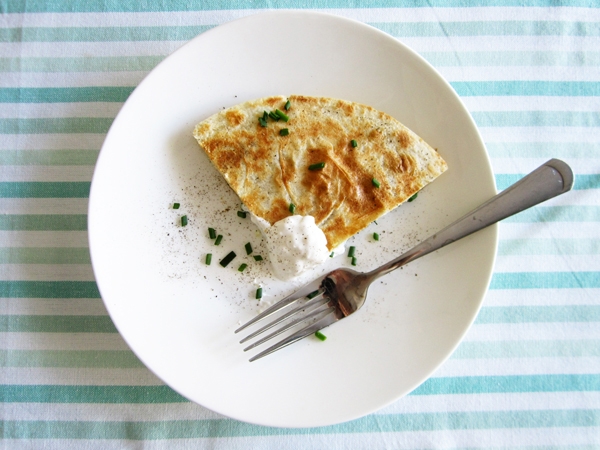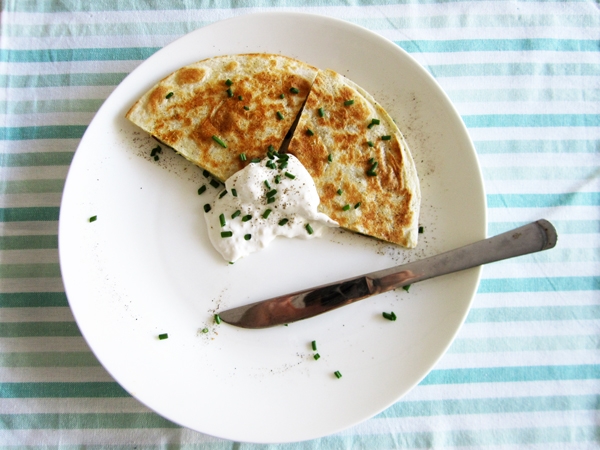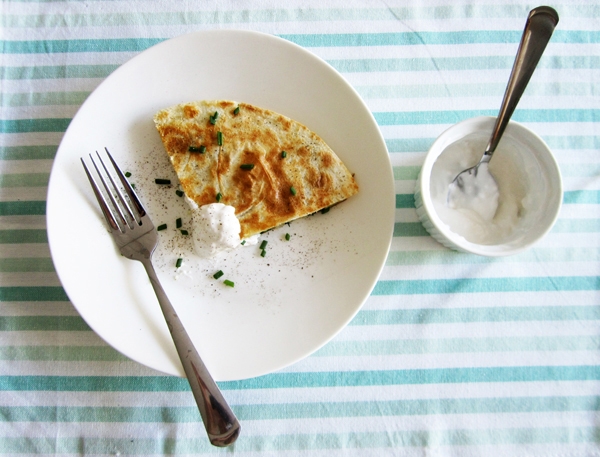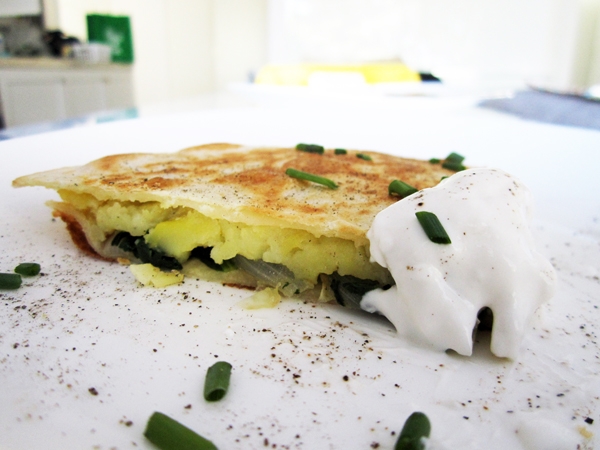 TIP – My local grocery store doesn't carry Tofutti sour cream, but it does sell Tofutti cream cheese. The good news is that they contain the same ingredients, so all you have to do is whisk a bit of water into the cream cheese in order to give it a more runny, sour cream texture.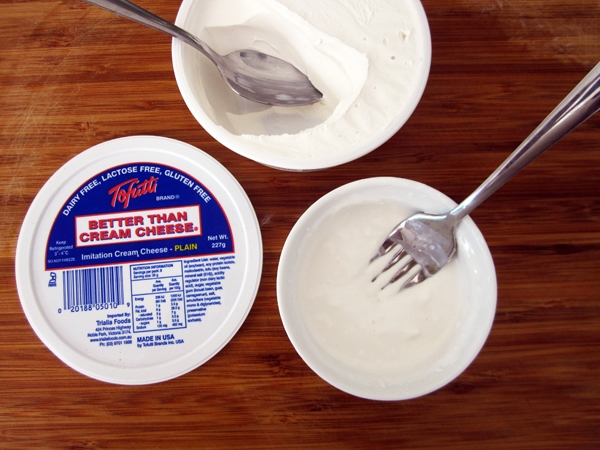 I'm a big fan of truffle oil, so using it in the sour cream was a no-brainer. Like my Best Ever Vegan Mac & Cheese recipe, it elevates this dish to a whole new level. Having said that, it's totally optional if you're not a fan of it or don't have any on hand.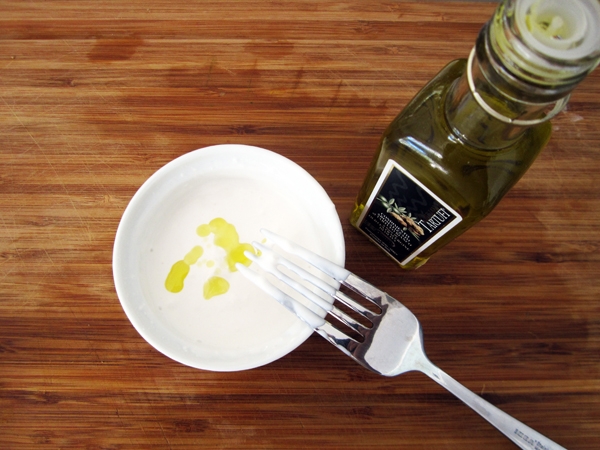 I decided to fill these with mashed potatoes and a mixture of fried onions and spinach because that's what I used to eat with potato and onion pierogies. I imagine that fried mushrooms or sauerkraut would be equally delicious fillings. Another option would be to just use the potato stuffing and serve these other options on the side.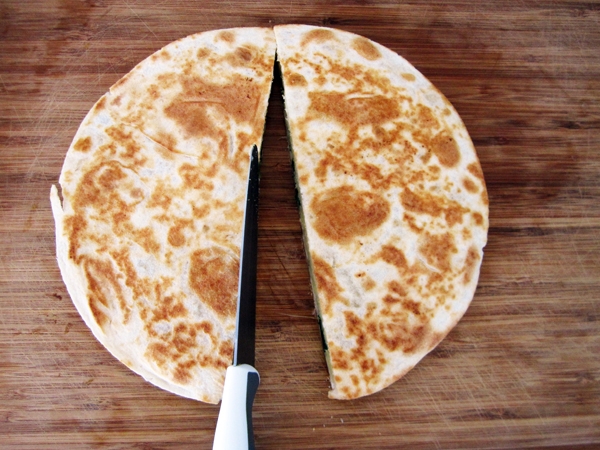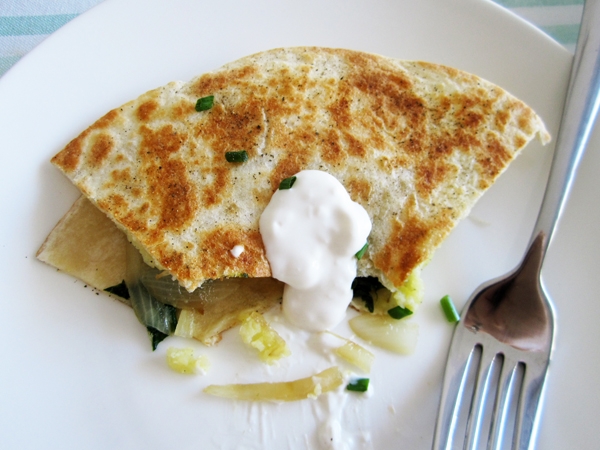 Vegan Tortilla Pierogies with Truffled Sour Cream
These vegan perogies are made with flour tortillas, so they're ready in no-time. Truffled sour cream puts an elegant twist to this traditional comfort food.
Author:
Angela @ Vegangela.com
Recipe type:
Appetizer, Main
Cuisine:
Polish, Ukrainian, Russian
Ingredients
2 smalll potatoes, scrubbed, peeled and diced
2 tsp vegetable oil
1 small onion
1 cup spinach, chopped
1 tsp vegan margarine
1 tsp nutritional yeast (optional)
2 small flour tortillas
2 tbsp Tofutti sour cream (or cream cheese - see note)
¼ tsp white truffle oil
salt
pepper
chives, for garnish
Instructions
Place potatoes in a small saucepan and cover with water. Bring to boil, then reduce heat to simmer. Cook until pieces are easily pierced with a fork, about 15 minutes. Set aside.
Heat 1 tsp vegetable oil in a frying pan over medium heat. Add onions and saute until browned, a few minutes. Add spinach and saute until wilted, another minute. Set aside.
Transfer potatoes to a small bowl. Add margarine and nutritional yeast. Mash using a fork or potato masher. Season with salt and pepper.
In a small ramekin or bowl, mix the Tofutti sour cream and truffle oil. Set aside.
Place one of the tortillas on a cutting board or plate. Evenly spread the mashed potato mixture on top, leaving some space around the edges. Do the same with the onion/spinach mixture. Top with the other tortilla.
Heat 1 tsp vegetable oil in the frying pan on medium heat. Add the tortilla, and cook for a minute or two, until just browned. Carefully turn over the tortilla and brown the other side.
Using a sharp knife or pizza slicer, carefully slice into 4 pieces.
Serve garnished truffled sour cream and chives.
Notes
If using Tofutti cream cheese, add it to a small bowl and whisk some water into it until it has a sour cream consistency, about a 2:1 ratio.