I had the opportunity to eat at Earth to Table with a few girlfriends a few weeks ago. It's a raw vegan cafe located in the Bondi Junction area of Sydney. I'm happy to see so many exclusively vegan eateries opening up in Sydney lately. And I was glad to see how busy the restaurant was (the cashier was busy the entire time we were there)! After being vegan for almost 20 years, it feels like a change in the air, as more and more people are appreciating the benefits of a plant-based lifestyle.
I completely forgot to photograph the menu, but it was filled with many delicious-sounding options. As a vegan, I'm so used to having little or no choice when I go out to eat. So I tend to get a little overwhelmed at vegan restaurants. Does that ever happen to you? Eventually, I decided on the Avocado Quiche.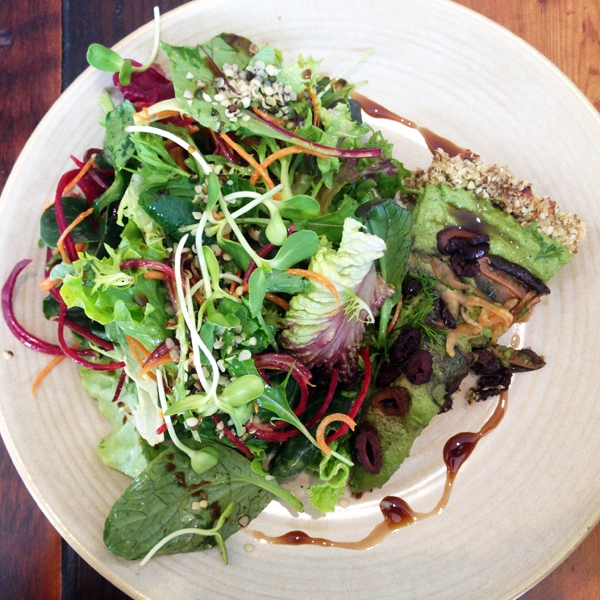 It was served on a plate with a gigantic salad of crisp greens, pea shoots, and carrot and beetroot slivers. The quiche was really good – a rich creamy avocado filling in a beautiful nut crust, topped with marinaded mushrooms and onions. If I'm being honest, I would have preferred a bigger slice of quiche and a smaller salad. And the salad itself was a bit bland. I would have served it with a creamy dressing of some sort (or the option of picking your own from a list). But regardless, it was still a really tasty and filling lunch.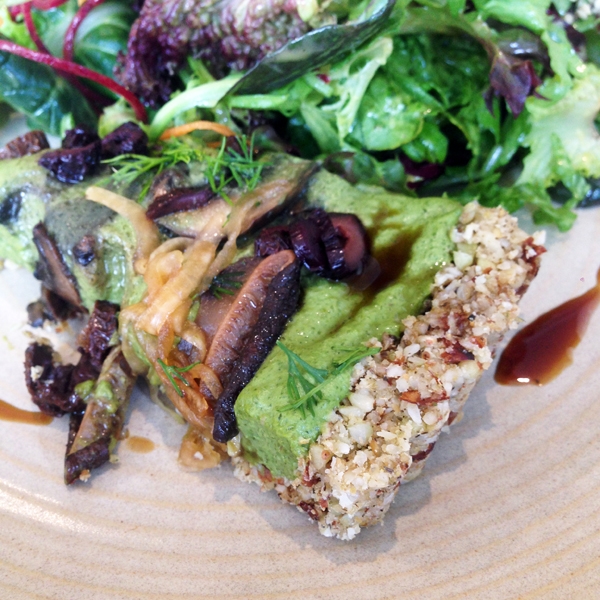 A couple of the girls ordered the Zucchini Flowers Stuffed with Minted Peas. The presentation was so beautiful – the type of thing you'd expect from a high-end restaurant. The feedback I got was that they were delicious, but that they'd make a a good shared appetizer instead of a full meal.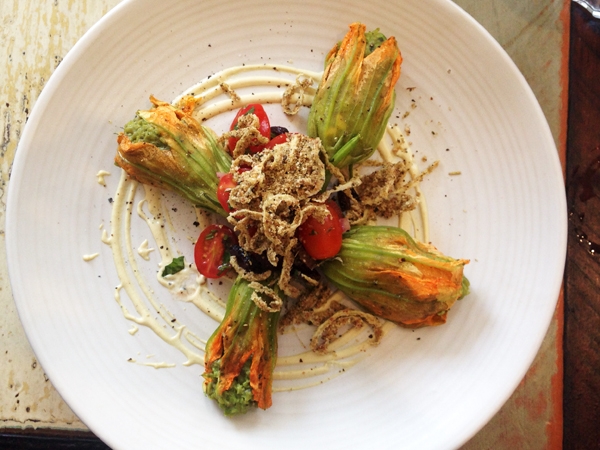 Unfortunately, because I ate a big breakfast that morning (and because I finished that huge salad!), I didn't have room for dessert. What a shame, considering the mouth-watering display of Raw Vegan Cheesecakes on display. I will definitely be back to try them out, so stay tuned for an update to this post!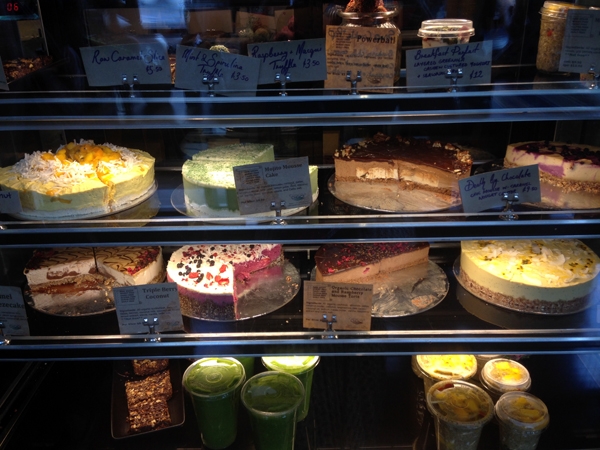 I also really want to try their Raw Caramel Slice. I had one from About Life after moving back to Sydney last year and it was life-changing. It's on my to-do list to replicate at home!