I received my second Vegan Cuts Beauty Box earlier this week and finally got around to shooting an unboxing video yesterday. If you missed last month's post, check out my Vegan Cuts: December 2013 Beauty Box & Snack Box post.
What's a Vegan Cuts Beauty Box?
It's an awesome beauty product subscription service that sends you a box filled with delightful vegan beauty products each month. For more info, visit the Vegan Cuts Beauty Box webpage.
Unboxing Video
Here's a video of me unboxing my January 2014 Vegan Cuts Beauty Box:
Beauty Box Contents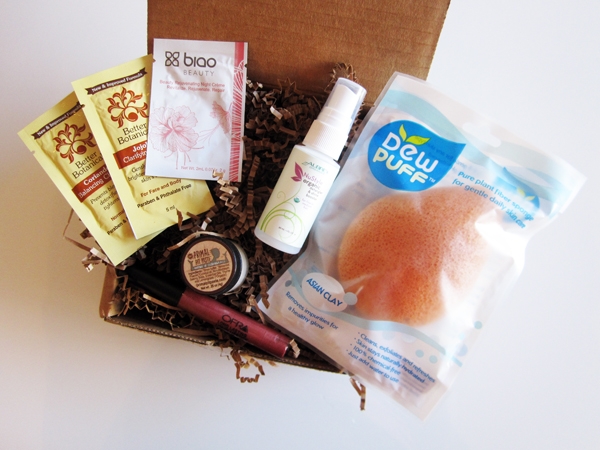 The Beauty Box is supposed to contain 4-7 products, and mine contained 7. Here they are:
Initial Thoughts
I haven't had a chance to try everything yet, but here are my initial thoughts:
The OFRA Long Lasting Liquid Lipstick smells absolutely AMAZING. Sort of like vanilla beans and/or chocolate. It also has a really nice feel and finish. The Plumas shade is darker than what I usually wear during the day, but I would definitely consider repurchasing it for an evening look, or trying out one of their lighter shades.
I'm excited to try the Dew Puff pure plant fiber sponge. Discovering new products is exactly why I signed up for the Vegan Cuts Beauty Box, so stay tuned for a separate review on this!
Update – March 10, 2014 – I didn't really like the Dew Puff. It was a bit awkward to use, as though it was pulling on my skin. For now, I'll continue to use my microfiber facecloth and/or face scrub when I want to exfoliate 🙂
I'm a sweaty lady, so natural deodorants don't normally cut it for me. However, I'm excited to try the Primal Pit Paste – if anything because of its amazing thyme and lemongrass scent!
Unfortunately, the bottle of Aubrey Organics Detangler was open, so there was actually no product remaining in it. That was disappointing and I'll mention it in my feedback to Vegan Cuts 🙁
Update – March 10, 2014 – I notified the lovely folks at Vegan Cuts about the empty detangler and they snuck another bottle of it in my February Beauty Box. I have short hair so tangles aren't really an issue for me, but I've been using it as a finishing shine spray and I love the way it leaves my hair looking shiny and soft 🙂
Value for Money
Looking at the value of the Beauty Box contents, it's difficult to put a monetary value on the sample-sized items, so I tend to think of them as "bonus" items. As for the full-price items, the lipstick retails for $19.90 on the OFRA website and the Dew Puff sponge is available on Amazon for $7. So Americans get a great deal with their $19.95 subscription price and Canadians also do well at $27.95. At $34.95 for international customers, it becomes less about value, and more about discovering new vegan beauty products. Even with the higher international price, I will continue to keep my subscription because at the end of the day, I appreciate the fact that someone has done all the "work" of discovering great vegan beauty products for me. And receiving a box full of vegan beauty goodies each month is pretty darn awesome!
Get more info, or buy a Vegan Cuts Beauty Box
Q: Did you get the January 2014 Vegan Cuts Beauty Box? What did you think of it?