Four Friends – Coffee, Chocolate & Tea, is a chocolate shop and café, located in the Crows Nest suburb of Sydney, Australia. Just before Easter this year, they began offering handcrafted vegan chocolates made with all natural and organic ingredients, such as 70% organic dark chocolate sourced from Belgium, raw cacao, coconut oil and chia seeds. They recently sent me 4 of their lovely vegan chocolates to sample and review – tough work, I know!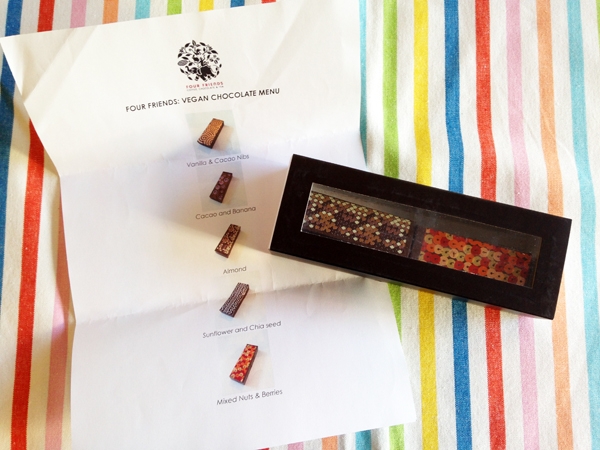 The first thing I noticed about the chocolates is how beautiful they are. They're printed with lovely patterns, and their longish shapes make them perfect for sharing (not that you'd want to):
I tried Cacao & Banana first: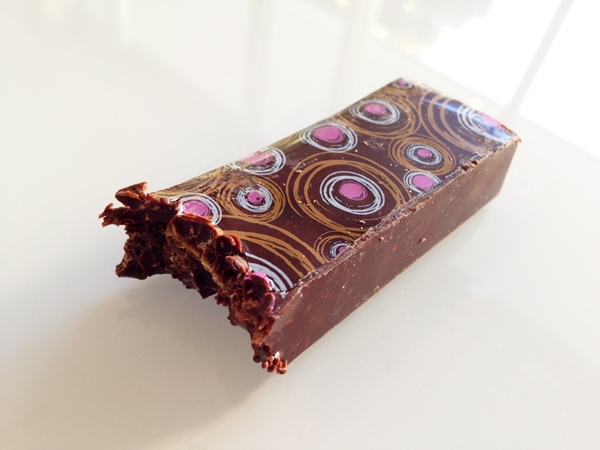 Soft and slightly chewy, this sweet piece of chocolate has just the faintest taste of banana. I definitely recommend it to all the banana-lovers out there!
I sampled Almond next: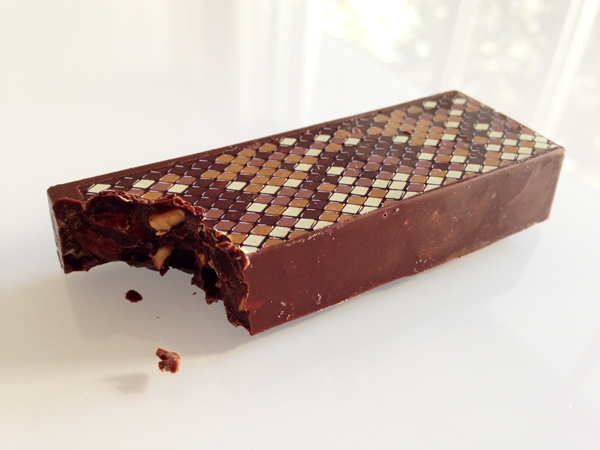 I love the combination of almonds and chocolate and this certainly did not disappoint. Lightly toasted almond pieces enveloped in rich chocolate. Simple perfection!
Sunflower & Chia Seed came afterwards: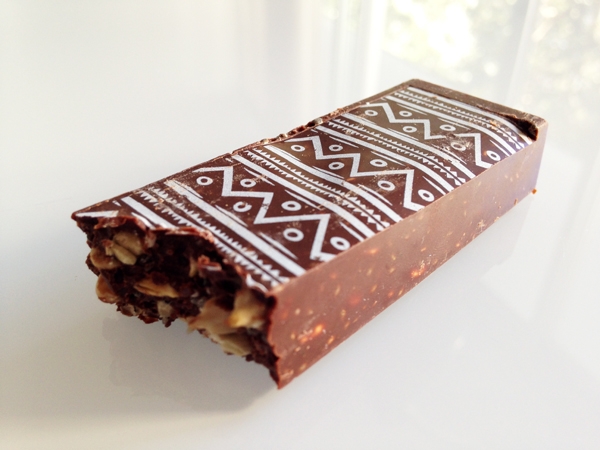 The seeds give this a nice crispy texture, not unlike the puffed rice chocolate bars I enjoyed as a kid. The sunflower seed flavour is quite pronounced, but I like the "healthy" taste of this particular flavour. I can see it being a great mid-day energy-booster treat!
Finally, I tried Mixed Nuts & Berries: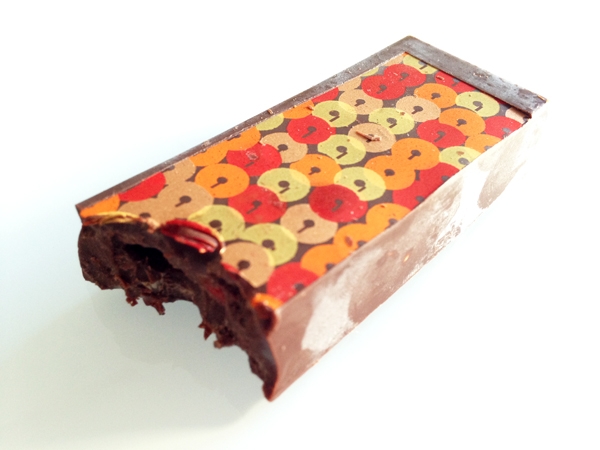 The most colorful of all the chocolates, I believe this combination contains almonds and cranberries. I've never really liked fruit in my chocolate, however this was quite nice, especially as a contrast to the other flavours.
Final thoughts
I highly recommend these vegan chocolates. Whether you enjoy them at the café itself, or buy them as a gift for a friend, they're as delicious as they are beautiful. Four Friends also offer a Vanilla & Cacao Nibs flavoured vegan chocolate, but I did not receive a sample of that one. Just another reason to make sure I stop in for a visit next time I'm in the area!