Vegan Tortilla Pierogies with Truffled Sour Cream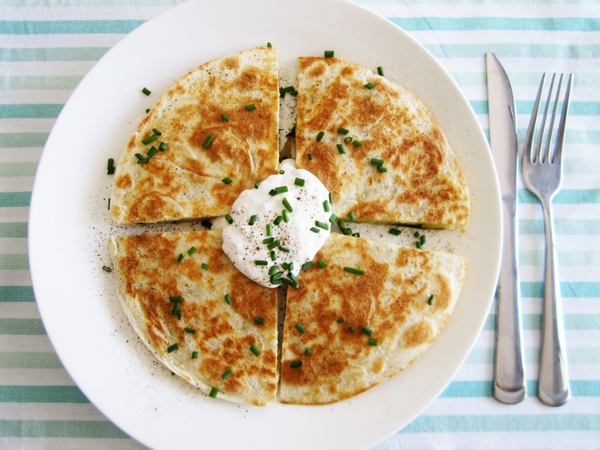 Author:
Angela @ Vegangela.com
Recipe type:
Appetizer, Main
Cuisine:
Polish, Ukrainian, Russian
2 smalll potatoes, scrubbed, peeled and diced
2 tsp vegetable oil
1 small onion
1 cup spinach, chopped
1 tsp vegan margarine
1 tsp nutritional yeast (optional)
2 small flour tortillas
2 tbsp Tofutti sour cream (or cream cheese - see note)
¼ tsp white truffle oil
salt
pepper
chives, for garnish
Place potatoes in a small saucepan and cover with water. Bring to boil, then reduce heat to simmer. Cook until pieces are easily pierced with a fork, about 15 minutes. Set aside.
Heat 1 tsp vegetable oil in a frying pan over medium heat. Add onions and saute until browned, a few minutes. Add spinach and saute until wilted, another minute. Set aside.
Transfer potatoes to a small bowl. Add margarine and nutritional yeast. Mash using a fork or potato masher. Season with salt and pepper.
In a small ramekin or bowl, mix the Tofutti sour cream and truffle oil. Set aside.
Place one of the tortillas on a cutting board or plate. Evenly spread the mashed potato mixture on top, leaving some space around the edges. Do the same with the onion/spinach mixture. Top with the other tortilla.
Heat 1 tsp vegetable oil in the frying pan on medium heat. Add the tortilla, and cook for a minute or two, until just browned. Carefully turn over the tortilla and brown the other side.
Using a sharp knife or pizza slicer, carefully slice into 4 pieces.
Serve garnished truffled sour cream and chives.
If using Tofutti cream cheese, add it to a small bowl and whisk some water into it until it has a sour cream consistency, about a 2:1 ratio.
Recipe by
Vegangela
at http://vegangela.com/2013/12/05/tortilla-pierogies-with-truffled-sour-cream/