Mini Raw Mango Cheesecakes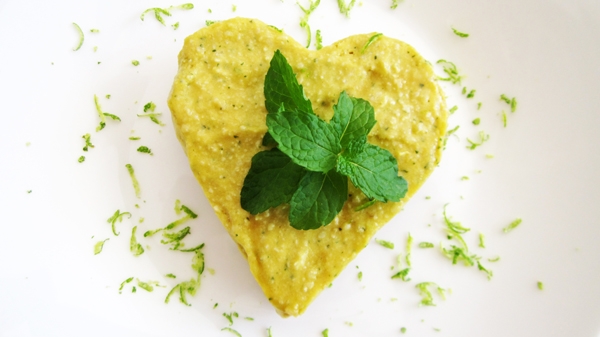 Author:
Angela @ Vegangela.com
⅓ heaping cup raw almonds
¼ cup medjool dates
2 tbsp dried coconut
⅛ tsp vanilla extract
pinch of salt
1 small mango
½ lime, zested and juiced (optional)
½ heaping cup cashew kernels (soaked overnight, and drained)*
3 tbsp coconut oil
3 tbsp agave or maple syrup
2 tbsp coconut cream or coconut milk (optional)
1 tbsp fresh mint (optional)
½ tsp vanilla extract
In a food processor, mix all the crust ingredients until it forms into crumbs, about a minute.
Evenly distribute the crumb mixture into 4 large cookie cutters** and press-down evenly to form the "crusts". Set aside.
In a high powered blender or food processor, blend the mango, lime juice and zest, cashews, coconut oil, agave, coconut cream, mint and vanilla. Blend until it is creamy, about a minute.
Pour the filling into the cookie cutter bases and place them in the freezer to set, about 2 hours***.
Remove cheesecakes from freezer and let sit on counter for 5 minutes (but no longer or they will be too "mushy". If that happens, just return them to the freezer until reset). Using your thumbs, gently push them up from the bottom of the crusts and plate them. Wait another 5 minutes before serving, or place them in the fridge until ready to serve.
Garnish with fresh mint leaves, lime zest and/or mango slices.
* For best results and a velvety-smooth filling, be sure to soak the cashews overnight.
** For a full-size cheesecake, multiply the ingredients by 4 and use a 10" spring-form pan.
*** May be stored in the freezer, well-covered, for a couple weeks.

Adapted from http://www.rawfoodrecipes.com/recipes/raw-vegan-mango-e2809ccheesecakee2809d.html
Recipe by
Vegangela
at http://vegangela.com/2014/01/16/mini-raw-mango-cheesecakes/