Delicious Vegan Dal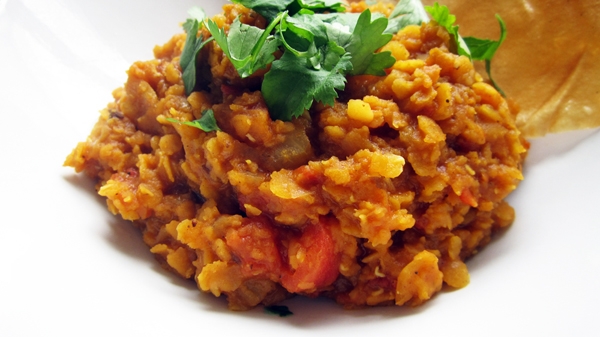 Author:
Angela @ Vegangela.com
Cuisine:
Pakistani, Indian
1 cup dry red lentils
3 cups water
2 bay leaves
1 teaspoon curry powder
1 tsp crushed chillies (or more depending on the spice you want)
2 tbsp vegetable oil
1 tsp cumin seeds
1 tsp cumin powder
1 tsp coriander powder
1 tsp garam masala
½ tsp turmeric
1 onion, diced
1 clove garlic, minced
1 tbsp ginger root, peeled & chopped
½ (14 ounce) can chopped tomatoes
salt + pepper
fresh coriander (cilantro) for garnish
Heat water in a pot until boiling. Add lentils and boil for 1 minute. Add bay leaves, curry powder, crushed chillies, and reduce heat to simmer.
While lentils are simmering, heat oil on medium-high heat add in the cumin seeds. Saute for 30 seconds or so until the seeds start popping. Add the remaining spices: cumin powder, coriander powder, garam masala, and turmeric. Stir constantly and allow to fry for another 30 seconds, ensuring that the spices don't burn or stick.
Add the onion, garlic, ginger, and cook until soft.
Add the tomatoes, and saute for another 3 minutes, reduce to simmer.
Once the lentils have absorbed all the water, add them to the spice mixture, and simmer for an additional 10 minutes. Season with salt + pepper, to taste.
Garnish with fresh cilantro and serve as-is, over basmati rice, or with papadums or flat bread.