Easy Oven-Baked Tomato Risotto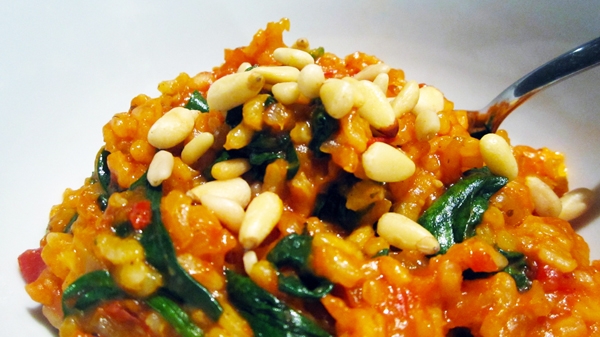 Author:
Angela @ Vegangela.com
2 tbsp olive oil
1 onion, finely chopped
1 clove garlic, minced
1 cup arborio rice
19-oz (540 mL) good-quality pasta sauce (OR 19-oz/540mL stewed tomatoes + 1 tbsp italian seasoning + 1 tsp sugar + 1tsp salt)
2 cups vegetable broth
150g baby spinach, about 8 cups
Pine nuts, toasted (optional)
Nutritional yeast (optional)
Preheat oven to 400F (200C).
In a large saucepan, heat the oil over medium-high heat and cook onion and garlic until soft, about 5 minutes.
Stir in rice until coated, then pasta sauce (or tomatoes), and cook another 5 minutes.
Add broth (and seasonings, if using plain tomatoes), and bring to a boil, stirring often.
Transfer to oven-safe dish if necessary, and cover tightly. Bake in centre of oven until all liquid is absorbed, about 30 minutes.
Remove from oven and stir in spinach.
Optional: garnish with pine nuts and/or nutritional yeast.
Serves 3-4 mains, more if serving as a side dish
Recipe by
Vegangela
at http://vegangela.com/2011/04/09/easy-baked-tomato-risotto/