Roasted Fresh Tomato Soup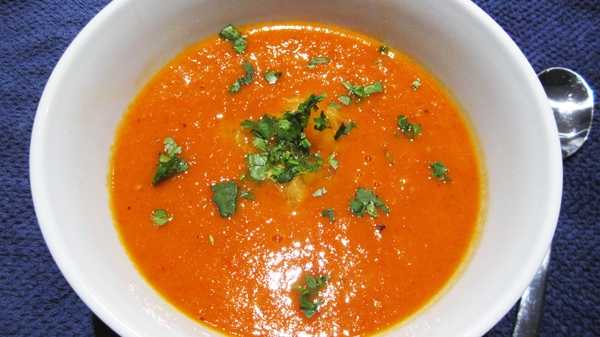 3 pounds fresh tomatoes (about 4 cups, halved)
6 cloves garlic, peeled
2 small yellow onions, sliced
¼ cup extra-virgin olive oil
Salt and freshly ground black pepper
3 cups vegetable stock
2 bay leaves
Handful of chopped fresh basil or cilantro (coriander) for garnish (optional)
Preheat oven to 450F/230C.
Wash, core and cut the tomatoes into halves. Spread the tomatoes, garlic cloves and onions onto a baking tray. If using vine cherry tomatoes for garnish, add them as well, leaving them whole and on the vine. Drizzle with ¼ cup of olive oil and season with salt and pepper. Roast for 30-35 minutes, or until caramelized.
Remove roasted tomatoes, garlic and onion from the oven and transfer along with any roasting juices into a large stock pot. Add 3 cups of the vegetable stock and bay leaves. Bring to a boil, reduce heat and simmer for 20 minutes or until liquid has reduced by a third. Discard bay leaves.
Use an immersion blender to puree the soup until smooth. Season to taste with salt and freshly ground black pepper. If freezing, let soup cool before transferring to freezer-safe containers
Garnish in bowl with chopped fresh basil or cilantro.
Modified from "Roasted Tomato Soup" recipe, FoodNetwork.com
Recipe by
Vegangela
at http://vegangela.com/2011/04/15/roasted-fresh-tomato-soup/