Vegan Apple & Plum Crumble / Crisp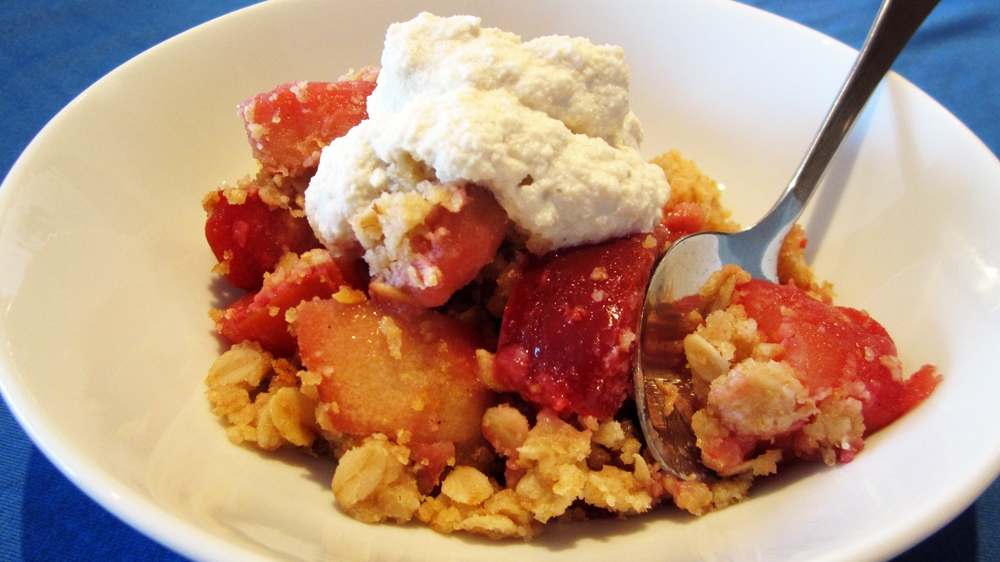 Recipe type:
Dessert, Crumble, Crisp
6 large plums
2 large cooking apples
2 tbsp raw sugar
zest of 1 lemon
pinch of Cinnamon
1½ cups +1 tbsp wholewheat (wholemeal) flour
⅓ cup coconut oil (or vegan margarine)
¾ cup oats
½ cup raw sugar
If using coconut oil and it is liquified, refrigerate it for about 5 minutes until it is the consistency of margarine / shortening.
Mix the topping ingredients in a bowl and place in the fridge.
Preheat oven to 200C/390F.
Chop the fruit and place it in a saucepan with the sugar, lemon zest and Cinnamon.
Simmer on low heat until the fruit is soft.
Place in a 9×9″ oven-safe dish and top with the crumble topping.
Bake for about 25 minutes, or until the top has browned.
Adapted from Jamie Oliver's Apple & Plum Crumble.
Recipe by
Vegangela
at http://vegangela.com/2011/05/06/apple-plum-crumble/