Best Ever Vegan Mac & Cheese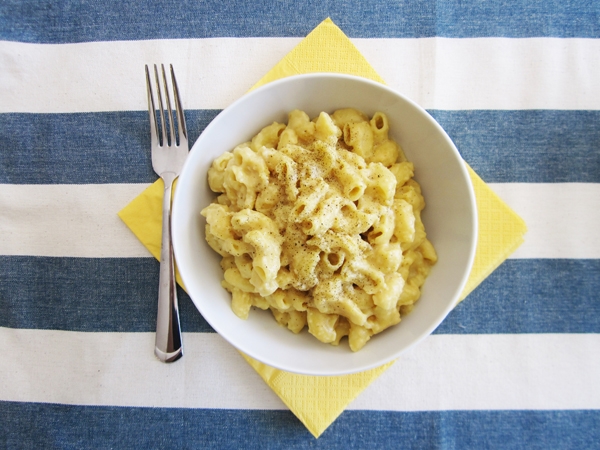 Author:
Angela @ Vegangela.com
8oz macaroni noodles, cooked (use gluten-free, as required)
¾ cup raw cashews
1 + ¾ cups almond or soy milk
¼ cup canola oil
1.5 tbsp cornstarch
¼ cup nutritional yeast
2 tbsp light (yellow or white) miso paste
1 tbsp lemon juice
1 tsp onion powder
½ tsp garlic powder
½ tsp salt
1 tsp truffle oil (optional, but highly recommended)
pepper, to taste
Place cashews in the food processor and finely grind (just don't let the cashews turn to a paste). Set aside.
In a heavy saucepan, combine milk, oil and cornstarch. Bring to a simmer over high heat. Decrease heat to low, cover and simmer, stirring occasionally for 10 minutes, or until cornstarch dissolves.
Using a whisk or large fork, stir in the ground cashews, nutritional yeast, miso paste, lemon juice, onion powder, garlic powder and salt until well combined.
Add the cashew cheese to the macaroni noodles, drizzle with truffle oil (if using) and serve.
Optional: For a baked version, preheat oven to 325 and place macaroni mixture in a 8 or 9″ square baking dish. Cover and bake 20 minutes. Uncover and sprinkle with ½ cup herbed bread crumbs. Continue baking, uncovered, for 15-25 minutes until topping is golden brown.
Recipe by
Vegangela
at http://vegangela.com/2011/04/27/best-vegan-mac-and-cheese/