Cauliflower Purée with Mushroom Compote, Seared King Mushroom and Shitake Bacon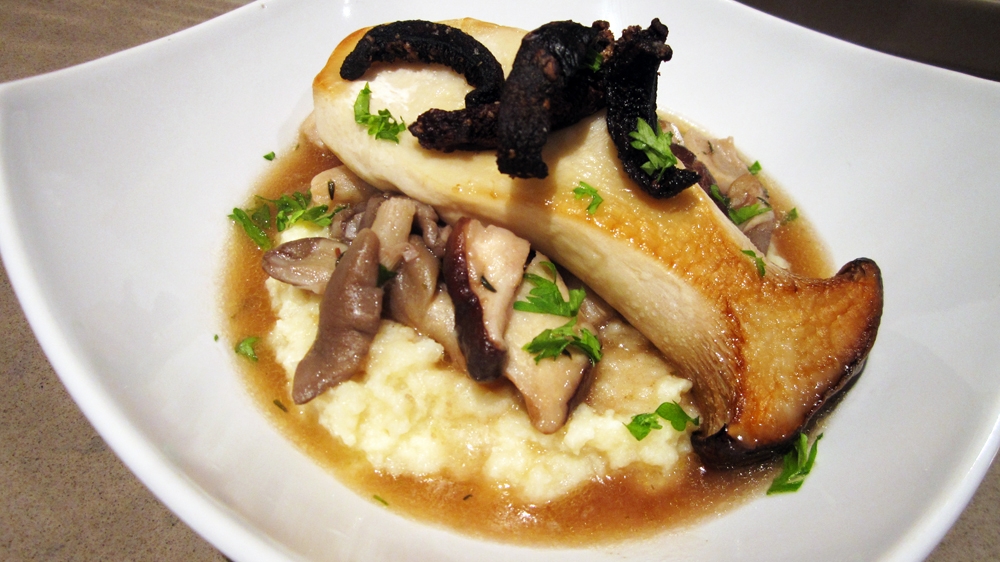 Author:
Angela @ Vegangela.com
1⁄2 cup (125 mL) peeled, diced Yukon gold potatoes
3 cloves garlic, peeled
3 cups (750 mL) soymilk
1 1⁄2 lbs (750 g) cauliflower, cut into 1 inch (2.5 cm) chunks, about 6 cups (1.5 L)
Salt and freshly ground pepper
1 tbsp (15 mL) lemon juice
3 tbsp (45 mL) olive oil
1⁄4 cup (50 mL) chopped shallots
1 tsp (5 mL) chopped garlic
1 1⁄2 lbs (750 g) mixed mushrooms, halved or quartered if large
2 tsp (10 mL) chopped thyme
Salt and freshly ground pepper
1⁄4 cup (50 mL) red wine
2 cups (500 mL) vegetable stock
1⁄4 cup (50 mL) vegan margarine
2 tbsp (25 mL) chopped parsley
12 pieces of shitake bacon (optional – see recipe below)
2 tbsp olive oil
2 king mushrooms, sliced lengthwise so that flat on both sides (you can use unused ends in the mushroom mix, above)
1⁄2 pound shitake mushrooms, stemmed and sliced
1⁄4 cup extra virgin olive oil
1 teaspoon sea salt
Preheat oven to 350°.
In a bowl combine the mushrooms, oil, and salt.
Spread mushrooms on a parchment-lined baking sheet and place in oven.
Roast mushrooms until dry and crisp, stirring about every 10 minutes, approximately 45 minutes to one hour. (Oven temperatures may vary.)
Place potatoes, garlic and soymilk in a pot over medium-high heat. Bring to boil and add cauliflower. Boil for 10 to 15 minutes or until potatoes and cauliflower are very tender. Drain liquid and reserve separately.
Place vegetables in a food processor with 1⁄2 cup (125 mL) drained liquid and purée until smooth. Season with salt and pepper and lemon juice. Add more cooking liquid if needed to make a soft purée that holds its shape. Return to saucepan at lowest possible heat.
Place oil in a large skillet over high heat. Add shallots and garlic and sauté for 30 seconds. Add mushrooms and thyme and sauté for 4 minutes or until mushrooms lose their juices. Season with salt and pepper. Remove mushrooms from skillet and reserve skillet with any remaining liquid.
Meanwhile, heat olive oil over medium-low heat and fry king mushrooms on both sides until golden brown. Lower to lowest heat setting.
Add wine and bring to boil. Add stock and any more mushroom juices and reduce for 5 minutes or until stock thickens slightly. Reduce heat to low and stir in margarine. Sauce will thicken a bit more. Stir in reserved mushrooms and simmer for 2 minutes or until mushrooms are coated in sauce. Adjust seasoning if necessary and stir in parsley.
Place a full ladle of cauliflower purée in a soup bowl. Top with mushrooms and some sauce. Garnish each dish with 2 king mushroom slices and a couple pieces of shitake bacon.
Adapted from LCBO Magazine
Recipe by
Vegangela
at http://vegangela.com/2011/05/04/cauliflower-puree-with-mushroom-compote-seared-king-mushroom-and-shitake-bacon/