Spicy Peanut Quinoa Salad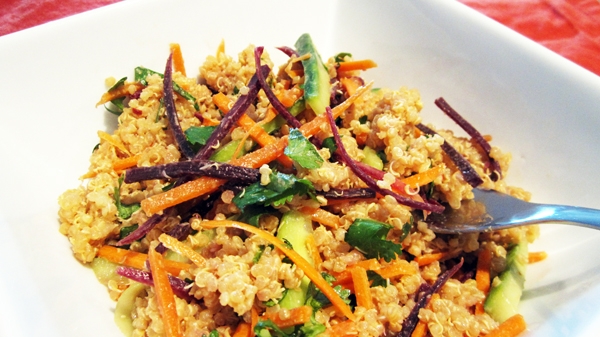 Author:
Angela @ Vegangela.com
1 cup quinoa
2 cups water
½ medium cucumber, seeds removed and cut into julienne strips
1 medium orange carrot, cut into julienne strips
1 medium purple carrot cut into julienne strips (or ½ cup shredded purple cabbage and/or strips of red/yellow bell pepper (capsicum))
¼ cup cilantro (fresh coriander) (or mint, or basil), chopped
3 tbs smooth peanut butter (or other nut butter)
3 tbs seasoned rice vinegar
2 tbs tamari (or light soy sauce)
½ tsp hot red pepper flakes
1 small clove garlic, minced
Bring 2 cups of water to a boil in a medium saucepan. Add quinoa, cover, and simmer until quinoa is tender, about 15 minutes.
Meanwhile, in a large bowl, combine peanut butter, vinegar, soy sauce, hot red pepper flakes, and garlic. Add enough hot tap water (about 2 tablespoons) to thin the mixture to sauce consistency.
When quinoa is ready, transfer it to the bowl, along with the veggies and cilantro, and toss to combine.
Can be served immediately, but even better after having been refrigerated for 30 minutes. Keeps in the fridge for up to 3 days.
Adapted from: http://toddholmstedt.com/resources/recipes/quinoa-salad-with-spicy-peanut-dressing
Recipe by
Vegangela
at http://vegangela.com/2011/06/01/quinoa-salad-with-spicy-peanut-dressing/