Black & White Bean Quinoa Salad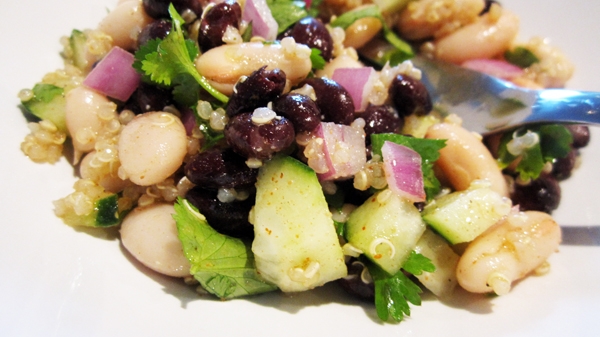 ⅓ cup (75 mL) quinoa
1 can (19 oz/540 mL) black beans, drained and rinsed
1 can (19 oz/540 mL) navy beans, drained and rinsed
1 cup (250 mL) diced cucumbers
¼ cup (50 mL) diced red onion
1 jalapeno pepper, seeded and minced (I've never used it and find the dish spicy enough for me, but feel free to add it if you like things hot!)
¼ cup (50 mL) chopped fresh coriander (cilantro)
¼ cup (50 mL) vegetable oil (I use cold pressed extra-virgin olive oil)
2 tbsp (25 mL) lime juice
1 tbsp (15 mL) cider vinegar
1 clove garlic, minced
½ tsp (2 mL) chili powder
1 tsp (5 mL) ground coriander
½ tsp (2 mL) dried oregano
¼ tsp (1 mL) salt
¼ tsp (1 mL) pepper
In saucepan of boiling salted ⅔ C water, cook quinoa until tender, about 12 minutes. Drain and rinse.
Dressing: In large bowl, whisk together oil, lime juice, vinegar, garlic, chili powder, coriander, oregano, salt and pepper.
Add quinoa, black beans, navy beans, cucumber, onion, jalapeño pepper and coriander; toss to combine.
Source: Canadian Living magazine
Recipe by
Vegangela
at http://vegangela.com/2011/06/17/spicy-black-white-bean-quinoa-salad/