Tofu with Thai Coconut Peanut Sauce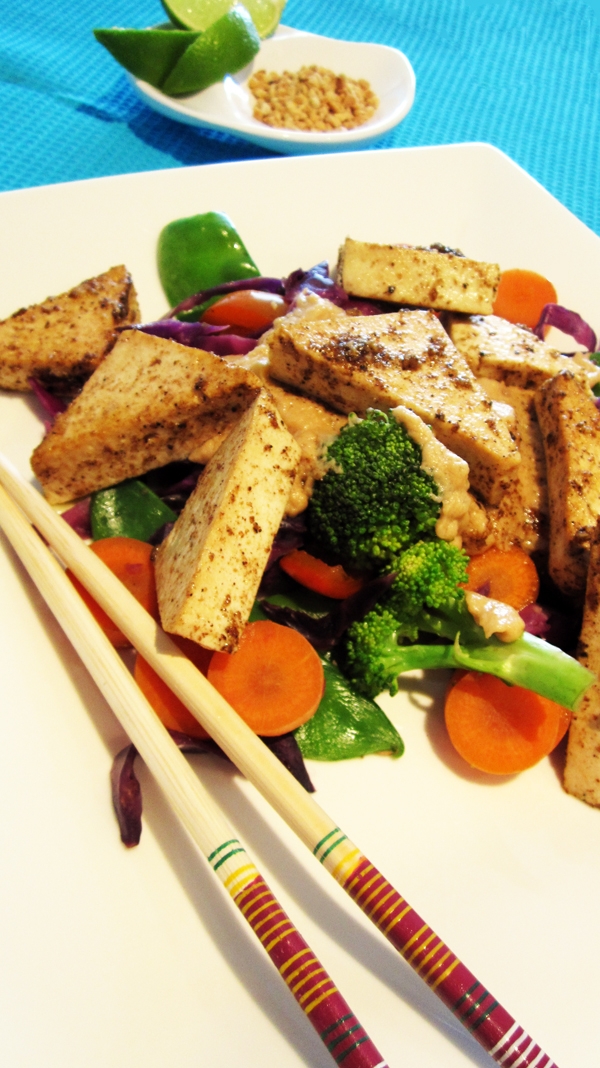 Author:
Angela @ Vegangela.com
2-4 servings of rice/quinoa (optional)
2-4 cups chopped mixed vegetables (optional)
1 block firm tofu (350g or so)
¼ cup + 1 tbsp coconut oil (or peanut/canola oil), divided
3 cloves garlic, minced
2 tsp ground cumin
1 tsp ground pepper
1 tbsp fresh ginger root, finely chopped/grated
1 shallot, finely chopped (or ¼ small onion)
1 tsp crushed red chili pepper
⅓ cup peanut butter (or almond/cashew butter)
½ cup coconut milk
1 lime, juiced
1+1/2 tbsp tamari (or soy sauce)
1 tsp red Thai curry paste (optional – make sure it's vegan)
¼ cup fresh coriander (cilantro), roughly chopped
Chopped ground peanuts (optional – for serving)
If you plan on serving with rice/quinoa, start cooking it as per package instructions.
To make tofu marinade: In a flat dish, mix the ¼ cup of oil, garlic, cumin, and pepper.
Press the tofu between paper towels to dry it as much as possible. Cut it into 1 inch rectangles or triangles and gently toss it into the marinade to evenly coat the tofu. Set aside.
Heat 1 tbsp of oil in a small saucepan over low heat. Add the ginger, shallot and crushed red chili pepper and sauté for a few minutes. Add peanut butter, coconut milk, lime juice, tamari, and red Thai curry paste. Simmer for 10-15 minutes, stirring occasionally to prevent sticking. If the sauce becomes too thick, add a couple tablespoons of water.
If you're serving this with vegetables, begin sautéing them in a separate pan at this point.
Place the tofu mixture in a frying pan and sauté over medium-low heat until browned on both sides.
Divide the rice/quinoa, vegetables and tofu into plates/bowls and drizzle with peanut sauce. Top with fresh coriander and ground peanuts.
Recipe by
Vegangela
at http://vegangela.com/2011/07/19/tofu-with-thai-coconut-peanut-sauce/