Fresh Restaurant's Tangled Thai Salad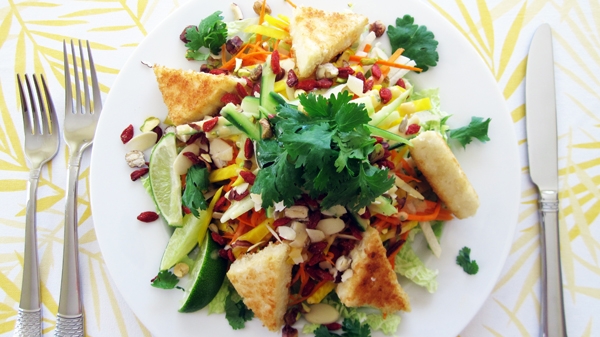 Author:
Jennifer Houston, Fresh Restaurant
1 cup chopped napa cabbage
1⁄3 cup jicama, cut into small sticks
2⁄3 cup peeled raw carrot, spiralized (or cut/peeled into julienne)
2⁄3 cup peeled raw yellow beets, spiralized (or cut into julienne)
4 tbsp Peanut Lime Dressing (recipe follows)
3 slices cucumber, halved (or cut into julienne)
2 tsp chopped raw peanuts
2 tbsp Fresh Salad Topper (recipe follows)
1⁄4 lime
Cilantro to taste
3 cloves garlic, peeled and minced
1 tbsp ginger, peeled and chopped
1 tsp chili sauce (Sriracha is perfect)
2 tbsp cilantro, densely packed
2 tbsp natural peanut butter
2 tbsp plus 2 tsp lime juice
1 tbsp rice vinegar
1 tbsp plus 1⁄2 tsp tamari (a type of soy sauce)
2 tsp maple syrup or agave
2 tsp coconut milk (optional)
1 tsp sesame oil
1⁄2 cup sunflower oil (sometimes I use half oil, half water)
1 cup puffed quinoa (optional)
1⁄4 cup goji berries
1⁄4 cup currants (optional)
2 tbsp sliced almonds
2 tbsp hazelnuts, chopped
2 tbsp pistachios, chopped
1⁄4 tsp sea salt
½ block of tofu (about 225 g)
3 tbsp cornstarch
¼ cup Japanese panko breadcrumbs
3 tbsp coconut or peanut oil
In a blender, purée all but sunflower oil. With blender running, add oil in a thin stream.
Makes 1 cup, enough for 4 salads
Put all ingredients into a bowl and mix.
Makes approx. 1-3/4 cups; refridgerate unused portion
Slice tofu into 1 inch rectangles or triangles.
Heat oil in a large frying pan over medium-high heat.
Place cornstarch and breadcrumbs in two separate small bowls. Coat tofu pieces with cornstarch, and then press breadcrumbs into them.
Fry until golden brown on both sides. Pat dry with paper towels and set aside.
Put cabbage into a large bowl and top with jicama. Pile the carrot and beet strands on top and drizzle with Peanut Lime Dressing.
Garnish with cucumber, peanuts, Fresh Salad Topper, lime and cilantro.
Recipe by
Vegangela
at http://vegangela.com/2011/08/06/fresh-restaurant-tangled-thai-salad/