Vegan Tex-Mex Tomato Quinoa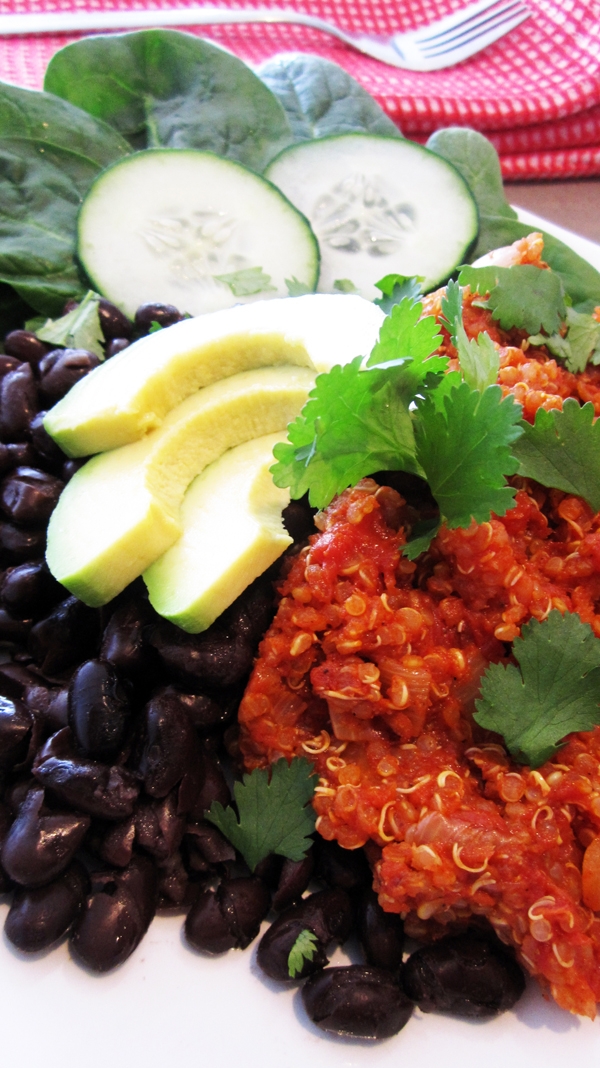 Author:
Angela @ Vegangela.com
Cuisine:
Mexican, Southwest, Tex-Mex
1 tbsp olive oil
1 onion, diced
1 clove garlic, minced
⅓ cup quinoa, rinsed
1 can (400ml) diced tomatoes, with liquid
1 tsp cumin
¼ tsp chili powder
salt and pepper
lemon wedges
cilantro (fresh coriander)
In a medium saucepan, mix quinoa and diced tomatoes (with juice) and bring to boil. Lower heat to lowest setting, cover saucepan and simmer until quinoa is ready, about 15 minutes.
While quinoa is cooking: in a frying pan, heat oil over medium heat and stir-fry the onion, garlic, cumin and chili powder until onions translucent.
Mix onion mixture into quinoa mixture and season with salt and pepper. Serve garnished with lime wedges and cilantro.
Adapted from: http://wheres-the-beach.blogspot.com.au/2011/08/hitting-gym-and-lazy-means-creative-tex.html
Recipe by
Vegangela
at http://vegangela.com/2011/09/16/tex-mex-tomato-quinoa/