Easy Vegan Tex-Mex Quinoa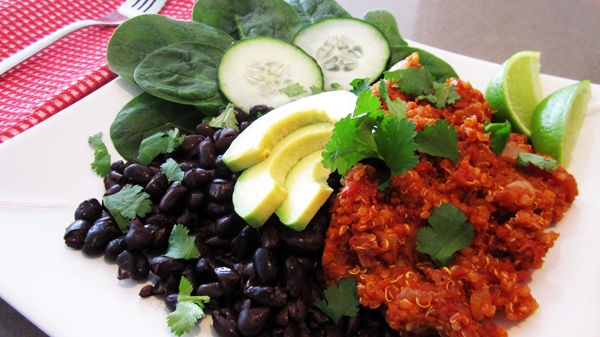 Author:
Angela @ Vegangela.com
Cuisine:
Mexican, Southwest, Tex-Mex
1 tbsp olive oil
1 onion, diced
1 clove garlic, minced
1 tsp cumin
¼ tsp chilli powder
1 can (400ml) diced tomatoes, with liquid
⅓ cup quinoa, rinsed
salt and pepper
In a medium saucepan, heat oil over medium heat and fry the onion, garlic, cumin and chilli powder until onions translucent.
Stir-in the diced tomatoes (with juice) and quinoa, and bring to boil. Lower heat to lowest setting, cover saucepan and simmer until quinoa is ready, about 15 minutes. Season with salt & pepper.
Adapted from: http://wheres-the-beach.blogspot.com.au/2011/08/hitting-gym-and-lazy-means-creative-tex.html
Recipe by
Vegangela
at http://vegangela.com/2011/09/16/tex-mex-tomato-quinoa/