Vegan Chocolate Truffle Torte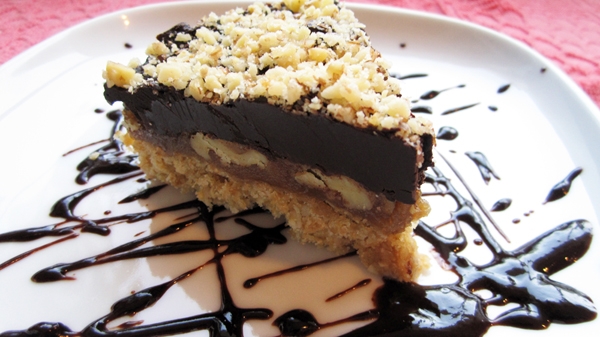 1 cup wholewheat (wholemeal) flour
1 cup oats (best if you grind them down to a fine powder in your food processor)
½ cup raw sugar
½ lb (1 cup) vegan margarine
1 cup brown sugar
¼ lb (1/2 cup) vegan margarine
1 tsp vanilla
1 tsp cornstarch
½ cup pecans or walnuts, toasted
1 lb (453g) semi sweet vegan chocolate, chopped
½ cup soymilk
¼ lb (1/2 cup) vegan margarine
½ cup pecans or walnuts, finely chopped
Pre-heat oven to 350 degrees.
In a medium bowl, mix flour, oats, and sugar.
Add margarine and mix with a fork until crumbly.
Press mixture firmly and evenly into the bottom of a springform pan.
Use a fork to make small holes throughout the crust, to help it bake evenly.
Bake at 350 for 15 minutes, then let cool.
Once the crust has cooled, melt ¼ lb (1/2 cup) margarine in a small saucepan.
Stir in brown sugar and vanilla, stirring constantly until the sugar is smooth and melted.
Add cornstarch and stir until it is evenly distributed and the sauce is smooth and shiny.
Pour caramel over cooled crust.
Sprinkle nuts in an even layer over the caramel sauce.
Refrigerate for half an hour, or until caramel thickens.
Bring a medium pot of water to boil, and turn down to a simmer.
In a stainless steel or glass mixing bowl, place the remaining ¼ lb of margarine and chocolate.
Place bowl over simmering water and stir until chocolate is melted.
Stir in ½ cup soymilk until smooth.
Pour chocolate mixture over caramel crust, pouring in a spiral motion working inwards so as not to disturb the nuts too much.
Tap the bottom of pan on counter to settle the chocolate of any air bubbles.
Refrigerate for 15 minutes, then sprinkle the chopped nuts on top.
Return to fridge for another 2 hours.
Recipe by
Vegangela
at http://vegangela.com/2010/10/19/vegan-chocolate-truffle-torte/