Vegan Peanut Butter & Jelly Bars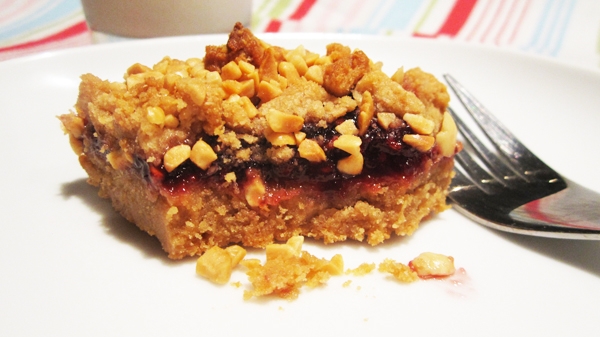 Author:
Angela @ Vegangela.com
½ cup + 1tsp coconut oil, hardened in fridge until the consistency of soft butter
1½ cups whole wheat flour
½ tsp baking powder
¼ tsp salt
¾ cup smooth peanut butter
¾ cup (packed) brown sugar
1 vegan egg (such as Ener-G Egg Replacer)
1 tsp vanilla extract
¾ cup jelly or jam (raspberry or strawberry)
⅓ cup coarsely chopped salted dry-roasted peanuts
Preheat oven to 350°F. Line 8 x 8 x 2-inch metal baking pan with heavy-duty foil, leaving 2-inch overhang around edges and pressing firmly into corners and up sides of pan. Coat foil with 1 tsp coconut oil. Set aside.
Whisk flour, baking powder, and ¼ teaspoon salt in small bowl. Using electric mixer, beat peanut butter, sugar, and remaining coconut oil in large bowl until smooth.
Add vegan egg and vanilla; beat on low speed until smooth.
Add flour mixture; beat on low speed just to blend.
Transfer half of dough to prepared pan (about scant 1½ cups). Place remaining dough in freezer for 10 minutes. Using fingertips, press dough evenly onto bottom of pan. Spread jelly over in even layer. Remove dough from freezer; using fingertips, break into grape-size pieces and scatter over jelly layer. Sprinkle chopped nuts over.
Bake bars until top is golden brown, about 30 minutes. Cool bars completely in pan on rack.
Using foil overhang as aid, lift bars from pan. Gently peel foil from edges. Cut into 16 squares.
MAKE AHEAD: can be made 3 days ahead. Store in an airtight container in fridge.
Adapted from: http://vegangoodthings.blogspot.com.au/2011/05/peanut-butter-jelly-bars-some-vegan.html
Recipe by
Vegangela
at http://vegangela.com/2011/10/07/peanut-butter-and-jelly-bars/