Gluten-Free Chocolate Banana Muffins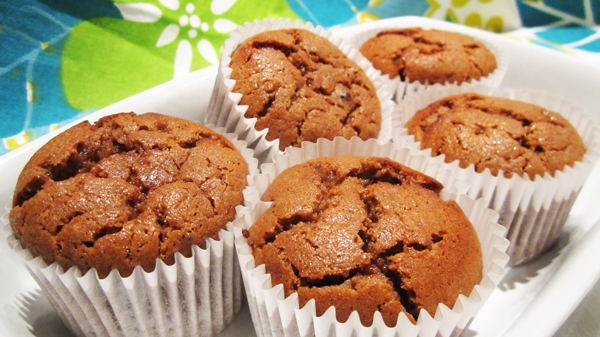 Author:
Angela @ Vegangela.com
Recipe type:
Dessert, Snack
3 vegan eggs (such as Ener-G Egg Replacer)
¾ cup sugar (raw sugar works well)
½ cup coconut oil, liquified
2 full tbsp vegan sour cream (or 2 tbsp soy yogurt / silken tofu + 1 tsp lemon juice)
2 very ripe bananas, mashed
1+1/2 cups besan (chickpea flour)
¼ cup cocoa powder
1 tsp baking powder
Preheat oven to 175°C/350°F.
Whisk the egg replacer and sugar until fluffy before adding the coconut oil, sour cream (or soy yogurt + lemon juice) and mashed bananas.
Stir very well – you can use an electric mixer but I just whisked it vigorously until completely combined.
Sift flour, cocoa powder and baking powder into the batter and stir until completely mixed.
Fill greased/lined muffin cups completely to the edge. Bake for 20-25 minutes or until a toothpick inserted in the center comes out clean.
Makes: 6-7 medium-size muffins.
Recipe by
Vegangela
at http://vegangela.com/2011/10/12/chocolate-banana-muffins-with-chickpea-flour/