Vegan Broccoli & Potato Soup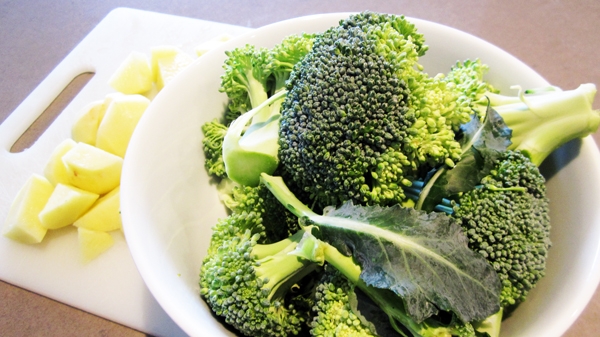 Author:
Angela @ Vegangela.com
1 tbsp olive oil
1 small onion, peeled and diced
1 clove garlic, minced
3 cups vegetable broth
2 cups broccoli florets (about 1 head of broccoli)
3 medium potatoes, peeled and quartered
¼ tsp thyme
salt and pepper, to taste
garnish: chives, vegan sour cream (optional)
In a large stockpot, heat the olive oil over medium heat and cook the onions and garlic until tender, a few minutes.
Add the vegetable broth and potatoes to the pot. Cover and bring to a boil. Reduce back to medium heat and cook until potatoes are tender, about 15 minutes.
Add the broccoli and thyme, and cover for 5 minutes, until fully steamed but still bright green.
Puree the soup in a blender or with a stick blender. Season with salt and pepper and serve with chives and/or vegan sour cream, if desired.
Recipe by
Vegangela
at http://vegangela.com/2011/10/11/broccoli-potato-soup/