Carrot Apple Ginger Soup with Coconut Milk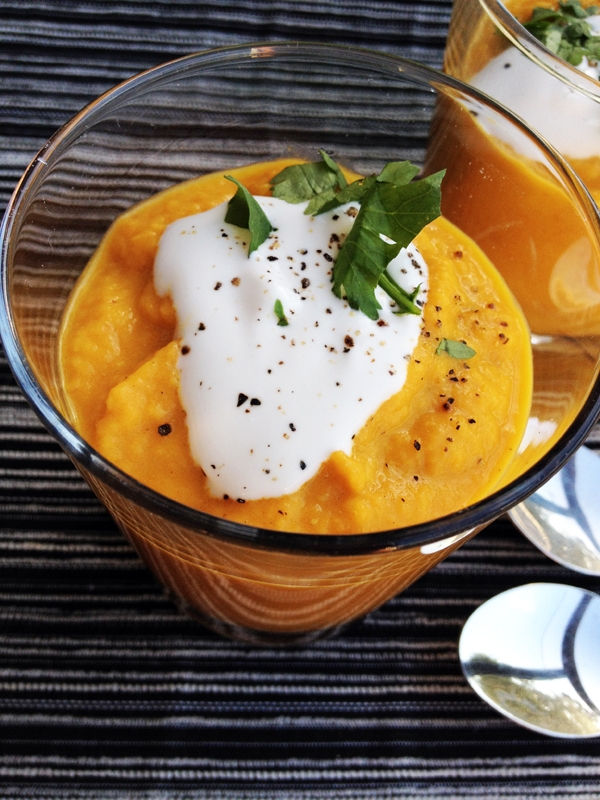 Author:
Angela @ Vegangela.com
3 tablespoons olive oil
1 small yellow onion, sliced
1 clove garlic, minced
2 tablespoons fresh ginger, peeled and grated
1 small apple, peeled and sliced
5 cups sliced, peeled carrots (about 1½ pounds)
2 cups vegetable broth
1 can coconut milk
pinch of nutmeg
salt and pepper to taste
Heat olive oil in a large pot over medium heat. Add onions and cook until softened and translucent, about 5 minutes. Add ginger and garlic and cook for one minute, until fragrant. Add sliced apples and diced carrots and cook for 3 minutes more.
Increase heat to medium-high and add vegetable broth. Bring to a boil. Reduce heat to low and simmer, uncovered, until carrots and apples are softened, about 30 minutes. Remove pan from the heat and let rest for 10 minutes, then stir-in the coconut milk.
Use an immersion (stick) blender to fully blend the soup, or, if using a regular blender, blend the soup in batches. (Be sure not to fill the blender more than halfway full or hot soup will explode everywhere. Also, when blending hot liquids in a blender, leave the blender lid slightly ajar to let some of the steam escape.)
Once all of the soup is blended, return to the pot (if you used a regular blender). You may decide that you want you soup a bit thinner in consistency. Add more vegetable broth if you'd like. Taste, and add a dash of fresh ground nutmeg, as well as salt and pepper to taste. The soup won't need much pepper, as ginger is pretty spicy.
Serve with a drizzle of quality olive oil, a sprinkling of fresh cracked pepper, coconut milk, vegan sour cream, cashew cream, fresh coriander (cilantro), carrot greens, etc…
Soup will last, in an airtight container in the refrigerator for up to 4 days. Soup also freezes well. Thaw in the fridge before reheating.
Adapted from Joy the Baker's Carrot Apple Ginger Soup http://www.joythebaker.com/blog/2011/04/carrot-apple-ginger-soup
Recipe by
Vegangela
at http://vegangela.com/2011/11/17/carrot-apple-ginger-soup-with-coconut-milk/