Quick & Easy Chana Masala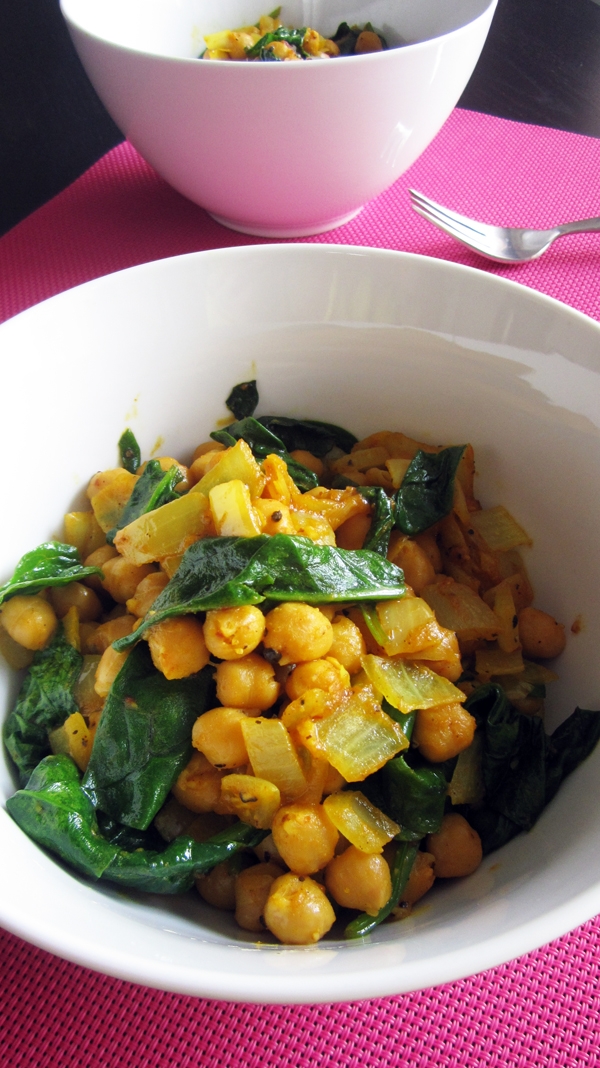 Recipe type:
Main, Entree
2 tbsp coconut oil or vegetable oil
1 medium onion, chopped
1 large clove of garlic, minced
1 tbsp curry powder
1 tbsp tomato paste or ketchup
15 oz can chickpeas, drained, reserving 3 tbsp liquid
½ lemon (about 1 tbsp), juiced
½ tsp salt
fresh black pepper
crushed red pepper (optional, to taste)
2 handfuls baby spinach
cilantro (fresh coriander) (optional)
In a medium flying pan, heat oil on medium-high heat. Fry onions until slightly browned. Reduce heat to medium.
Add garlic, curry, and tomato paste. Stir and simmer about 2 minutes.
Add chickpeas, liquid, lemon juice, salt, and black pepper. Stir and simmer until chickpeas are softened, about 6 minutes.
Stir in spinach, if using, and add crushed red pepper, to taste.
Serve as-is, or over rice. May be topped with fresh cilantro or vegan sour cream / yogurt.
Serves 2 as-is, or 4 when served with rice.
Recipe adapted from Chana Masala recipe on VegWeb.com
Recipe by
Vegangela
at http://vegangela.com/2010/09/29/super-easy-chana-masala/